Originating Author: David Floyer

The goal of this note is to document best practices for planning a green storage initiative.
Introduction to implementing a green storage planning initiative
Fluctuating energy prices have heightened electricity and energy consumption as a major issue within the technology community. IT is a significant consumer of energy and IT energy costs have been rising disproportionately because of continued investment in denser IT equipment. Estimates from the EPA and others indicate that IT will account for 3% of energy consumption by 2012.
While technology changes have decreased footprint, power loading (amount of power required for a square foot of data center space) and heat load (the amount of heat that has to be removed from a square foot of data center space) have both escalated dramatically. The result is higher energy costs to provide power and extract heat from the data center, and lower utilization of data center floor space because of power and cooling limitations. The technology trends are toward higher heat and power loading, which will exacerbate the problem.
In addition, there are strong scientific and political forces that are requiring countries and organizations to be "good environmental citizens" and reduce the emission of greenhouse gases. In Asia (particularly Japan) and Europe, many organizations have implemented long-term "green" strategies, which are designed to make organizations "carbon neutral" , or not increasing the total amount of carbon dioxide emitted by the organization as a whole. The whole includes all aspects of business, including research, development, manufacturing, administration, delivery, product usage, maintenance and disposal. Also included are the suppliers of an organization.
US organizations (especially multi-nationals operating in Asia and Europe) have started to implement green strategies, as they have realized that they are likely to be affected directly, especially if they are significant suppliers. IT vendors have for the most part initially focused on the contribution of their products to reduce power costs. Larger organizations have largely recognized that effective green strategies have to involve all aspects of operations, including R&D, manufacturing, suppliers, distribution, product usage, and product disposal.
The rise in costs for IT power has caught the attention of CFOs and CEOs in most organizations. The decrease in space efficiency of the data center and increased power costs is an important issue for all CIOs. Beyond that, all parts of the business understand that they have to produce a "carbon balance sheet", which will be rolled up into an overall carbon balance sheet. IT will need to be in a position to produce its own carbon balance sheet. There will need to be two halves for IT; the usage of power resources for IT equipment, and potential contribution to the savings of power that the applications supported by IT can contribute. In addition, IT will need to take into account the carbon neutral achievements of its major suppliers.
Storage is a part of IT, which in itself is part of the business. Many parts of an overall carbon neutral initiative will be devolved down to IT from other parts of the business. These will be out-of-scope for this project. However, IT needs to be in a position to influence how these initiatives are devolved down to avoid errors or perception and action.
The purpose of this How-to note is to look at storage through the lens of its environmental impact. It is designed to help IT executives plan current and future storage strategies, and to be able to answer the question "what is the impact of these storage decisions on the green strategies and tactics of organizations".
Specific operational goals of a green storage planning initiative
At the end of a green storage planning initiative the organization will:
Understand current and projected storage environmentals from a product/technology perspective;

Have defined the metrics that are important to being able to capture the total environmental impact of storage;
Put in place the necessary information and procedures to be able to evaluate the current and future storage environmental impact of procurement decisions and infrastructure change;

Understand the likely evolution of the data center environmental infrastructure to helping to reduce power consumption;

Have put in place the knowledge and procedures that will allow IT to understand the implications of storage strategies and decisions on data center design, particularly for power supply and cooling;
Understand the changing trade offs between in-sourcing and outsourcing the operation of storage;

Be able to easily report to IT and the business as a whole the current and future environmental impact of storage;

Report the current and future environmental footprint of storage products and technologies;
Report the impact of the storage environmental footprint of future changes in data center environmental technologies and design;
Understand the contribution of storage as part of IT's ability to reduce carbon footprints by supporting applications that reduce power requirements, (e.g., distribution scheduling);
Have in place a process for establishing storage vendors as carbon neutral as part of a wider organizational green initiative.
Key metrics evaluated might include:
Total Watts/TB/IO for utilized storage (including power, power distribution, and cooling)
Total Watts/sq.ft./TB/IO for utilized storage (power density)
Watts saved by application data
Data Center Efficiency (IT power consumption as s % of total data center power consumption)
Risks of implementing a green storage initiative
For most organizations, there are minimal risks in implementing a green storage initiative. The risks include:
Opportunity costs from assigned resources;
Placing too much importance on storage environmental impact to the detriment of other storage issues such as overall operational costs;
How to implement a green storage planning initiative
Expectations before the project starts (tasks out-of-scope)
The out-of-scope expectations are:
There is an executive(s) responsible for planning an overall green strategy. A green storage planning initiative should build on the overall green strategy of an organization;
Metrics for success should be in place driven by the overall strategy of the organization, not by the storage group in a vacuum;
An IT senior executive (CIO or CTO) should publicly support the initiative and commit to being part of the review process;
Projections for the organization's future storage requirements are agreed and are in place;
Data center equipment other than storage is not included (but it could make sense to include all data center equipment and data center issues within a larger project);
There are industry available metrics for the actual environmental usage of storage technologies and projections for future usage
Analyze phase
Analyze Phase: Acceptance Test Considerations
The analysis phase is completed when the senior IT executive and corporate green strategy executives agree to the conclusions and allocate funds for the rest of the project, or agree to terminate the project.
Analyze phase of the green storage planning initiative: key analysis milestones
The key milestones of the analysis phase are:
Agreeing the key senior IT and Corporate Executives to sponsor, review and decide each phase of the project;
Agree the people and resources for the analyze phase;
Understanding of the current and future heat and power characteristics of storage types (high-end, modular, and low-end modular) and document those data points;
Understand, agree and document the service level requirements for key applications, and for application types. This includes the RPO and RTO requirements of the business for the data;
Long parallel running of new storage arrays with old storage arrays can lead to significant wasted power. The time for commissioning/decommissioning of storage should be understood, as well as any projects for improving these times (e.g., virtualization);
Projecting the future storage requirement against those trends, and understanding the impact of power, space and cooling implications on the data center and document those projections;
Understanding of the current data center power and cooling characteristics, and matching those against the projected storage requirements;
Understanding what storage initiatives will have an impact on storage power consumption, how big that impact is, and document what initiatives have the most impact on storage environmentals;
Understand and document what the organization's overall green initiatives require, and understand and document the implications for storage and storage vendor selection;
Analysis report has been reviewed and signed off by the executive team.
Resources available for the analyze phase
Some of the resources available to help answer the questions in the analyze phase include:
This contribution contains two important charts that will help forecast the power and heat for storage as a whole.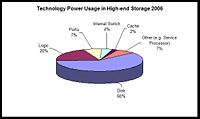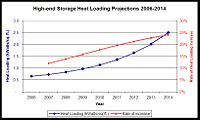 These resources need to be augmented by:
Industry agreed storage environmental metrics;
The availability of industry figures for current usage of storage equipment;
The availability of industry figures for future projections by technology of storage products types;
Potential environmental savings of current and future storage technologies;
Future projections of the impact of data center environmental technologies and deployment on all IT operational components, including storage;
Templates for reporting IT and storage environmental metrics to IT and the business;
Templates for reporting contribution of IT and storage components to the reduction of environmentals for the business as a whole;
RFP templates for collecting environmental information.
Design phase
Design Phase: Acceptance Test Considerations
The design phase is completed when the CIO/CT and green strategy executives agree to the overall storage environmental design, and either agree funding for the project or kill the project.
Design Phase: Key Analysis Milestones
The design of a green storage planning implementation needs to take into account the constraints imposed by the application requirements. The storage subsystems must deliver the performance (response time) and throughput required to meet the service level agreements, and must meet the RPO and RTO requirements of the business. The key milestones are as follows:
The future projections for storage characteristics are matched against the capabilities of the current data centers. If necessary, a redesign of the data center is completed that will meet the environmental storage requirements;
A recommendation if given on alternative strategies for data centers. This includes evaluation of moving data centers (ideally to a place where there is green power, good telecommunications, and reduced requirement for thermal cooling) and outsourcing the data center to "greener" suppliers;
A process is designed and approved to evaluate the use of external storage services for future application designs;
A process is designed and approved for including environmentals in all storage RFPs;
A process for evaluating the environmental savings and contribution of all applications and future applications in approved.
Deploy phase
Deploy Phase: Acceptance Test Considerations
The deploy phase is completed when the CIO/CT and green strategy executives agree that the deployment is stable and self-sustaining, it is in current operational use, and the deployment resources have been assigned to other projects.
Deploy Phase: Key Analysis Milestones
At the application design phase, a process for considering the use of external storage is implemented, and the total environmental and operational savings factored into a business case as part of this process. This business case is included in all approvals for application design;
The process for assessing the environmental impact of all current and future applications is implemented;
All RFP's for storage include a section on environmentals. The section gives the characteristics of the data center (cost/sq. ft., cost of power, overhead of cooling, maximum power density and cooling capability, etc.) The section asks for the total cost of power over the expected life of the array, including commissioning new arrays and decommissioning old arrays, as well as heat loadings and power loadings;
RFPs give vendors the maximum heat loading and power loadings that the data center can sustain, and ask for equipment that fits within those parameters;
All RFPs should include a section where the vendor's overall carbon neutral strategy is described, together with the strategy for its leading suppliers;
The data center designs or strategies as specified and agreed in the design phase are implemented.
The overall environmental impact of storage is documented and available to stakeholders as part of promoting the organization as a socially responsible organization.
Initiative Summary
The overall objective of a green storage planning initiative is to turn a potential liability of an apparent increase in environmental cost for storage into an overall environmental asset for the company. By looking at both parts of the balance sheet (contribution of applications as well as minimizing the environmental cost), IT can minimize energy costs and establish itself as a net contributor to the organizations green strategy.