In a previous alert Cooling heats up, CTO's were advised that they should create heat loading projections for all technologies. The steps are:
Analyze the technology components of each equipment type in the organizations. The chart below shows the current relative power consumption of the components of high-end storage, and shows that spinning disk accounts for 60% of the total power consumption for high end arrays (and 80% for modular arrays).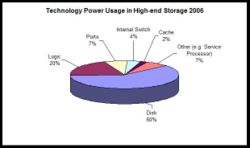 Project the rate of heat loading increase for each technology component. In this case a reasonable projection for the spinning disk component is 0% (disks have historically had a constant form factor and power consumption (~20 watts per drive) and are expected to continue this trend in the future). A reasonable projection for power density of all the other components is 30%, as all the components are essentially the same as server components.
Calculate the projected heat loading projections as shown in the following chart. As spinning disk becomes a smaller component of the total heat load over time, the rate of increase in storage heat loading increases.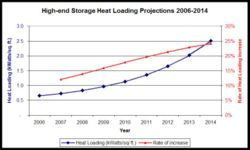 Action Item: CTO's should follow the steps above to create a heat loading projection for storage and other technologies and update them annually. Storage managers should use these projections to help plan data center evolution.
Footnotes: