Originating Author: David Floyer
ASHRAE (The American Society of Heating, Refrigerating and Air-Conditioning Engineers) made a projection of power density of IT equipment in 2003, and had to revise these projections significantly up in 2005 as shown in the chart below.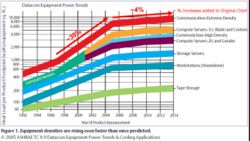 The historical data before 2005 shows power density of equipment increasing at up to 30% per year. After 2005 their projected increases are less than 4% per year.
In late 2007, Wikibon interviewed Roger Schmidt, who is chairman of the ASHRAE Technical Committee 9.9 which produced this graph. The background for the decision to project a 4% increase was the limit of air cooling on chips was also a limit of the total power density that could be sustained. However, there are technologies that can take the heat directly from the chips to water (or other cooling fluids) and significantly increase the total power input to systems. It looks as if there maybe a revival of the same technologies that went into the water-cooled mainframes and freon cooled Cray supercomputers of the seventies and eighties!
As the ASHRAE is primarily interested in the projections for air conditioning and cooling, this chart makes sense as a projection of business. However, from a data center point of view it is incorrect to conclude that the power supplies and total cooling required will not continue to increase significantly at historical rates. Also for technologies such as storage there is significant room for increasing the heat density (.g., moving from 3.5" to 2.5" form factor for disks) before any limits on air-cooling are reached.
In 2008, high-end blade servers already reached 10kWatts/sq. ft. in heat density, and the historical increase of 30% per year for servers and telecommunication equipment is holding steady. Although manufacturers are focusing on technologies that will reduce the power load, this is likely to have a short term impact on the rate of increase; the technology fundamentals that are increasing these power densities are likely to revert to much closer to 30% than 4%, as advanced cooling techniques as discussed above are introduced.
If these trends continue, the cost of environmentals for most servers and communication equipment will become greater than the cost of the technology over the life of the equipment. The implementation of fluid-cooled chip technologies will reduce the cost of cooling.
Action Item: CTO's should develop and keep up to date guidelines that project the likely cost of environmentals for all IT technologies over the next five years. All business cases for IT projects should include a line item for environmentals that should be derived from these guidelines. These funds will be required to significantly improve data center power and thermal management. Specific projections for storage are give in the Wikibon entry Power projection.
Footnotes: