Introduction
Wikibon members have indicated they are considering three broad approaches to managing infrastructure:
Taking a one-off approach using a mix, match and manage strategy (i.e. bespoke),
Bundling storage function into the application stack (e.g. Microsoft Exchange, Oracle 11g),
Taking a storage services approach by offering a menu of services.
This note is the second in a two-part series. Part I provided a detailed overview of the application stack approach with a cost comparison to an array-centric strategy. This research note drills into a storage services strategy and provides further cost comparisons with One-off approaches.
What is a Storage Services Architecture?
A one-off strategy has no standardized set of storage offerings. Rather, the business or application heads decide what storage they want to deploy and an organization is left with a variety of flavors. The application stack approach is an extension of One-off and for this research initiative we have grouped them as one. The huge disadvantage is that the organization is left trying to manage a wildly heterogeneous group of storage subsystems.
A storage services architecture provides a granular set of reusable services that can be invoked as needed by business applications. This strategy allows organizations to optimize cost, performance, recovery, and other capabilities that are fundamental to business processes.
One way to conceptualize such an architecture is a three-dimensional cube (see Figure 1). A version of this cube was originally presented on Wikibon by John Blackman, an IT architect. It has been simplified for this research note.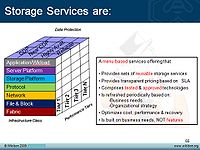 The three dimensions in this cube capture the infrastructure class along with key components from which service level agreements can be priced. The three dimensions are:
Infrastructure management (e.g. core technology components),
Data protection – (e.g. availability classes of service),
Performance management (i.e. storage tiers).
Infrastructure management includes key protocols, file and block services, storage network services, application management, and other relevant infrastructure management capabilities. Data protection includes various capabilities such as backup, remote replication, and related policies. Performance management include a range of capabilities from highest to lowest performance.
Sets of storage services are layered within each dimension – for example, provisioning services as part of infrastructure, copy services in data protection, and archiving services in performance management. The intersection of these dimensions and their corollary services determine the technologies used, service levels, and costs. Importantly, not all intersections are viable. For example, the choice of iSCSI as a protocol might not fit continuous availability Tier 1 performance requirements and therefore would not be an option on the services menu.
Benefits of a Storage Services Architecture
This approach has four primary benefits:
This methodology provides granular acquisition options for business lines with a high degree of cost transparency;
It forces businesses and IT to make tradeoffs between cost and function and will naturally lead to more efficient use of storage as a resource;
It simplifies technology infrastructure by avoiding bespoke ("one off") solutions that can increase costs and create migration problems in the future;
A storage services architecture limits the number of suppliers further reducing complexity.
A storage services architecture strategy generally requires a centralized group responsible for administering storage services. It is the role of this organization to evaluate technologies, maintain/refresh the portfolio, negotiate with vendors, price services to the business, and provide ongoing maintenance support.
What are the Economic Considerations of a Storage Services Architecture?
A storage services approach is typically less expensive than a bespoke strategy. A shared storage services model will also usually be more economically attractive than a strategy that builds storage function into the application stack. In practice, the application stack approach is an extension of a one-off strategy, where organizations mix various technologies without a fundamental storage strategy (i.e. whatever the business/application groups decide).
In order to evaluate the economics of a storage services approach as compared to a one-off, bespoke strategy, Wikibon developed a model to evaluate the costs of each approach. We used a [Comparing Return on Assets (ROA) to Return on Investment (ROI)|return on asset model]] (ROA) which uses many of the concepts of an ROI model but is aimed at understanding the installed base impacts over a period of time (in this case four years).
*A storage services approach is almost always more efficient than a One-off
*Business lines and application heads often resist a menu-based storage service approach
*Chargebacks are a fundamental enabler of a storage services model
Figure 2 shows that in virtually all cases, with the exception of very small shops, a storage services approach will be less expensive across a wide range of capacities. Figure 3 provides drill down detail for the ROA model at 200TB.
*At 200TBs, a One-off model is 15% more expensive than a storage services approach
*The efficiency improvements from a storage services model at 20TB and up range from 8-23% relative to a One-off approach
Drawbacks of a Storage Services Model
The main concerns about deploying a storage services model relate to political and practical minefields users should understand. First, a reduction in the number of technologies and vendor choices will limit technology options and create friction, as leading technologists will naturally want to integrate and exploit the latest innovations. As such, it is critical that organizations use their 'sandbox' lab specifically as a means of evolving the services model (i.e. their cube of offerings) so that the services offered remain competitive and current. In addition, to make storage services effectively pay back, service level agreements and chargeback models must be in place and aligned, which will require deliberate effort, thought, plans, and actions. Finally, the politics of consolidating storage services deployment options, while limiting the free-for-all mentality, will naturally disaffect certain factions within organizations that have become comfortable with high degrees of freedom.
Best Practice Advice
There are several actions organizations should pursue in regard to storage services implementation, including:
Pricing: Consider constructing service level agreements (SLAs) and chargebacks with a one-time cost and an ongoing monthly fee that includes a technology refresh. Build switching costs (aka early withdrawal penalties) into the model and construct agreements over periods of time where lower pricing applies for longer contract periods.
Vendors: Limit the number of suppliers and negotiate on-demand contracts requiring vendors to install equipment but charge based on usage at the current price when that equipment is turned on, not when it was installed;
Backup: Consider disk-based backup for distributed networks; possibly even outsourcing to a remote service provider to minimize complexity.
Most organizations will manage such initiatives as a cost center, or at the very least share some of the profits with business lines or invest back in the business.
Action Item: A storage services architecture can improve asset utilization, simplify infrastructure management, and cut costs. Organizations should consider limiting the number of storage infrastructure options delivered to the business to reduce complexity and improve overall efficiencies.

Footnotes: Related Research: