One of the objectives of an IT organization is to streamline operations, thus reducing costs. Having well-defined services offered and communicated to an organization is essential to successfully achieving this goal. A Services-oriented Architecture (SOA) defines the services, components, vendors, and products and presents reusable services to the customer to consume.
By presenting only services and not technology, an IT shop can reduce the complexity in building a stable, reliable and robust infrastructure. We know that supporting a data center of multi-vendor, custom, one-off solutions for each application is costly, inefficient and resource consuming. Affecting a transformation to become a true service provider is non-trivial but significant as historically too wide a variety of constituents is involved in making technology choices.
What does it take to accomplish?
I believe there are a few key items that will make this transition successful, including:
A limited portfolio of service offerings (i.e. reduced but capable). For storage, there are three top level services: data protection, information management, and infrastructure management (see Figure 1).
Limiting the number of technology suppliers. For example, two array providers with a supporting suite of software based on SNIA standards, one tape supplier, one common resource management tool, and one or two fabric suppliers (yes they can interoperate). Provide direction via a roadmap and keys to success and allow them to deliver.
Management support. This is critical, and I don't mean signing the check, but buying into the concept, advocating it to customers and ensuring that you are successful in delivering on your service.
A chargeback model that enables your group to acquire storage ahead of demand while providing a mechanism for refreshing technology and, if needed, acquiring human capital as workload increases.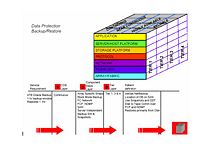 I also recommend that you revisit the services portfolio and technology solutions every 12 – 18 months and your suppliers every 24 – 36 months. Assess each for success and what needs to be changed. Do they still align with your model? This way your management, suppliers, customers, and teammates all have a clear roadmap and know that their investment in your service architecture and has a positive return.

Action Item: Architecting storage services is a way to transform from a cost necessity to a respected service group and value producer where infrastructure is an enabler, not an impediment to business progress. While the hurdles to this transformation are significant, once achieved they can make an IT organization much more cost efficient and productive. One tradeoff is less technology choice. As such, a self-funding model that charges consumers a modest fee to refresh the technology portfolio periodically will allow such initiatives to remain competitive and thrive.
Footnotes: