Technology adoption is not a smooth transition. Forecasters like to show graphs with a smooth curve of adoption, but we find that the transition from one technology to another is more often in the shape of an S-curve and that there can be spurts and setbacks for a variety of reasons. As discussed in my storage networking predictions last year, the "battle" between Fibre Channel (FC) and Ethernet is a complicated one. While almost everyone would agree that in an ideal world it would be nice to have a single network for all traffic, it is also true that very few users want a new protocol and the challenges of changing the way that they do things.
Ethernet and FC Outlook
Ethernet is the reigning network for every datacenter. It has been said that for networking, there is Ethernet and Ethernot. The transition from 1Gb to 10Gb Ethernet has been a long one. While the standard for 10GbE was ratified in 2002, it wasn't until 2009 for a majority of end-users whom I spoke with had 10GbE in the network architecture. Adoption on the server has taken even longer. According to Broadcom, in 2010, 2M of 8M servers shipped with 10GbE (the rest were still 1Gb). Some experts predict that with the launch of servers with Intel's Romley processor early next year, the market will see adoption of server 10GbE rise to 50% in 2012. Almost all of the 10GbE LOMs will have the options of converged storage networking (FCoE, iSCSI or NAS) – not just from Emulex and QLogic, but also from Intel and Broadcom. Of course, the adoption of 10GbE alone does not mean that customers will abandon the current way that they do things.
FC is the leading technology for storage networking. For at least the last three years, I have read predictions that FC revenue would turn flat or negative in "near future" (12-18 months). According to Dell'Oro (in this QLogic PR), FC adapter revenue will continue to grow through 2013. So, we are still in that "12-18 month" window for the FC revenue to go negative as pricing decreases outpace port growth. Four main vendors manufacture FC technology: Brocade, Cisco, QLogic, and Emulex. Brocade is the market leader in FC switching and revenue for SAN products for the last 5 quarters: Q4FY10 $314M, Q1FY11 $331M, Q2FY11 $329M, Q3FY11 $275M, Q4FY11 $303M. Cisco does not report its MDS (FC switch) product line alone, but it did show an increase in market share year-over-year for "FC and FCoE", so it stands to reason that if Brocade saw an increase in revenue, so did Cisco. While FC is a small piece of Cisco's overall business, Ethernet has grown to one-third of Brocade's product sales. QLogic (percentage not public) and Emulex (16%) have seen Ethernet growing as a percentage of revenue. Brocade, Emulex and QLogic all have strong potential to see growth in Ethernet sales counterbalancing any loss in FC revenue in the next few years.
FCoE and the Forcing Function for Convergence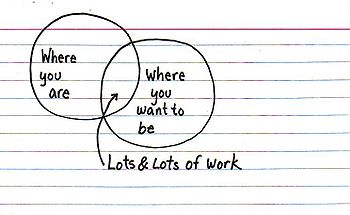 FCoE is a technology that tends to get the blogosphere and vendor community worked up into a lather. In my prediction for 2011, I stated that "If FCoE is 10% of the overall SAN market in 2011, it should be considered a huge success." Well, according to market share numbers that's right about where FCoE adoption is today. Most deployments of FCoE are in blade server environments; customers don't need to think about the technology, it just works the way current SANs do. There is just some Ethernet inside the blade server that does FC for them.
The technology exists for full end-to-end and multi-hop FCoE, but there is still a big gap on Layer 8 – the user/political layer on top of the stack. While some good discussions need to happen about how systems are configured and managed, what I believe is missed in the discussion is that the ecosystem is moving towards converged solutions regardless of the political issues. Specifically, all of the 16Gb FC adapter products can be either FC or Ethernet. This means that when storage array vendors release 16Gb FC, there is the opportunity for a single board/port to support both FC or be switched to FCoE, iSCSI or NAS. Storage vendors may not activate this functionality or may charge more for it, but in late 2012 or 2013, storage will have this "universal" port capability (see more about 16Gb FC solutions here and here).
While FC is a reliable and trusted technology, users do understand that once the full solutions (server, switches and storage) have the option of a converged Ethernet network built-in, it will be difficult to justify the purchase of separate hardware.
The network can still be logically carved out for the storage administrator, but financial and political pressure will make more environments consider this change over the coming years.
Disrupting the SAN
Earlier this year, Stephen Foskett and I debated FC vs. iSCSI (FC won); in the post-debate discussion, we talked about how disruptions tend not to come from head-on competition but rather from completely new ways of doing things. What could disrupt SANs?
Flash in the server, e.g., Fusion-io, is a new model for storage that doesn't require a network. Wikibon's forecast is that in 2015, flash storage will make up 20% of enterprise storage spend and only 3% of capacity.
Big Data solutions such as Hadoop also swing the pendulum towards DAS rather than SAN (see Architecting a Network for Hadoop). Hortonwork's CEO has forecasted that in five years 50% of the world's data will be on Hadoop.
Cloud is also disruptive to the SAN. If IT goes the way of Salesforce, Google Applications and other *aaS solutions, enterprise IT will not need to build SANs. While Google, Facebook, and other modern application providers may not use FC networks, cloud service providers (CSPs) have a variety of solutions that they deploy, and, according to Brocade, the scalability and management of FC is attractive for some CSP environments.
Action Item: A recent survey of virtualization users found that users are not tied to a single protocol and just use what works. The battle will not be 10/40/100GbE vs. 8/16/32Gb FC. Rather CIOs need to prepare the IT staff to go beyond silos to take advantage of the various new solutions that can increase efficiency and productivity regardless of the underlying protocols.
Footnotes: Predictions for Storage Networking in 2011