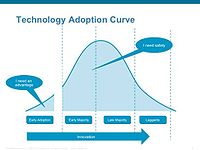 At the February 2nd 2010 FCOE: Fact v Fiction Peer Incite we discussed the adoption rate of Fibre Channel over Ethernet, in addition to other myths and realities.
Figure 1 shows an S- or Ogive curve which reflects how individuals in the Wikibon community believe FCoE will penetrate the marketplace. Early adoption is occurring in 2010 as pilots. A key driver for FCoE adoption is virtualization and virtual IO; which is increasing server heat densities by consolidating many smaller servers on to fewer larger boxes. In addition, many customers are seeing port counts escalate dramatically. Further, cable bulk is becoming unwieldy and management complexity increases annually.
The three obvious candidates for FCoE consideration are: 1) FC shops facing high growth; 2) customers building out new data centers and 3) cloud service providers using FC. Early adoption will be in large-scale server deployments which adopt converged network adapters (CNAs). CNA technology will migrate to top-of-rack switches which will still provide separate connectivity out to individual Ethernet and FC switches. The technology will eventually move to converged switches and then to native end-to-end FCoE targets (e.g. storage).
However this end-to-end vision will take several years to evolve and will occur in phases:
Phase I will come in the form of CNAs being utilized in new server deployments. CNAs will converge NIC's and HBA's onto a single card but still have separate Ethernet and FC connections exiting the system.
Phase II will move CNA technology to top-of-rack (ToR) switches. CNA outbound traffic will converge into a single technology into the ToR switch which will exit out to separate Ethernet and FC switch infrastructure.
Phase III will converge these separate switch resources onto a unified switch that supports both Ethernet and FC traffic exiting out to Ethernet clients and FC-based storage targets.
Phase IV will see Ethernet and FC converged via FCoE end-to-end all the way to target devices.
We expect slow adoption initially and then a breakthrough to occur when shops reach critical mass, CNA prices decline and users are attracted by the benefit of eliminating connection costs. Eventually the ROI will be instantaneous because communications connections will be cut in half. Organizations that have not adopted by the 2012 timeframe will be at a disadvantage from the standpoint of cost, heat density, and overall environmentals.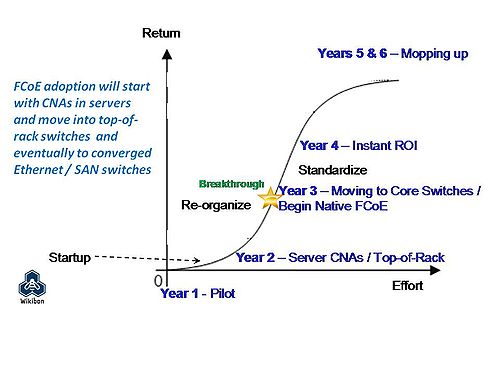 Action Item: The adoption of FCoE will be steady over the next five years. Eventually, the economics of halving connectivity costs will outweigh any near-term friction that exists in the customer base today. Organizations with large investments in Fibre channel should begin to plan for converging Ethernet and FC technologies within the next two to five years.
Footnotes: Modified FCoE Adoption Curve