When Apple first introduced NAND (flash) storage on its iPODs there was a chorus from Wall Street analysts saying that Apple was eating its own children by obsolescing its own product base, which then used small physical disk drives. The result of the introduction was to revitalize the iPOD and radically increase the adoption of NAND storage across the industry.
Sun have joined EMC, Hitachi, and others in announcing support for NAND flash drives in storage arrays, and Wikibon believes that all array vendors will follow. NAND drives have much better response times and much faster access times. The disadvantages are cost, and that the number of writes to each cell is limited and has to be managed with additional layers (and more cost).
It is important to distinguish between high-performance drives and high capacity drives. The Achilles heel of drives is access time limited by rotational delay. Expensive controllers with RAM caches have been designed to mitigate this problem. With the high performance and access times of NAND storage, the major type of drive that is likely to be initially replaced by NAND drives are high-performance 15K fibre channel (FC) drives. Although high capacity disk drives (SAS or SATA) may eventually be replaced by NAND drives, it is well over the planning horizon of both users and vendors.
So one key planning question is "Will NAND storage obviate the need for need for high performance FC disk drives? And if so when?"
To forecast NAND versus spinning disk, certain assumptions have to made about industry trends, specifically:
[[Storage Pricing Considerations|Cost of Disks] halves every 18 months (3.8%/month, 37%/year)

There are two elements to this price reduction. The first is the price erosion of already announced disk drives, which is fast at the beginning of the cycle, slows, and then is fast again at the end of the product cycle. The second is the introduction of new higher-density products – every eighteen months a new disk drive becomes available with double the capacity of the previous drive at the same price per drive.
In general vendors want to suggest that price erosion is less aggressive than Moore's Law for disk drives in order to maintain price levels and give room for discounting. However, Wikibon is comfortable that 37%/year is a good estimate that is likely to be stable.
Enterprise NAND declines at the same rate as Consumer NAND

All NAND has limitations on the number of times a cell can be written. Enterprise NAND uses additional redundancy, some smart chips and some RAM buffers to spread writes across all the NAND cells. This increases the life of the NAND drive. This makes Enterprise NAND drives more expensive. Barry Burke of EMC is quoted in Forbes as saying that enterprise and consumer flash prices are eroding on different curves. If he means that enterprise NAND has a higher price point that is clearly true. If he means that the rate of reduction is different than consumer NAND, this is difficult to rationalize. All the non-NAND components of enterprise NAND are reusable as each generation of NAND storage is produced, and while storage array vendors might like the rate of reduction to be lower to maintain margins, the almost certain scenario is that the price ratio between enterprise and consumer NAND will not increase, and most probably prices will decline at a similar rate.

Consumer NAND declines at between 50% and 70%/year

As Chuck Hollis of EMC says in the discussion board "...the bet is that flash technologies will come down far faster in price than spinning media, simply because you're leveraging the 'silicon curve.' Order-of-magnitude greater capacity and order-of-magnitude cost-reductions are not hard to scenario, given past history with other semiconductor technologies."
The question is what is that decline over the long term. The current decline in consumer NAND prices is around 60%+/-. Market projections are that NAND memory will come down faster than Moore's law suggests, driven by very elastic consumer demand. Some analysts think this figure will moderate to 50% over the next few years as learning curves trend toward a "Moore's Law" mean figure of 37%. As is shown in the chart below, alternative assumptions make a big difference on the convergence of the pricing. Sixty percent is probably today's best estimate, but there is lack of stability in this estimate, so the results of 50%, 60% and 70% assumptions are shown in the analysis below.
Current ratio between NAND Drives & FC Drives of same capacity is 15X

At its January, 2008 announcement, EMC expected the ratio between NAND Drives and FC Drives to be approximately 30X but ~40X was the actual figure at shipment. Since then, EMC has reduced this ratio to somewhere around 20X and with discounts, an initial assumption of 15X is reasonable.

A Ratio of 3X between NAND Drives & FC Drives obsoletes FC Drives

NAND drives have much lower response time, much higher I/O rates, and the cost of power is a factor of ten less than conventional drives. At some ratio of price, the demand for high-performance disks become very low, and market forces would obsolete the product. In an unscientific poll of Wikibon peers, this final tipping point was estimated at between 2 and 5 times. An assumption of 3 is made in the analysis below.
The chart below uses the assumptions above to project how many months before high-performance FC drives become obsolete. The x-axis is set to cross the y-axis at a ratio of 3X, with dotted lines for 5,4,2 & 1X. For the most likely scenario of a 60% decline in NAND prices and with an obsolescence ratio of 3X, the projection is 43 months. For the most aggressive scenario of a 70% decline with an obsolescence ratio of 5X, the projection is about 17 months. The most conservative projection is over 8 years.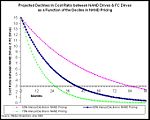 A summary of the results of this analysis are shown in the second chart. It is clear from this analysis that the decline in the price of consumer NAND technology has the biggest influence on if and when performance FC-Disks become obsolete. There are a number of other factors that could affect the adoption of NAND technology. Seagate has recently sued STEC over patent infringement related to the attachment of NAND devices used to emulate disk drives. If successful, this could mean the purchase of STEC by Seagate and/or high royalties that could delay the adoption of NAND technology as an FC-drive replacement. (Note - in early 2009 Seagate dropped its suit).
There could also be improvements in the performance of drive technologies, perhaps with hybrids of NAND and traditional storage. Economic pressures on drive manufacturers may lead to early retirement of performance drives and accelerate the adoption of NAND.
The analysis also shows that, even with the most optimistic assumptions, NAND storage is very unlikely to take over bulk storage in the data center in any five year IT planning horizon. There are strong factors driving NAND in the consumer hand-held/laptop markets (greater battery life, lower weight & size, greater reliability of hand-held devices), but although these factors are also important in the desktop/data center, they do not apply to the same degree and will be overwhelmed in any TCO analysis by the higher price of NAND technology for the foreseeable future. The most likely scenario is that NAND creates a strong and fast growing performance storage layer in the data center, which will grow over the years. Bottom line -- NAND won't obsolete spinning drives. We'll just end up using a lot less higher density drives.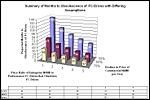 Action Item: High performance disk drives are a sound investment now. Some organizations (5%-10%) will have specific response-time and I/O performance requirements today that will mean NAND storage makes economic sense for a small portion of their performance-sensitive storage portfolios. As the price ratio of NAND to FC disks drops over the next 2-3 years, Wikibon projects that over 50% of data centers are likely to find that some of their performance drives will be met by NAND technology. Executives should assume that bulk storage disks (e.g., one-terabyte+ SATA storage) and tape will continue to be the most competitive storage media for the majority of requirements. There is significant uncertainty in these projections, and IT executives should continue to update forecasts on a regular basis as actual data becomes available to guide future investments in high performance and bulk disk drives.
Footnotes: