The Small Computer System Interface (SCSI) has enjoyed over 20 years as the de facto standard in the storage industry. In recent years, SCSI development has appeared to reach its final iteration because it has difficulty in responding to the new challenges of tomorrow's mission-critical application environments—including smaller form factors, scalability, storage optimization, and performance. With global commerce and 24/7 information available on-demand now in the forefront, businesses are now turning to a new standard to meet their current and future requirements.
With a solid roadmap and industry acceptance behind it, Serial SCSI (SAS) technology is proving to be the next evolution of SCSI. SAS has leveraged SCSI technology and improved upon it to offer a better host interface, as well as drive technology. SAS meets these increasingly rigorous performance reliability and scalability requirements.
Figure 1 depicts the market requirements SAS had to achieve to be a viable replacement for SCSI.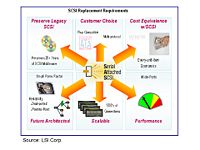 Although SAS overcomes many of parallel SCSI's interface limitations through serial-based technologies, SAS also retains and leverages the two decades of proven SCSI development. SAS provides generational compatibility by preserving the SCSI legacy block protocol and command set. By incorporating the time-tested block protocol and command set, SAS technology protects a user's existing investment in SCSI software, middleware and drives. SAS technology provides a seamless transition from legacy SCSI interfaces.
The improvements of SAS over parallel SCSI have been made across the host interface technology as well as the drive technology. To have a greater understanding of these improvements, it is important to look at SAS technology from both of these technological perspectives.
Host Interface Improvements
Increased Aggregate Performance
One of the foremost improvements of SAS interface technology over parallel SCSI is its support of faster data transfer rates. SAS drives have integrated full-duplexing, which allows simultaneous in-bound and out-bound communication that effectively doubles performance. Full-duplexing inherently provides better performance than parallel connections, in which communication occurs in one direction at a time, often becoming a bottleneck in some environments.
A new innovation with the introduction of SAS is the development of what some term wide "links" or "ports." Specifically, each 3-Gb/s SAS interface is made up of four of those wide links. With each link supporting 3-Gb/s, the SAS interface can theoretically achieve up to 12-Gb/s at it's peak performance, and 24-Gb/s when you consider full-duplex mode -- far exceeding what could be reached by parallel SCSI.
Figure 2 provides a view of a SAS host interface with four channels fully duplexed.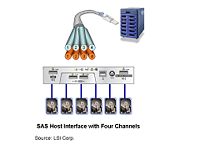 Scalability
The ability to scale provides an organization the assurance of investment protection with their storage platform because scalability can accommodate an organization's future and inevitable growth. SAS achieves this by breaking free of the 15-drive-barrier-per-channel limitation of parallel SCSI technology and scales with the needs of its data center. With its high addressability, the SAS interface dynamically increases connectivity well beyond SCSI's drive maximum connections.
In addition to its inherent scalability of the SAS interface. SAS expander technology will be introduced in the coming years to provide connectivity to even a larger number of devices. In place of the parallel SCSI bus, SAS requires a type of conduit to scale its connectivity to hosts. SAS expanders have become this conduit, and they provide "fan-out" capabilities and increase the addressability to a large number of hosts. Still in its early stage, SAS expanders will position SAS interfaces technology favorably among other scalable interface technologies, such as iSCSI and Fibre Channel.
Smaller Form Factor
The smaller form factor of SAS has several advantages. The serial design of SAS provides more flexible and thinner cabling and smaller connectors instead of large SCSI cables, which are not suitable for dense computing environments. This cabling allows for improved routing and airflow as well as reduced susceptibility to overheating. In addition, SCSI was prone to cross-talk, which is reduced with the more predictable and reliable SAS signaling mechanisms.
Simple Storage Consolidation without the Need of a Storage Network
SAS supports a shared direct-attached storage configuration and offers improved efficiency by enabling busy storage administrators to reduce the number of individual systems that need to be managed and maintained. And although SAS can achieve some of the same benefits as network storage, SAS, as a direct-connect interface to the host, requires minimal IT expertise because networking proficiency is not necessary.
Drive Technology
Improved Reliability
SAS technology provides enhanced reliability and availability with a point-to-point topology and dual-ported architecture. With point-to-point topology, direct communication with each drive is achieved, and each drive is isolated from the others. Problems can be located and remedied more quickly compared to parallel SCSI's loop topology. With a loop architecture, communication must travel through each node to get to the problem drive. Where multiple drives might be operating on a given loop, the problem drive is difficult to identify, and the entire system's performance could be degraded.
Dual-ported technology also provides additional assurance of reliability. The dual-ported interface provides redundant paths that increase availability to each drive by having an alternate link to maintain connectivity in the case that one link fails.
SAS and SATA Intermix Support
Previously with SCSI storage systems, organizations could not take advantage of a tiered storage solution because SCSI technology could not support intermixing with any other type of drive technology. Tiered storage has been available for some time, such as with Fibre Channel and SATA intermix. Due to the cost and complexity associated with Fibre Channel, however, this tiered storage strategy has been limited to larger organizations and enterprises and is not a viable option for smaller organizations.
With the ability of SAS drive technology to support intermix with SATA drives, a wide range of businesses can now optimize their applications with the appropriate drive technology. SAS drives are noted for high availability and are typically used for mainstream transaction-based applications. SATA technology is generally deployed for near-line data and can drastically reduce the cost of a storage investment when cost per GB is the most important factor. By optimizing the right workload demand with the appropriate drive technology, SAS-based systems can support an organization's entire range of data capacity requirements, while reducing cost. Customers should be aware however that this capability has expense associated with it and will require careful planning to exploit. As well, the tools to do in-box tiering remain immature in the marketplace.
The market transition from parallel to serial interface technologies is irrefutable. With improved performance, reliability, and availability at a comparable price to SCSI, SAS is a leading serial interface technology with support from business leaders in both the storage and server industry. SAS allows organizations to retain their current legacy investment in SCSI while improving their overall storage performance and scalability.
For further detail on SAS technology please visit following two sites: LSI SAS Knowledge Center & LSI SAS Zone
Action Item: While SAS is compatible with SCSI, major differences remain that must be considered. Storage administrators should be aware there is a learning curve, although minimal, to leverage SAS capabilities. This hurdle, however, is well worth the effort for applications requiring higher performance, better scalability and increased flexibility. Storage professionals should familiarize themselves with the capabilities of SAS and plan for its implementation in appropriate next generation mainstream SCSI applications.
Footnotes:
LSI,SAS,SCSI,SMB_storage,Storage,Storage_Design,Storage_professional_alerts,Ginageisel
Action Item:
Footnotes: