The Maturation of VCE
Vblock, one of the first converged infrastructure solutions, is created, sold and supported by VCE, a company that is typically misunderstood by the media and underestimated by competition. What started as a joint solution experiment between Cisco and EMC became The VCE Company that did $1B+ revenue in 2013 with 50% year-over-year growth. With more than 800 customers in 57 countries and 1700+ systems sold to date, VCE's results are a leading indicator that Wikibon's forecast that converged infrastructure will account for two-thirds of infrastructure sales by 2017 is correct. VCE is creating its own identity and culture by taking the piece parts from Cisco and EMC to deliver simple solutions that allow change agents to deliver modern infrastructure that deliver a platform for applications and cloud solutions.
theCUBE Conversations: VCE Update, Targeting a $400B Market – discussing VCE's first analyst day (Click image to watch video on YouTube)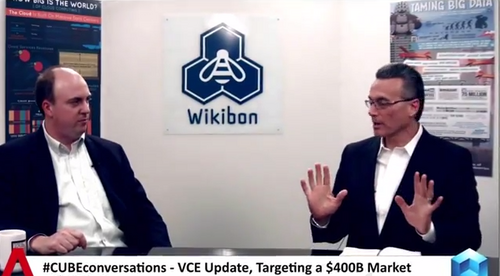 The Balance of Standardization and Flexibility
One of the biggest challenges of enterprise IT is managing the interaction between infrastructure and applications. Historically, a design will be built, optimized and endlessly tweaked to support a specific application. As we've learned from Facebook, Google and others, Rack Level Architectures and Hyperscale Operations have orders of magnitude more gear managed by a single administrator than in a typical data center. As Wikibon CTO David Floyer writes, value increases the further up the stack a solution can be integrated.
While VCE Vblocks started with very limited configurations, the portfolio has expanded while still keeping enough standardization that a configuration can be simply upgraded as a single unit. After attending VCE's first analyst event, Rob Enderle posed the question, Can VCE be the Apple of the Converged Enterprise Cloud? When it comes to staying on the latest version of code, Vblocks are similar to Apple products (see iOS update data), with a much higher update rate than competing or standalone products. Where the analogy breaks down is that Apple makes a ton of money through the App Store. While VCE has been increasing "Vblock Integrated Solutions" to "bolt-on" components with seamless support, Vblocks do not sell applications, which leaves an opportunity for IBM and Oracle to bundle the entire stack, including application, services and infrastructure. Sixty percent of Vblock customers are repeat buyers, and many have standardized on the solution.
Cisco and EMC need VCE to drive SDDC adoption
While VCE is hardly a startup, it has more than 1,400 employees with a singular mission with proven execution capabilities that move faster than the parent companies. VCE customers say Vblocks bust silos and in many ways allow infrastructure to become "invisible", allowing IT to focus on applications and new business challenges rather than keeping the lights on.
VCE has a broad spectrum of products, but the primary targets are Global F1000 CIOs that either are service providers or have IT organizations that act as an internal service providers. VCE has helped Cisco gain critical wins for UCS in large environments that Cisco would have challenges winning and has helped EMC differentiate from the many storage competitors by creating high value solutions.
The Software Defined Data Center (SDDC or as Wikibon calls it Software-led Infrastructure is a challenge and opportunity for VCE. The challenge is that VMware (Nicira/NSX) is positioning network virtualization as a direct competitor to Cisco's Application Centric Infrastructure (see VMware NSX and Cisco ACI lead the SDN conversation). VCE can side-step this argument, since from a hardware perspective the company is committed to sell only Cisco and EMC gear. As VCE looks to expand into large enterprise environments as the infrastructure platform of choice it can become the tip of the spear for EMC ViPR for software-defined storage and Cisco ACI for SDN. Today SDDC is too much of a discussion rather than deployment; VCE is positioned to deliver solutions into the marketplace assuming that the parent companies can deliver. Also, last year VCE showed that it is willing to be flexible on supporting hypervisors other than VMware and has plans to support OpenStack (which could benefit from simple architectures like Vblock).
The Future of VCE
If the EMC and Cisco revenue derived from Vblock sales were a business unit, they would likely be the fastest growing lines for both companies, and both are on track to be $1B lines for both companies within the next two years. As long as VCE continues to grow and help the parent companies sell into new accounts, there is no risk that they will be disbanded (as Wikibon's Dave Vellante said three years ago, the parent companies only bleed green).
We are starting to see the emergence of a VCE culture independent of the parent companies. While the management team is completely made up of former Cisco, EMC and VMware executives, the field is 90% from other companies. Last year, VCE received 45 patents and launched 8 new products including VCE Vision software management product. As one customer stated at the analyst event, "public cloud made internal IT grow up" and Vblocks are proving to be a powerful and popular option for adopting hybrid cloud. VCE needs to continue to thrill customers and make it easier for those looking to modernize IT to deliver fast results.
Action Item: CIOs looking to embrace simplicity and automation need to give IT staffs the proper tools to transform operations. Converged infrastructure and public cloud solutions have been on the market for more than five years, so practitioners should look to peers to find out the reality of agility and cost as it relates to specific industry and application use cases.
Footnotes: