#memeconnect #vce

Last week, CEO Michael Capellas reintroduced "The VCE Company", previously known as the VCE Coalition and Acadia. While the name change is subtle, it includes updates to the business model and maturation of the solution set that make up the Virtual Computing Environment coalition (VCE also stands for VMware, Cisco, EMC. Intel is also a contributor).
Business Model Changes
If we look back to the original launch of the VCE Coalition, there was new company (VCE), a new converged infrastructure product (Vblock) and a professional services arm (Acadia) to allow customers to consume Vblock as a service. As an outside observer, it has been difficult over the last year to determine what to call this entity and what are the boundaries between the coalition and the parent companies. The name Acadia has now been dropped and with it the push to create a BOT (Build, Operate, Transfer) business model. VCE has pulled in key people from Cisco (including VP Phil Harris, who owns what goes in the Vblock) and EMC (including VP Todd Pavone, who owns the solutions and applications that go on a Vblock). Employment at VCE is separate from the parent companies, and movement among the organizations seems to be stabilizing. The company has also done a lot of hiring, including some well-known tech bloggers. The EMC and Cisco sales forces, partners, and distribution channels are all used for Vblock sales.
The elimination of the Acadia initiative is good for channels, especially service providers who may have been concerned about competition. VCE has made announcements with a number of service providers, including SingTel, Orange, Terremark and others. EMC's Chuck Hollis even started a separate blog just to talk about service providers. Cisco's sales model is predominately channel-driven, and VCE is following a similar model. Ultimately, the goal of The VCE Company is to drive sales of solutions made up of products from the parent companies. Partners and customers are getting the added value of integration and a pre-configured solution without paying a premium compared to the pieces individually.
Product Progression
The Vblock solution has evolved in the year since it was launched. Initially the solution could be considered a reference architecture; a blueprint was created by the coalition, into which VARs and integrators would then build. Now a Vblock is shipped from the factory fully configured. This shift must have an impact on dollars and margins that change hands, but since the racking and cabling is not high-value activity, and the company manufacturing facilities should be able to do this in the most efficient manner, having the solution ship fully configured should lead to lower costs and frees the VARs and integrators to focus on higher value services. See Wikibon research on the financial impact of integrated stacks. The storage (from EMC), network and servers (both from Cisco) follow the roadmap of the individual product lines. VCE considers the management (orchestration layer) to be significant part of the secret sauce of the converged solution and the Unified Infrastructure Manager (UIM) software has matured a lot in the last year, with version 2.0 now shipping. UIM is what allows customers to make the operational changes to provision services rather resources.
VCE has also created a group of "Vblock Powered Solutions" including for VDI and SAP. There are more to these solutions than simply testing that an application works. In the case of VDI, analysis is done to understand the impact of the type of users on a configuration – whether they are network or disk intensive, memory or CPU intensive and there is a sizing guide that helps to determine the proper configuration during the test and development phase of a deployment. According to a VCE engineer, VDI on Vblock includes 150-200 settings that are pre-configured, that if deployed on a solution that wasn't bundled choosing settings would require not only knob turning, tuning, and software patches, but often changes in configuration such as getting additional adapters and memory are needed if the initial performance did not meet end-user expectations. Some of the hesitancy around deploying mission-critical solutions such as SAP or desktops on virtual environments is the risk and fear that deployments will go wrong. Well-architected and orchestrated solutions such as Vblocks reduce the risk of failure.
Sales and Customer Impact
At the Gartner Data Center conference last week, Capellas said that VCE has 65 "major" customers and will be adding 40 more in 4Q10. The customers and service providers that have publicly discussed using Vblocks are all using more than a one, and with an average selling price that is generally understood to be over one million dollars per unit, VCE has a significant revenue stream building. A Vblock can be used as a "silo-buster", that is a solution that helps to break down the organizational barriers that exist in large enterprises between groups. As discussed in this video of SAP VP Richard Probst, customers want to be able to free their employees to be able to add more innovation and value to the business.
Since the consumption of the solution is of the entire compute/storage/network stack, the expansion to additional blocks when the first is full is by the nature of a full stack at a larger incremental cost than the expansion of a single component. Service providers and large enterprises amortize this cost across groups similar to what public cloud providers do; the elastic growth, and ability to use a Vblock to provide IT as a Service (ITaaS) allows the solution to be a building block for a private or hybrid cloud environment.
Competition
While a converged infrastructure is not exactly a new idea – IBM owned the "full stack" in mainframe days and Egenera had converged infrastructure solutions before IBM, HP and Cisco had blade servers, the VCE initiative has ramped up the Stack Wars.
Alternative solutions to a Vblock include traditional best-of-breed configurations, reference architectures, single vendor stacks and other orchestrated solutions.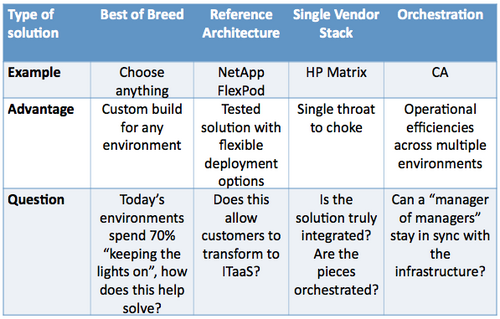 Vblock does not have to be the exclusive infrastructure for a company, as an example, the NRE Alliance allows customers to create a self-service, automated and flexible environment that can manage a mix public cloud (such as Amazon) and private (such as a Vblock).
Action Item: Customers are looking for ways to transform IT to be more agile and cost effective. ITaaS solutions, which can be put on-site or consumed from a service provider, offer the opportunity to reduce operating expenses and free resources to provide higher-level services to the business. Look not just for a supplier of simpler infrastructure solutions, but a strategic partner that can help transform processes, training and management of IT.
Footnotes: See the Blue Shift Blog for an chat with EMC's Chad Sakac about Vblock.
Action Item:
Footnotes: