Video: Egenera CEO, Pete Manca discusses Open Convergence
Egenera was selling converged infrastructure solutions long before companies like Cisco, IBM, and Oracle started talking about integrated stacks. At their core, Egenera products are about simplifying IT infrastructure and IT operations. While this is the same high-level value proposition as virtualization, Egenera can provide these benefits to mission critical environments with any mix of physical or virtual deployments.
Transitioning from Hardware to Software
Egenera is known in the industry for its hardware solution. Before the waves of blade servers came onto the market, it created a rack solution based on Intel servers in which the management and wiring were greatly simplified. The infrastructure provides high availability and disaster recovery for any workload.
When IBM, HP, and others provided blade solutions with VMware advanced functionality like HA, DRS, and vMotion, Egenera had to adapt its messaging. Even when providing superior functionality, small players can have a hard time competing with "standard offerings". While Egenera still offers itsown hardware solution, it has also partnered with other server suppliers such as Dell and Fujitsu.
The core of Egenera's technology is its' PAN Manager software (now at version 6.0, so this isn't new) which orchestrates the entire environment (see graphic) with fewer licenses than competitive offerings. The system can now be offered as a software solution, transforming standard blades and standard networking components into a converged infrastructure.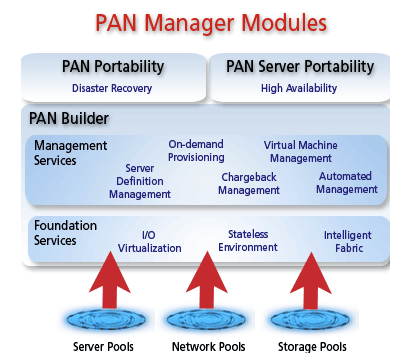 Simple and Flexible
One of the discussions around the latest integrated stacks from Oracle, VCE and others is how much savings in operations does the stack buy and how much flexibility (or lock-in) does it have. Egenera has something unique for the market today – it can run on a heterogeneous environment of not only servers but also operating systems. There is an impressive breadth in offerings from processors (Intel and AMD), hypervisors (VMware, Citrix, and Microsoft) and non-virtualized environments (giving HA and DR capabilities to Windows or Linux applications that are not ready to take the leap to hypervisors).
The protocol wars are also not of concern in an Egenera environment; solutions use standard Ethernet internal and support FC and Ethernet out. While customers are now starting to adopt virtualization for mission critical applications, Egenera has been successful in these environments for years.
Action Item: Customer environments are in various points along the journey to virtualized environments. With a software product that can manage environments from all phases of this journey, end-users and service providers should take a close look at Egenera's offerings.