Originating Author: David Vellante
Peer Incite Guest: Dave Robbins of NetApp
The Premise
On August 25th 2009, the Wikibon community gathered for a Peer Incite Research Meeting with Dave Robbins, the former head of Global Infrastructure for NetApp. Robbins put forth a strong premise and message to the Wikibon community, specifically:
The current economic downturn should not to be wasted by IT professionals. By challenging current assumptions and doing things differently, organizations can take fixed costs out of the business and modernize infrastructure to reduce operating expenses.
To pay for this transformation, users should consider strategic sourcing as a way to move CAPEX costs to the OPEX budget and move toward a model more weighted toward variable costs. This was generally considered by the call participants to be an early step on the cloud computing maturity model.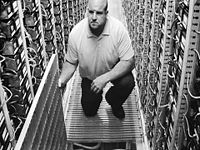 Metrics that Matter
Two key statistics came out of the call today:
Server utilization rates in test and dev environments average between 5-8%.
Typically, IT infrastructure costs are 70-80% oriented toward fixed costs.
Cloud computing promises to alter this dynamic. Organizations are on a multi-year journey to reduce the fixed cost percentage of expenditures and variabilize costs, with a 50/50 mix as a reasonable target that will vary by organizational size, business emphasis, and other factors. The Wikibon community discussed a three-step process to achieve this transformation, involving:
Cut projects that aren't essential and implement a prioritization and demand management system.
Use sourcing as a strategic weapon across the portfolio to eliminate fixed costs.
Develop and introduce metrics and sustainable processes to govern continuous improvement.

The End Game
By taking such an approach, Robbin's goal for NetApp is not only to reduce fixed cost but to improve business flexibility. The starting point for NetApp was to figure out which pieces of IT get outsourced and which stay in house. Robbins conveyed to the Wikibon audience a simple model that: Outsources more generic infrastructure (e.g. test/dev and corporate Web site apps); Identifies applications that are standalone and pushes those to outsourced infrastructure where possible (e.g. small data marts) and Identifies applications that support specific business processes that can be pushed to the cloud (e.g. HR and CRM).
What's left are strategic applications with high degrees of integration that are core to the business and will remain in-house indefinitely.
The fact is, however, that we've heard similar stories and predictions over the past decade. The key question that came out of the call is the following:
Is this a permanent shift in the mindset of business technology executives or, will things normalize (i.e. revert back to a fixed cost model) once the economy rebounds?

Five Reasons the Change is Permanent
Robbins and the Wikibon community cited five reasons that lead us to believe this is a more permanent shift:
The quality and ubiquity of networked computing is much greater today than in the past.
IT complexity continues to escalate, and IT response rates continue to be too slow as compared to external cloud solution providers; there continues to be a slow and steady movement toward the consumerization of IT.
Customers are demanding cost transparency, metering, and pay-as-you-go pricing.
Technologies including virtualization and software-as-a-service are maturing in support of this trend.
The severity of the economic downturn will have long-term effects on corporate behavior vis a vie over-investing in fixed asset bases that are continuously depreciating.

Action Item: Technology executives are being forced by business conditions to modernize infrastructure, better utilize assets, and provide equal or improved service levels. To pay for this transformation, organizations must use sourcing as a strategic weapon to drive fixed costs out of the business and improve responsiveness. The skill sets required to support this new reality will increasingly emphasize business and not technology optimization.