Capital expense (CAPEX) or acquisition costs are often the drivers of decision-making in storage purchases. CFO's typically want to reduce capital expenses but have over time come to realize that ongoing operational expenses (OPEX) tend to drive total cost of ownership to levels that dramatically exceed initial capital outlays.
In the mid-1990's, based on research conducted and popularized by Gartner and others, the IT industry began to realize that distributed or Client/Server computing was actually much more expensive than initially believed. The general rule of thumb for storage consumers was that on balance, acquisition costs or CAPEX accounted for approximately 25-35% of the total cost of storage when accounting for labor costs over the useful live of an array. This realization led to a recentralization trend and rapid adoption of storage networking technologies in the form of NAS and SAN.
How has this dynamic changed in the past ten years? Quite dramatically depending on your perspective. What was once viewed as a homogeneous metric (i.e. OPEX accounts for 2/3rds to 3/4ths of total cost of ownership) has now morphed into a series of "it depends" rules-of-thumb that need consideration to be applied properly by business managers.
Specifically, the following factors will dramatically influence your total cost of ownership model:
The workload complexity under management (transaction processing is harder to manage than file services);
Software deployed which can be both expensive but have positive impacts on rates of storage utilization;
Price of electricity and floor space (as energy costs soar it becomes a larger component of OPEX);
Labor rates (this phenomenon was never as acute in third world countries where labor rates are lower);
Labor skills-- less skilled labor may be less expensive but not as productive;
The architecture deployed. For example, Tier 1 will have higher acquisition costs and consume more energy than modular arrays. Tier 2, if attached to a SAN, will tend to have TCO profiles that look more like Tier 1 arrays, even though they are quite different in complexity. NAS will tend to be simpler to manage (because NAS workloads like file/print tend to be easier to manage) and hence the acquisition costs will be higher as a percent of TCO.
Through interviews inside the Wikibon community, we've quantified and generalized metrics for four types of storage and looked at their CAPEX vs OPEX in the context of a 3-year TCO. We researched customers' usage of storage and broke out costs in terms of:
Acquisition Costs: Hardware and software
Operational Costs: Hardware/software maintenance, labor (operations and admin) and environmentals (power, cooling and space)
Here's what we found (see Table 1). Total CAPEX as a percent of 3-year TCO for each type of array is as follows:
Tier 1 Storage Arrays (block-based) - CAPEX = 37% of TCO
Tier 2 Modular Array (block-based) - CAPEX = 36% of TCO
NAS-based File Services (Windows) - CAPEX = 42% of TCO
DAS-based distributed storage - CAPEX = 25% of TCO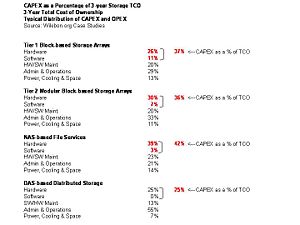 Each of these approaches will be used for different workloads and applications. In general, Tier 1 will have highly functional software and lots of admin complexity for recovery and performance purposes. The effects of switched fabric on Tier 2 modular arrays has moderated complexity (relative to distributed storage) and in general the environment is less complex than Tier 1, hence easier to manage. For NAS, much of the administration is done by the user so the environment is very efficient and everything tends to be cheaper (assuming it's aimed at NAS-friendly workloads). Lastly, DAS is the least efficient but easiest to acquire cheaply in small chunks and gives good performance.

Action Item: Users should never ignore OPEX and focus solely on CAPEX. However neither should acquisition decisions solely be based on TCO. Rather users should understand the requirements for target applications, consider various approaches and then model the TCO impacts in the context of business value.