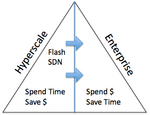 See Wikibon's software-led infrastructure page for more on how converged infrastructure fits into the SDDC at Wikibon.org/SLI.
Converged Infrastructure Moving to Early Majority
The growth of converged infrastructure solutions is impossible to miss in conversations across the marketplace (see videos from the recent VMworld conference). Customers, however, are not looking to buy "convergence"; rather, IT is in desperate need for solutions that provide simplicity, agility, and that can help transform operational models. While the first savings for deploying converged infrastructure offerings are related to improved speed to deployment, greater value can be found in solutions that integrate up the stack to database and applications (see The Business Value of Converged Infrastructure Topologies). There has been acceleration in the technology improvements (especially flash) and operational proof points for the full spectrum of converged solutions. Market adoption is well along the path forecasted by Wikibon and revenues are shooting up the S-curve that bring these solutions to the majority of environments.
The True Value of Converged Infrastructure
As discussed in David Floyer's The Business Value of Converged Infrastructure Topologies, there are no wrong converged infrastructure solutions. Vendors and customers will choose the proper offering based on skill set, comfort level, refresh cycles, and more. Cisco UCS has been a significant driver of converged infrastructure deployments (VCE Vblock, NetApp/Cisco FlexPod, EMC VSPEX, and reference architectures with others including Nimble Storage and Tegile); yet a significant number of customers continue to buy the pieces of the stack separately. On the spectrum of build-your-own to reference architecture and fully converged infrastructure, there are a few things that customers should consider. First of all is the growth and number of sites. The deeper the integration of a solution, the easier it is to have a repeatable process. While this isn't new (large financial institutions and hyperscale companies have used "gold" or standardized deployments for years), full stack solutions that have tracks for upgrades of hardware and software components (removing the dread from patching since the results are known in advance) can finally move the needle in operational expenses. VCE quotes a 70% reorder rate as a proof point of customer satisfaction of the operational model. For customers that buy solutions every few years, it can be more difficult to synchronize upgrade cycles for pieces of the stack, so a roll-your-own or more flexible reference architecture can often be an easier solution to adopt. On the rapid growth side are service providers who have great potential to be voracious consumers of infrastructure; VCE has led the pack in capturing this opportunity.
Flash Intersects Convergence
The first wave of converged infrastructure came to market five years ago, which is the same time that flash solutions (from Fusion-io and EMC) first started to appear in the enterprise. Today, flash is transforming architectures and being adopted in a variety of forms by customers. While newer companies such as Nutanix and SimpliVity were built with flash from the start, solutions from EMC, HP, IBM, and others are catching up as flash permeates the full storage portfolio. As for Cisco's WHIPTAIL acquisition (see my full breaking analysis on the news) – Cisco is positioning the move as a "technology buy" that will provide an extension of compute rather than as a move into storage. Both VCE and NetApp state that this is a positive move for their relationships, which will bolster Cisco's UCS offering and not impinge on the converged infrastructure partnerships. That being said, VCE's updates today (see the press release) include a full refresh of flash offerings including the new EMC VNX (hybrid-flash array) in the Vblock 340 and EMC XtremIO (all-flash array that in theory competes with what WHIPTAIL has been selling) in the Vblock Specialized System for Extreme Applications (first use case is VDI – a market where Nutanix has had a strong focus, see their claims of how Hyper-convergence enables VDI savings). There is likely to be a little bit of confusion between sales forces as positioning is sorted out, although the companies are clear that Cisco is the compute vendor (WHIPTAIL will be added here and will have to sort out how EMC XtremSF PCIe card fits) and EMC/NetApp for storage (so you won't see them selling an all-flash array).
Action Item: Converged infrastructure can help IT move away from building optimized silos that require a lot of care towards simpler architectures that can provide predictable results with increasing levels of automation. These solutions build a stable foundation that extends the value of virtualization up the stack to meet the needs of application owners and new business areas. It is a prime opportunity for CIOs to spend extra time in understanding requirements and choose a strong strategic partner that deliver significant savings in operations for years to come.
Footnotes: