With David Vellante and Michael Versace
Virtualization is one of the fastest transitions ever experienced in IT. Now, a new coalition wants it to go even faster, easier, and safer with lower TCOs – provided you do it the VCE-way and take a lot of unanswered questions on faith.
What is VCE?
VCE comprises four elements: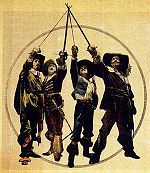 First, there is Vblock, a bundled set of hardware and software from VMware, Cisco, and EMC that initially comes in small, medium, and large configurations supporting from 300 to 6,000+ VMs. Servers and switches are Cisco, while storage is EMC. The hypervisor is of course VMware with a Vblock element management wrapper from EMC (Ionix). Storage is secured by RSA. Prices range from hundreds of thousands of dollars to many millions.
An integrated pre-sales, service and support organization cross-trained across the three VCE companies.
Add to that Acadia, a new Cisco/EMC joint venture. Acadia will help customers and an ecosystem of service providers and other partners to build, operate ,and transfer Vblock Infrastructure Packages to customers or their partner of choice. In addition to Cisco and EMC as the majority investors, the build-out of Acadia's global capabilities in 2010 also has been capitalized by investments from VMware and Intel. Initially, 130 people are assigned to Acadia.
Partners including systems integrators, value-added resellers, service providers, and independent software vendors. At launch, there are six system integrators: Accenture, Cap Gemini, CSC, Lockheed Martin, Tata Consulting Services, and Wipro.
Unanswered Questions
Beyond these facts, the hardware and software details are limited and there are several additional unknowns about VCE that customers should investigate, specifically:
What's the cost of all this integration value—it is unclear what premium customers will pay for the reduced risk and speed to market this coalition provides.
While we know storage will be Celerra (small Vblock) CLARiiON (small and mid-sized Vblock) or V-Max (biggest Vblock), how storage is connected remains unclear. Is it FC or FCoE, or iSCSI/NFS/CIFS?
Servers are Cisco UCS and Fibre Channel switches are Cisco MDS—that's all we know. Cisco's Nexus 1000v software switch is included, but how it talks to the outside world is unspecified.
It is unclear which if any FCoE switches will be supported.
The hypervisor is VMware's vSphere, but not much more was announced. What other software pre-requisites will users need to license?
What are the product details? There are only two product profiles on EMC's website: one for Ionix Vblock element management and one for the three Vblock configurations with very limited information. The same is true for the Cisco and VMware websites. That said, from the Ionix brochure one can see that there is a UCS manager, Symmetrix management console (and presumably Navisphere as well), and vCenter. EMC does have some professional service details available.
How do you back up 6000+ virtual machines? One tweet from Chad Sakac indicated that EMC's Avamar product is part of the Vblock reference architecture. OK, but where is that reference architecture?
Do users have to throw out existing infrastructure to avail themselves of Vblock? In the video IPTV broadcast, Joe Tucci compared it to a restaurant menu, one with a prix fixe page and one with an a la carte page; users can choose. The trouble with that analogy is that in this case the food comes from two different restaurants.
What about the security architecture and framework for the VBlock platform?Storage is an important component, and RSA has core technology for addressing secure storage and other solutions for the management and virtual desktop layers. But security needs to be engineered into the VBlock platform and deployment methodologies, not bolted on at the end. Are there specific threat profiles and trust policies that can be addressed by the security architecture and related features and services? Is there a security integration layer for workloads like identity management that may be shared between legacy systems, virtual data center operations, and private clouds? How much of the security integration work is left to the end-user, particularly in the areas of authentication, service authorization, policy and security information management?
Will Vblock connect to an existing SAN infrastructure, or do users either have to build islands again or rip and replace? Same question for Ethernet infrastructure.
What happened to Cisco's and BMC's major management breakthrough for UCS?
Wikibon will solicit responses to these questions from the vendors and update the wiki as they become available.
In addition to answers to these questions, customers need more information before aggressively pushing VMware further into their application stacks. For a more detailed discussion of these and other related issues, see: Industry Implications of VCE.
Action Item: VCE leverages the substantial market power and investment might of three major players, VMware, Cisco and EMC. In the battle to dominate the data center, VCE has to be one of the favorites if not the the chalk. Customers however need more details before placing VCE on their roadmaps as Vblocks are merely a first step on the journey to the virtual data center and the private cloud.
Footnotes: