On December 9th and 10th 2008, the industry analyst community converged on Hopkinton, Mass., for two days of business updates, insights, and directions from EMC. Unfortunately, Joe Tucci could not be in attendance because he was announcing a renewed relationship with Dell that both companies probably wished they'd announced before the financial meltdown. Tucci was missed. He is always a highlight at these meetings because of his powerful presence and willingness to provide a glimpse of the future that other managers don't have the authority to convey. As one Wikibon member in attendance said, "Tucci always shows a little leg."
Business update
EMC's analyst meeting is consistently one of the most well-attended and informative sessions in the industry (notes from 2007's meeting). Despite the notable lack of any direct customer presentations and the non-participation of EMC's most senior executives, this year's event provided an excellent update of the company's directions.
B.J. Jenkins, EMC's Senior Vice President of Marketing kicked off the meeting with some impressive year-on-year financial figures, including: 1) Twenty-one consecutive quarters of double-digit revenue growth; 2) Q3 revenue of $3.7B, up 13%, and 3) Non-GAAP EPS up 14%, leading some to ask "What recession?"
Given the economic outlook, this could be the end of a pretty impressive run. Nonetheless, Jenkins made the case that EMC in this economy is in a much stronger position than it was in the 2001 downturn when it was mostly a slow-to-change, premium-priced hardware company with a high-end focus and a weak balance sheet. He argued EMC has a much broader portfolio today, is more responsive, and has the industry's strongest balance sheet. In fact, Jenkins flatly stated EMC will gain share in its top markets and may selectively cut prices, but only in emerging regions (e.g., China and India). This is a sharp contrast to 2001, when EMC was clearly on the defensive. Jenkins delineated EMC's guiding principles for 2009 (shown in Figure 1) which provided a credible mental model of EMC's operating approach for the coming year.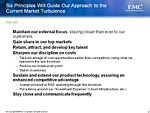 User implication: Look to EMC in 2009 as the safest bet with competitive market pricing and a willingness to provide a degree of up-front hand holding, for free, to win business.
Solutions emphasis
EMC's core point product story seems to be taking a back seat to a solutions emphasis largely enabled by a huge portfolio. The Wikibon community believes this is a credible way to present complexity—it's easier for sales teams to describe solutions than to painstakingly enumerate point products. It more closely fits the model of how customers want to buy, aligning with a business capability rather than a product or feature. Integration remains a challenge, and EMC customers should not expect a seamless answer to integration across all EMC's core lines in the near or mid-term. Serious exploitation will continue to require external services or internal efforts.
User implication: EMC's broad portfolio is good news for large customers, as bundled deals will come easier with fewer throats to choke.
The Cloud and consumer
EMC shared how it is expanding its portfolio into far-flung places like cloud computing (with ATMOS) and consumer markets. The Wikibon community feels that while these initiatives bring some risk of EMC spreading itself thin, a number of its strategic investments will pay returns, and customers should look for EMC to be a leader or fast follower in many emerging spaces. EMC can afford to invest in these ventures given its strong financial condition, while other firms may not be inclined to keep pace.
User implications: Strategically, the cloud and the consumerization of IT mean new ways of doing computing, lower cost service-based models and new types of functionality. Enterprises need to begin to understand these issues and EMC's roadmap is a must see for users.
Security and CMA
Security
Security with RSA is a big differentiator for EMC, and despite slow progress on a unified security platform, traditional EMC customers will see substantial benefits through integration. Non-EMC storage platforms will have to leverage APIs and the RSA ecosystem, and how facile this integration will be remains to be seen. RSA is a major force in the security space and a gem in EMC's portfolio. It is a clear leader with a fresh perspective on fundamentally protecting information versus putting up more firewalls and perimeter infrastructure. The consensus in the Wikibon community is that RSA will continue to innovate and lead in the security space and will become one of EMC's most prized possessions.
User implication: EMC customers will see integrated RSA solutions first. Non-EMC storage customers will be more reliant on RSA's ecosystem and API's to integrate RSA's leading technology into storage solutions.
Content Management and Archiving (CMA)
The content management business is a "tale of two cities:" 1) Document workflow-- the roots of CMA and 2) Risk mitigation-- driven by regulation, litigation risks and changes to the Federal Rules of Civil Procedure in 2006. Unfortunately the business world had to mash these two together and the result was not pretty. The former is an area about business process efficiency, workflow, collaboration, version control, etc., with a strong productivity value proposition. Architecturally it is suited to a centralized repository model. The latter, risk mitigation has proven to be a distributed problem with risk in devices, desktops, laptops, and even social media tools. Centralized solutions don't scale, are expensive, perform inconsistently, and suffer from rapid obsolescence. Shoving everything that's discoverable into an archive was a knee jerk reaction to government regulations and litigation risks. Applying centralized document management approaches to risk mitigation is a short-term strategy for users.
EMC's content management and archiving business is leading, competitive, diverse, and capable but suffers from the same woes as other CMA suppliers: 1) The traditional business is becoming commoditized by open source solutions (e.g. Alfresco) and 2) Applying the centralized model to mitigate risk is proving complicated, expensive, difficult to scale, and solutions purchased today may not be viable tomorrow.
Wikibon believes EMC is keenly aware of these trends and has some advantages in services, implementation skills and perspectives, as evidenced by the presentation of Andy Cohen, EMC's Assistant General Counsel. However EMC's large installed base makes it vulnerable to a market that is in flux and demanding new tools, methods, and solutions, especially to managing risk. EMC and others must move fast to thrive, and that's not easy in an entrenched market like content management.
User implications: Customers had better remain flexible and open to adopting new technologies as they enter the market, especially in the risk mitigation area. In regards to risk management, customers should use point products to fill holes and set low expectations regarding simple, cost-effective integration. Customers should continue to expect challenges servicing the needs of business lines, legal, records management, audit, and finance functions with an integrated solution.
Data center efficiency
VMware
On the VMware front the message is clear: EMC is a dominant storage force in the virtualization space. EMC's VMware storage activities, initiatives, best practice documentation, and partnerships are second to none, and while VMware must continue to maintain independence from its majority shareholder, it is clear EMC the storage company intends to compete vigorously in the VMware storage space and grab as much VMware storage land as possible-- this is a high priority for EMC.
In a related matter, many Wikibon users have touted the overwhelming advantages of virtualizing storage in a VMware environment (ease of migration, better utilization, etc). EMC has never bought this argument and stresses flexibility as the key to VMware storage and claims that a fully virtualized storage backend is not a pre-requisite for flexibility. Notably, Invista, EMC's only fully virtualized heterogeneous storage system didn't receive a single mention at the meeting. Yet the lack of a credible heterogeneous storage virtualization platform has not hurt EMC in the market up to this point, and there is little evidence it ever will. While Wikibon members continue to see advantages to fully virtualizing a VMware storage backend, discussions with EMC customers suggest they are exceedingly happy with their results.
User implications: Look beyond storage vendor claims of VMware leadership and push vendors for demonstrable milestones. These include broad support for multiple protocols, proof of scalability, backup knowledge, admin features, reference architecture, and strong services offerings.
Green computing
The Wikibon community feels that the EMC story on sustainability goes something like this: EMC is a strong corporate citizen but not noticeably more active than other Fortune 500 companies. Certain competitors such as IBM, Sun and Hitachi have done a better job of communicating goals, milestones, and metrics. While EMC's Kathrin Winkler, Senior Director of Corporate Sustainability, showed several credible initiatives (e.g. lowering electricity consumption in its labs, telecommuting, water conservation, etc.) the full commitment from the very top is not evident across the spectrum. The storage industry in general and EMC specifically need to place more emphasis on green innovation.
Specifically, on the product design front, is EMC worse off than other storage suppliers? Not really in a broad sense, but certain companies stand out architecturally, and it's difficult to argue that EMC is 'The Leader' in green storage. As 'The Leader' in storage, EMC needs to more clearly and forcefully demonstrate its lead in this important area.
User implications: The U.S. IT industry in general needs to do more in green. Falling oil prices risk repeating the ecological lip service paid to conservation in the 1970's and threaten the planet, the industry's long term competitiveness, and organizations' operational efficiencies.
Flash
Other notable areas at the meeting included flash, where EMC bolted to the lead in January 2008, and is now right on the early slope of the S-curve. Other suppliers are behind, but EMC pre-announced flash before it was ready to gain a marketing advantage, and the storage industry as a whole will cluster around flash in the next 24 months. Nonetheless, we expect EMC to maintain its time-to-market lead (in flash as a disk replacement) for some time to come and perhaps indefinitely.
User implications: Customers should start testing various flash and solid state technologies and identifying application candidates to get ready to dissect a slew of offerings across the I/O spectrum.
Data de-duplication
Finally, EMC's data de-duplication strategy is coming together nicely, as it is strongly positioned, especially in VMware environments. Avamar initially saw resistance in shops that didn't want to re-architect the backup process; however, the increasing popularity of VMware and the need to improve backup processes for efficiency has been a boon to Avamar. Users should familiarize themselves with the various de-duplication alternatives to understand where they fit. EMC should be on the short list.
User implications: Customers willing to re-assess their backup processes could see substantial efficiencies with Avamar's source-based data de-duplication approach. While such solutions can be expensive and should never be a band-aid for getting rid of unneeded data, the cost of backup generally is one of the most onerous areas in the storage budget and next generation backup methodologies warrant investigation.
On balance, EMC did a very credible job at this year's analyst event of convincing analysts that it would maintain a leadership position and forge ahead in new markets. It is clearly an exceedingly well-run company and will likely strengthen its position in 2009-- EMC remains the safe bet for users.
However, users should expect EMC to continue to solve key integration challenges with a mix of professional services and investments in product synergies where EMC's own returns can be maximized (e.g. Avamar integration). Users should not expect similar integration where EMC's position is less likely to be advanced (e.g. heterogeneous SRM). This is a blessing and a curse for customers as they are drawn to EMC's problem-solving capabilities and outstanding service while at the same time becoming increasingly reliant on the company's solutions, thereby reducing negotiating leverage.
Action Item: Budget constraints in 2009 bring unique challenges and opportunities to EMC's customers. Users should take advantage of EMC 'freebies' in its solutions space to reduce implementation risk by ensuring performance and configuration testing. Users should also construct a strategy to treat 2009 EMC acquisitions as a project organizing a cross-functional team with visibility to all EMC acquisitions. This will ensure the highest quality service and best price from the storage giant.
Footnotes: