Storage Peer Incite: Notes from Wikibon's August 12, 2008 Research Meeting
Moderator: David Vellante & Analyst: Nick Allen
EMC has announced a laundry list of upgrades to both performance and functionality of its midrange CLARiiON line. These have revitalized it and given users a clear growth path while answering the threat from a list of emerging storage challengers who have offered many of the same advances in an attempt to steal share in CLARiiON's market. The Wikibon community believes these should reassure CLARiiON users that the product line remains vital and important to EMC. We believe that users should see at least a 2X performance improvement in like-for-like model comparisons despite the extra performance load of the list of new features and improvements. However, the line's basic looped architecture remains, and we are unsure of how much further EMC can take it without a move to a switched-based backend. In this newsletter Wikibon storage contributors examine the implications of these improvements for users and the market. G. Berton Latamore
EMC's August 2008 CX4 announcement supports Joe Tucci's November 2007 promise that by mid-2008, EMC would have all the innovations introduced by upstart companies in recent years. CLARiiON has a large installed base of more than 300,000 systems and has field data to support claims of five-9's availability, which EMC expects to carry forward to the CX4.
Rather than re-hash the announcement, the Wikibon community chose to focus on some unanswered questions and on what this announcement means to customer investment strategies with respect to midrange arrays in general.
Key discussion points of the August 12 Peer Incite meeting were the broader architectural issues related to the CX4 and implications for EMC's competitive posture in the midrange. Clearly EMC's intent was not just to respond to competitive innovations but to create an offering that sends a message to customers that CLARiiON is alive, well, and an attractive, safe investment.
With so many innovations (e.g. thin provisioning, spindown, flash drives, RecoverPoint integration, multi-protocol support, increased channels, etc.) EMC increased CLARiiON performance to fulfill this vision. The question for users is whether the performance enhancements are enough to support the new features and perhaps more importantly, how far will they carry the CX line?
The Wikibon community feels users should be confident that the substantial changes to the CX architecture (chip upgrades, quad core processors, 64-bit FLARE code, etc.) are more than sufficient to support EMC's latest innovations, and users will see 2X or better performance improvements on a model-to-model replacement basis. How far EMC can take this dual-controller architecture, however, is unclear. Numerous emerging seemingly low cost architectures are on the horizon that should be on users' radar that exploit high-capacity SATA devices and/or aggressively spread data over a virtualized infrastructure. Customers report these alternatives provide substantial performance advantages in certain applications. As the volume of less frequently accessed information increases, these innovations bear close inspection.
However, on balance customers and channel partners should be extremely encouraged by EMC's aggressive investment in the platform in an attempt to maintain its technological lead.
Spindown and Energy Efficiency
As energy efficiency increasingly becomes a topic of concern for customers, more suppliers are introducing a spindown or MAID-like feature set into arrays. EMC's CX4 spindown uses only 'sleep mode' as the power down option and is narrowly targeted to customers of the EMC Disk Library which uses a CLARiiON backend. Other spindown applications will not be supported until 2009.
While on the surface EMC's approach limits the application of spindown, the fact is that packaging spindown as a solution and providing so-called 'MAID-aware' capabilities in the application allow users to exploit these features out of the box without concerns about drive inactivity causing application time-outs. While EMC doesn't offer gradations of spindown (as, Nexsan, for instance, does), it has introduced 1TB 5400 RPM devices, which consume less power.
What's missing from this capability is a formal API that partners and users can exploit. For now, customers are reliant on EMC to provide applications that spindown can leverage. What's also missing are complementary tools to easily classify data that are candidates for spindown. This issue is not unique to EMC; the Wikibon community has not seen any array vendor package comprehensive tools to assist in data classification. EMC and others offer professional services to provide classification, and users should balance the potential for energy savings with the cost of these services. Customers should remember that plugging devices into the wall is not the best way to lower the power bill. Instead, eliminating spinning disks, and more importantly, getting rid of unneeded stored data are the only ways to effectively attack the energy problem over the long haul.
Persistent Write Cache
While EMC has not divulged how it makes write cache persistent, the capability is one of the architectural changes announced with the CX4. It's unclear if EMC uses a battery backup or other non-volatile technique, but for customers this will mean less disruption. Generally users should think about availability in at least two dimensions, service interruptions and performance. Persistent write cache in CLARiiON will mean improved performance availability on hardware failures and less interruption during service events. While this capability will not be required by all CX customers, EMC is turning up the heat on the competition to offer similar capabilities.
Remote replication and RecoverPoint
As part of the CX4 announcement, EMC has improved the integration of its in-FLARE splitter code—the code that determines what gets replicated in a data protection environment. This move means users interested in CX remote and local replication services will pay less in professional services fees and see about 30% lower solution costs. It also underscores that CLARiiON high availability and disaster recovery features are increasingly competitive with the very highest end systems on the market (e.g. EMC's DMX and Hitachi's USPV) at a fraction of the cost.
Flash
EMC claims to be the first midrange storage supplier to be offering flash technology. How many CX users require flash remains unclear. For database index and applications that currently short-stroke spinning disks, flash offers a potentially viable tier 0, albeit at 22X the price of 15K FC drives. Users should continue to justify flash based not on cost per GB but rather on the value of performance and expect pricing todrop dramatically over the next two years.
Advice to Customers
Over the past several months, several emerging companies have made compelling comparisons relative to 'standard midrange arrays', which often is a euphemism for CLARiiON. Customers should make sure these comparisons are up to date and reflect the current CX4 before making buying decisions. As well, customers should familiarize themselves with innovations from a long list of emerging midrange storage suppliers including 3PAR, Copan, Compellent, Dell/Equallogic, Pillar, Nexsan, and Xiotech – to ensure that CX4's innovations align with best-of-breed feature sets and EMC's claims reflect the current state of competitive technologies.
Action item: CLARiiON users should be encouraged by the CX4 announcement, particularly because EMC has sent a clear message that its strategy is to invest rather than milk the platform. While questions remain as to how far EMC can take a two-controller architecture, it would appear that from an innovation standpoint EMC is making it difficult to leave the CX off the RFP short list.
The July 31, 2008, announcement of the CLARiiON CX4 midrange disk array offers a rich, multi-functional storage solution with a solid feature set. In particular, the CX4 offers multi-tier (tier 0 through 3) storage capabilities from flash memory to spin down and reduced power disks. These features are appealing and enable the customer to further optimize storage infrastructure expenses.
However, before users can exploit a tiered storage architecture, they need classification tools to identify what data is best suited for each tier. Without this capability, highly active data could be allocated on disks that would normally spin down when inactive, thus negating any "green" energy savings capability. Implementing effective data classification discipline is becoming near-mandatory for medium-to-enterprise sized customers and consistently comes up in Wikibon Peer Incite Reviews.
Unfortunately storage companies in general and EMC specifically have not yet integrated such classification tool sets into their solutions. These suppliers instead offers professional services, but data classification requires a lengthy engagement. This definitely will impact the potential ROI advantages of CX4 upgrades, despite its full-tiered storage solution and investment protection of CX-3's facilitating migration from older arrays to CX4. That ROI impact will only grow as the cost of electricity rises.
Action item: CX4 will require easy-to-use tools to allow for customer applications to exploit the tiered hardware architecture. Without these tools, optimizing data assignments to the four storage classes will require a substantial effort. Going forward, think of classification in three dimensions: 1)business criticality 2) performance and 3)capacity. Users should ensure EMC provides sufficient data placement capabilities to exploit the strong CX4 hardware offering before committing.
The new EMC CX4 functionality enhancements are probably the most comprehensive ever seen in a refresh of a midrange platform. While EMC's DMX can generally support more simultaneous applications, scales better than CX and typically will offer higher service levels, virtually all the functionality of the DMX platform has been included in CX, including flash drives, thin provisioning, five 9's availability and spin-down. There is now a strong overlap between the high-end of the CX and the low end of the DMX line. The differences have become significantly smaller with this latest CX announcement and there are many areas (such as environmentals and I/O flexibility) where the CX platform perhaps even eclipses DMX. The question customers must now clearly address is "where are the increased costs of DMX hardware and software still justified?"
The Wikibon community sees four areas that will remain the ROI stronghold for the DMX (and competitive platforms-- e.g. Hitachi's USPV):
Mainframe: DMX supports the IBM zSeries with ESCON and FICON. The CLARiiON does not support mainframes;
Applications with very high IOPS requirements which are large, cache friendly and where predictable response time is a business imperative. These are mainly home-grown, monolithic database applications, often running on mainframes and high end Unix platforms. The CLARiiON has a dual-controller architecture and is restricted to 32GB of cache, while the DMX has a multi-controller architecture and can manage 256GB with more sophisticated cache management tools. For smaller applications, customers may find it more cost effective to use multiple CX or other midrange systems-- certainly this will be true from an acquisition cost perspective;
Applications that need three-node, zero RPO solutions only provided by SRDF and competing products. These are often very high availability financial applications. The integration of RecoverPoint into FLARE and other synchronous and asynchronous solutions give a wide choice of high-availability and disaster recovery options for CX and will generally meet the RPO and RTO requirements of most applications;
Customers with well-established applications exploiting DMX storage management features, where the risk of migration and testing on other platforms is too high or the value low compared with other priorities.
Consolidation of smaller arrays is perhaps another area users should consider for DMX. However the availability of very large configurations from competing vendors, the advanced functionality of the CX and the continued dramatic reductions in hardware and software costs mean that consolidation onto a large DMX will be increasingly harder to justify, especially when future migration costs from DMX are factored.
Action item: Platforms such as EMC's DMX and Hitachi's USPV have become the mainframes of storage arrays. They will operate very well for a number of years, service the most demanding applications indefinitely and offer the lowest risk for mission critical applications. While there is no immediate rush to migrate from these platforms, for most organizations it is time for storage executives to ensure that only applications that meet clear ROI criteria are running on these environments. IT organizations should put a tiered storage strategy in place where business units must justify tier-1A placement-- all other applications should default to storage with lower acquisition, software and maintenance costs. This strategy will reduce costs and avoid potentially onerous migration expenses down the road.
The good green news in the EMC CX announcement was the hardware features. The noteworthy items were:
Tier-0 flash drives with 98 percent better efficiency per I/O than 15K FC disks,
Use of the Western Digital "SATA green drives," which spin at 5,400 RPM vs. the more traditional 7,200 RPM; this saves 30% of the power to the drive,
Policy-based disk spin-down, which automatically places inactive drives into sleep mode.
Adaptive cooling, which dynamically adjusts cooling based on system activity.
The bad news was the lack of software to support the hardware. EMC talked about an API that it would release to backup software manufacturers later this year. There is no software that would allow data to be migrated to the appropriate drives or automatically spin down the drives.
Action item: As the largest storage vendor by far, EMC needs to take a leadership role. EMC needs to work with Microsoft and other leading software providers to create open de facto standards for "MAID-aware" systems software. EMC also needs to provide automated tier management software that will migrate data to the appropriate tier based on usage classification.
The hardware components of the EMC CLARiiON CX4 announcement are impressive, with new 64bit Intel chips, higher performance and improved functionality. The most impressive feat is EMC's choice to enable a technology upgrade and provide forward compatibility, saving on installed disks, software, and skills. For many it will give the CLARiiON EMC DMX reliability and most DMX functionality for a significantly lower cost/GB.
The overall CLARiiON architecture remains the same, and gives storage administrators all the tools to position storage exactly where they want to on the disks. Virtual LUNs enable data migration within an array to change the drive type, RAID type and LUN size dynamically without disrupting an application. Together with in depth "how-to" support documentation, and great services support from EMC and resellers, CLARiiON remains a strong and reliable storage workhorse.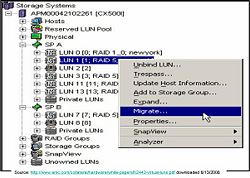 The CLARiiON offers a traditional LUN-2-LUN migration architecture, which requires an investment in storage administrative skills to be able to drive a virtual LUN interface shown in Figure 1.
Other companies have developed fully virtualized storage architectures. For example, the 3PAR InForm Operating System virtualizes physical disk drives of any size into a pool of uniform-sized "chunklets" (the size is 256 megabytes (MB) each) and manages the redundant pathing to each chunklet and disk drive. This allows tremendous simplification of resource management. IBM's XIV system takes this still further, breaking the storage into 1MB blocks and spreading them across all the drives in the system, eliminating RAID groups altogether. Similar architectures have been developed by EqualLogic, Compellent, Pillar, and others. Most of these systems are built from industry-standard drives and Intel chip sets.
IT management will have to position these emerging architectures against the more traditional CLARiiON architecture. For installations with significant CLARiiON investment in hardware and skills, the continued evolution of CLARiiON has been made more attractive with the upgrade capability and the avoidance of change. For customers with large, performance-critical applications, the new CLARiiON offers five-9's availability and functionality (including flash drives) that competes well against much higher cost, high-end storage arrays (e.g. EMC's DMX and Hitachi's USPV).
The highest data center storage growth areas are from applications requiring tier-2b and tier-3 storage characteristics. For these the performance of fully virtualized storage systems is almost certainly good enough, and the ease-of-use characteristics may be the critical line-item in the ROI case.
Do storage architectures matter? The answer is a definite yes, especially when: 1) enhancing an established line of products and 2) exploiting new technology innovations. These two factors are often counterpoised and require tradeoffs both in engineering and purchase decisions.
Action item: Storage executives wanting near-DMX performance and functionality for applications requiring very high performance should strongly consider the new CLARiiON CX4 storage line. Installations with significant investment in CLARiiON can continue to invest in CLARiiON with confidence. For other application areas, storage executives should be focusing on ease-of-use as the critical line-item that will affect both the overall ROI and availability. Storage executives should be pushing EMC for significant ease-of-use enhancements to CLARiiON, and compare the EMC platform with the emerging fully virtualized storage architectures.
As part of its CX4 announcement, EMC is offering what it calls 'online upgrades' for both CX4-to-CX4 models and perhaps more interestingly, CX3-CX4 upgrades between generations (i.e. CX300, 500, 700 and CX3 Series to CX4). The basic idea is a customer purchases a new CX4 controller and leverages previous investments in drives, enclosures and I/O modules by swapping out the old controller. Customers who recently purchased CX3's and feel they can benefit from the CX4 features but just missed the window can get a little relief knowing they can utilize this already paid for infrastructure and exploit CLARiiON's new FLARE code.
Despite the name, the upgrade is disruptive and will require users to plan accordingly when migrating to the new environment. Nonetheless, allowing this option sends a strong message to CX users that their recent investment can be leveraged. This is sound business practice by EMC as it offers an incentive for CX3 customers to invest now rather than wait until the previous investment is off the books.
Action item: CX3 customers that had to purchase prior to the CX4 announcement received a gift from EMC in the form of so-called online upgrades. Customers should evaluate the ROI impact of exploiting CX4 features while preserving previous investments in disk drive infrastructure to determine the merits of this inter-generational upgrade approach. While less disruptive than a complete box swap, users should nonetheless be careful to include the cost of migration and disruption in the equation.