The hardware components of the EMC CLARiiON CX4 announcement are impressive, with new 64bit Intel chips, higher performance and improved functionality. The most impressive feat is EMC's choice to enable a technology upgrade and provide forward compatibility, saving on installed disks, software, and skills. For many it will give the CLARiiON EMC DMX reliability and most DMX functionality for a significantly lower cost/GB.
The overall CLARiiON architecture remains the same, and gives storage administrators all the tools to position storage exactly where they want to on the disks. Virtual LUNs enable data migration within an array to change the drive type, RAID type and LUN size dynamically without disrupting an application. Together with in depth "how-to" support documentation, and great services support from EMC and resellers, CLARiiON remains a strong and reliable storage workhorse.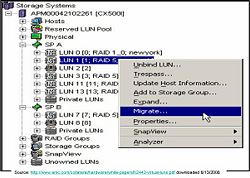 The CLARiiON offers a traditional LUN-2-LUN migration architecture, which requires an investment in storage administrative skills to be able to drive a virtual LUN interface shown in Figure 1.
Other companies have developed fully virtualized storage architectures. For example, the 3PAR InForm Operating System virtualizes physical disk drives of any size into a pool of uniform-sized "chunklets" (the size is 256 megabytes (MB) each) and manages the redundant pathing to each chunklet and disk drive. This allows tremendous simplification of resource management. IBM's XIV system takes this still further, breaking the storage into 1MB blocks and spreading them across all the drives in the system, eliminating RAID groups altogether. Similar architectures have been developed by EqualLogic, Compellent, Pillar, and others. Most of these systems are built from industry-standard drives and Intel chip sets.
IT management will have to position these emerging architectures against the more traditional CLARiiON architecture. For installations with significant CLARiiON investment in hardware and skills, the continued evolution of CLARiiON has been made more attractive with the upgrade capability and the avoidance of change. For customers with large, performance-critical applications, the new CLARiiON offers five-9's availability and functionality (including flash drives) that competes well against much higher cost, high-end storage arrays (e.g. EMC's DMX and Hitachi's USPV).
The highest data center storage growth areas are from applications requiring tier-2b and tier-3 storage characteristics. For these the performance of fully virtualized storage systems is almost certainly good enough, and the ease-of-use characteristics may be the critical line-item in the ROI case.
Do storage architectures matter? The answer is a definite yes, especially when: 1) enhancing an established line of products and 2) exploiting new technology innovations. These two factors are often counterpoised and require tradeoffs both in engineering and purchase decisions.
Action Item: Storage executives wanting near-DMX performance and functionality for applications requiring very high performance should strongly consider the new CLARiiON CX4 storage line. Installations with significant investment in CLARiiON can continue to invest in CLARiiON with confidence. For other application areas, storage executives should be focusing on ease-of-use as the critical line-item that will affect both the overall ROI and availability. Storage executives should be pushing EMC for significant ease-of-use enhancements to CLARiiON, and compare the EMC platform with the emerging fully virtualized storage architectures.
Footnotes: