Introduction
When it comes to system design, the past couple of years have been really exciting, with a number of new options coming into play. In years past, CIOs could choose a tower, a pizza box, or a blade chassis to house servers, with the blade chassis being the most self-contained option. However, even traditional blade chasses were more about physical space savings than convergence, although there were certainly opportunities to converge when required.
Convergence rising
Today, though, we're seeing new kinds of hardware devices taking the convergence trend in all kinds of new directions and providing customers with new choices when it comes to procurement and workload solutions. All one has to do is read the pages here at Wikibon about Vblock, Dell's vStart, Flexpod, and any number of other hardware/software bundles intended to provide customers with one-stop shopping for data center needs. At the other end of the spectrum, we see up and coming hyperconverged solutions from companies such as Nutanix and Simplivity.
Dell's play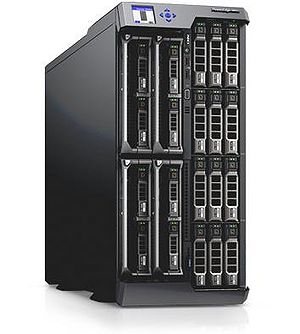 Dell's introduction of its VRTX system is hardly the company's first foray into convergence. Most obviously, Dell is the seller of the aforementioned Active System (formerly vStart), but the company also made a pseudo-convergence play with the introduction of the EqualLogic PS-M4110 Blade Array. This full-featured SAN slides right into Dell's standard M1000e blade chassis and enables organizations to deploy a data center in a box that includes full-fledged capabilities and a lot of expansion opportunity, particularly when coupled with the insanely small one-quarter height M420 blade server.
But, the VRTX is a very different beast altogether. Whereas the options up to this point have either been high-end solutions that simply cobbled together existing hardware or new ways to handle storage and scale, the VRTX is built from the ground up to be somewhat limited in hardware expansion, supporting only four servers and up to 48 TB of storage capacity. And that's it. There is no "expansion pack" or "scalability cable" that magically expands the VRTX beyond these walls. Dell very much intends this system to be a favorite of the SMB space and branch offices of larger organizations.
Leverage the simple
Given the specs, the VRTX is a great fit for the SMB. Many such environments have unused offices (read: the "data center") which house the organization's servers. As these organizations mature, they won't be jumping into a Active Systems product but want to ensure that their environment is simple to administer. That's where the compact VRTX shines. The VRTX is a box on wheels that can simply roll under a desk or sit in a corner of the office out of the way.
Dell is very intentionally positioning the VRTX for SMB and branch office scenarios. Since the system supports both Hyper-V and vSphere, it could actually be suitable for even large SMBs and small midmarkets.
From a management perspective, the VRTX is entirely managed through Dell's OpenManage Essentials. This single pane of glass tool is, again, simplicity in action.
Deconverging convergence
It's interesting to see these convergence plays, particularly as the companies spawning them work to build differentiation into their product lines. The VRTX fills what was considered a gap in the Dell product line. The VRTX slots in well below the Active Systems line and provides entry-level customers with an opportunity to embrace the simplicity that a fully converged solution can offer.
As mentioned, though, the VRTX isn't Dell's only convergence play. The computer maker's convergence product line includes everything from the VRTX to the Dell Active System 50 to the Active System 1000, which is a broad set of products. Convergence vendors are eschewing a "one size fits all" approach in favor of creating some product differentiation in order to be able to more easily address differing customer needs. For example, at its inception, Nutanix had a single product but, over time, has increased its offerings so that its solutions can address different resource areas. This just makes good business sense and is another example of a company taking a "product catalog" approach to convergence.
It's about choice
What all of this really boils down to is that, more and more, customers are being provided the opportunity to choose systems that can better meet their needs than just traditional x86 servers. Vendors are embracing the idea that simplicity needs to be baked into a product's DNA, from the hardware to the software that manages it. In looking at the broader converged market, vendors are ensuring that solutions exist across the full market, from the small SMB to the large enterprise.
Action Item: For CIOs at whom Dell's VRTX product is targeted, the system is a very compelling option, particularly for those that can run 100% virtual. This system could support a hundred or more virtual machines, so it's actually quite powerful. From a larger perspective, the VRTX is another converged, simplified play that can help IT departments focus more on services than technology.
Footnotes: