IT organizations are under constant pressure to stay within tight budgets while continuing to deliver value to business units. CIOs have more options than ever to mix in-house solutions, leverage service providers or push things to the cloud. On the vendor side, a number of convergence solutions look to change the traditional silo-approach of delivering compute, network, and storage. Putting these pieces together, whether from a single vendor or from joint solutions, is more than just creating a more commoditized version of the mainframe; these solutions leverage virtualization technology and are focused on delivering higher efficiency and flexibility for IT organizations for many applications, as opposed to a single environment like Oracle Exalogic, which so focused on supporting one large application. These solutions are starting to move up the stack to provide support for mission critical solutions like SAP and desktop virtualization.
This article is not meant to be a comparison or exhaustive list of the various converged solutions, but rather a look at the trend, which Wikibon believes is a positive move for end-users, service providers, and system integrators. Systems integrators have been working on convergence for many years. Bob Olwig of WWT (which offers VCE Vblocks, NetApp FlexPods and HP Converged Infrastructure solutions) says that any time vendors can integrate products and make them simpler to begin with, it makes their job easier.
VCE Raises the Bar with Second Generation
At EMC World last week, VCE (officially The Virtual Computing Environment Company, a joint venture of VMware, Cisco, EMC and Intel – see The VCE Company wiki article) did a refresh of the Vblock product line. Jeremiah Dooley of VCE published an excellent post that shares the updates to model numbers for the refreshed Vblock product line. In short, the update is that rather than Vblock 0, 1, 2, there are now Vblock 300 (with the VNX product line launched earlier this year) and the Vblock 700 (formerly Vblock 2 which has a VMAX). Jeremiah's also shows that the Vblock 300 has four models, while the 700 has one, and Vblocks are not sealed black boxs, they can add disks and blades to grow, and multiple systems are managed together using UIM management.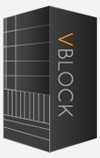 What is more interesting than a new box are the ways that VCE is driving new solutions and greater utilization out of the converged resource pools. A large majority of VCE's 900 employees are focused on solutions (and more than three-quarters of those employees are not from the parent companies). Vblock's first application integrations have been with SAP, VMware View, and Microsoft Exchange. Wikibon and SiliconAngle did an video interview with Stephen Stier who runs VCE's IaaS Center of Excellence (CoE) about how service providers are offering VDI on Vblock. Beyond the application integration, VCE SVP Phil Harris told Wikibon that the coalition is focused on delivering multi-tenancy and multi-occupancy solutions -- that is multiple workload types on a common infrastructure. Server virtualization (led by VMware) allows consolidation of workloads and typically increases server utilization from 10% pre-virtualized to around 40% after-virtualization. Harris said that through design, understanding of workloads, and policy-based management, Vblock solutions are driving towards a goal of 85% server utilization. VCE's focus on applications and enhancing solutions provides value to the parent companies, the SIs and SPs that offer Vblock solutions and ultimately to end-users.
NetApp Focus on Flexibility
While EMC and NetApp lead the VMware storage discussion, and both partner with Cisco, in general, I hear more sniping between the vendors than head-to-head competition at customer sites between NetApp's FlexPod and VCE's Vblock, since they address different market segments. Both EMC and NetApp tell me that it is Oracle, HP and IBM stacks that they are typically replacing.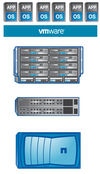 While FlexPod is primarily a reference architecture rather than a single SKU that ships from a factory (like Vblock), NetApp partner Avnet recently started shipping a pre-configured and pre-built offering. While VCE only uses VMware, FlexPod is hypervisor neutral, see the recent NetApp Hyper-V Cloud Fast Track Program. NetApp appears to be the only storage vendor in this program. NetApp is focusing its converged offering to cover applications such as SAP. Wikibon and SiliconAngle interviewed Patrick Rogers, NetApp VP of Alliances, at SAP Sapphire this week. I would expect that NetApp will continue to develop additional solutions to leverage the converged infrastructure. While NetApp has a growing management portfolio (including acquisitions of Onaro and Akkori), but leaves orchestration of the full stack to partners like BMC and CA. The flexibility of NetApp's offering make it difficult for it to follow VCE down the path towards squeezing higher utilization out of a highly engineered solutions.
As the WWT quote at the beginning of the article noted, systems integrators are generally in favor of the convergence trend. SIs are creating new data center practices that can deliver solutions to customers faster and more reliably than previous custom configurations. It's worth noting that a lot of the channel for Vblock and FlexPods overlaps with Cisco's traditional channel for networking gear. Cisco is leveraging the help of both the NetApp and EMC sales forces and channels to sell UCS product both in converged and stand-alone environments (like VMware, Cisco works closely with both big independent storage companies).
HP Converged Infrastructure

No discussion of convergence is complete without HP which has an entire Converged Infrastructure group. HP holds the #1 position in servers, #2 in network and bolstered storage positioning with recent acquisitions of 3PAR. While NetApp and EMC are doing various levels of integration, packaging, and testing, HP is putting the pieces together and blurring the lines between the storage and server products.
Networking and servers have been overlapping ever since blade servers hit the market last decade. In the 2000s, the storage discussion was DAS vs SAN, but as chips and disks get smaller, more powerful, and share components, HP has been able to merge SAN (such as the LeftHand storage) directly into a blade server platforms. Earlier this year at HP's analyst event, Dave Donatelli, discussed the HP CloudSystem solution which wraps cloud services automation software around the HP Matrix infrastructure. HP has strong offerings with virtualization (including both VMware and Microsoft Hyper-V). It would be good to see the Matrix/CloudSystem offerings expanded for application specific environments.
Action Item: Converged solutions are a good option for customers that are looking to break the IT silos and take advantage of the power of virtualization, but are by no means a panacea for the challenges of the data center. Converged solutions help, but do not solve the problem of keeping up to date with the latest drivers and code updates. Organizational and operational changes must be tackled if IT organizations are to take advantage of the technology advances that are available.
Footnotes: