Incremental changes in a market rarely lead to disruption. Amongst networking vendors, moving from one generation of product to the next can lead to slight changes in market share as competitors compete with each other with the latest release.
In 2010, I wrote about the Competitive Positioning of Network Adapters, which forecasted that the transition from 1Gb to 10Gb Ethernet would not see dramatic shifts – Intel and Broadcom were the strong leaders in 1Gb while Emulex and QLogic were leaders in Fibre Channel (FC) but only niche players in Ethernet.
While this standard transition has been happening, macro-trends in IT buying have been shifting. A small number of large cloud vendors now make up a significant piece of the overall addressable market. From 2012 to 2013, the ODM server manufacturers that sell into the cloud providers saw 48% growth to take 13% of the total market. Shrinking margins on hardware was a primary reason behind IBM's sale of its x86 business to Lenovo so that it could focus more on its own cloud offerings.
This shift is a backdrop of a deal that saw QLogic acquire Broadcom's 10Gb, 40Gb and 100Gb Ethernet adapter lines. The move will make QLogic the #2 supplier of Ethernet server and storage connectivity (behind Intel) and allows Broadcom to focus on its switching line and other solutions that don't gain as much leverage from the adapters.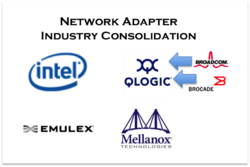 Adapters and cabling are critical components of the network that are typically overlooked except by those who are building the configuration. Cisco's cabling and optic business is estimated to be between $2B-3B/year and is now an area where customers and competitors are looking for lower-cost alternatives. Most of the development cost of server and storage adapters is in the software, but users often mistake the boards as commodity widgets. The software and hardware of adapters does not share a lot of common elements with the switch counterparts.
In the last year, QLogic has sold off its InfiniBand switch business to Intel and ended development of its FC and Ethernet switch lines; and subsequently does not compete anymore with either Broadcom or Brocade (whose adapter businesses QLogic acquired). QLogic has strong OEM relationships, which includes most of the storage (target) design wins for both FC and Ethernet – and there is good leverage between the target and adapter (initiator). The Broadcom assets allow QLogic to deliver 40Gb and 100Gb Ethernet RDMA, which are important for Microsoft SMB and new flash solutions such as Dell FluidCache for SAN. QLogic will need to move fast to prevent Mellanox, the InfiniBand leader whose Ethernet adapters now make up 15% of its revenue, from gaining any more momentum with RDMA solutions.
On a financial call, new QLogic CEO Prasad Rampali stated that these moves will allow for the company to move from being just a connectivity player to a platform for both enterprise and cloud customers. Intel continues to deliver more of the data center on a single chip, which can be threatening to some technology partners. This gives QLogic an opening to create a differentiated solution that leverages its technology and expands partnerships. Additionally, large cloud providers are more flexible with buying decisions, which is a double-edged sword – it gives an opening to win business based on new features or better cost, but it is a recurring battle.
Action Item: Cloud computing is accelerating disruption in the IT value chain. CIOs should look for solutions that allow flexible usage of resources and avoid long-term commitments to take advantage of new offerings as they become available.
Footnotes: