While not the most glamorous of technologies, server host adapters are a critical component of IT infrastructure. Wikibon believes that the adapter marketplace will see a significant shake-up over the next three years due to the convergence of storage networks and traditional networks as part of the Infrastructure 2.0 trend. The marketplace is currently dominated by a pair of duopolies (where two firms have dominant control over a market):
Intel and Broadcom 1Gb Ethernet LOMs (LAN on Motherboard)
Emulex and QLogic Fibre Channel HBAs (Host Bus Adapters)
The current server Ethernet Adapter and LOM market is roughly 8x the FC HBA market. Fibre channel HBA vendors have created converged network adapters (CNAs), Ethernet adapters that do the function of a NIC and an HBA (supporting FCoE) in a single device. The NIC vendors also have adapters that will support storage solutions, but rather than having the full HBA functionality in hardware they use a mix of software and offloads. The battle for the vendors is to get OEM design wins with server manufacturers and the acceptance of customers who adopt the next generation 10Gb Ethernet-based solutions. In addition to the existing vendors, Brocade has extended its product offerings to include HBAs and CNAs. Cisco has also created a CNA, but it is currently only available for the Cisco UCS server. The likely outcome of the transition is that Broadcom and Intel will continue to dominate. Intel will expand its presence in the storage space thanks to its Open-FCoE initiative, and Emulex and QLogic will find niches where their solutions can add value.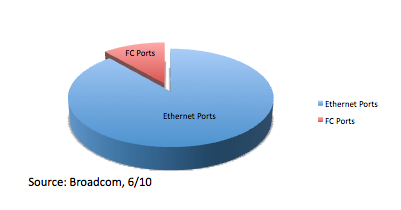 Competitive Analysis Framework
Positioning: The vendor's marketing positioning.
Differentiation: What makes the vendor different from others in the space?
Message Relevance: On a scale of 1-5, how well relevant the vendor's message is to the marketplace.
Credibility: On a scale of 1-5, how credible the vendor.
Execution Risk: How much risk is involved in the vendor executing the direction that it has set.
Broadcom: Broadcom is continuing to leverage its strong OEM business to move into the 10Gb space. For storage environments, it has good iSCSI solutions but unproven FCoE drivers which have not gotten any design wins yet. Details on their 3G C-NIC here.
Brocade: Brocade's offering looks to provide advanced functionality between its switches and adapters. The competition is very entrenched, and even with aggressive pricing Brocade will have a hard time gaining more than a small niche in the market.
Emulex: Emulex has a strong customer base and good OEM relationships in the storage world. It is unproven in the Ethernet marketplace and acquired ServerEngines so that it could say that it owns its FCoE solution. Emulex will need to leverage all of its customer and OEM relationships if it is to avoid being squeezed out in a crowded convergence marketplace.
Intel: Intel is the prohibitive favorite in the marketplace. It has the resources and brand to dictate where it will play. It is a strong player in the virtualization market, working with both VMware and Microsoft. It will be a strong 10Gb LOM player, and if the Open FCoE initiative takes off, Emulex and QLogic will have a tough battle in the convergence space.
QLogic: QLogic supports Ethernet, FC, and InfiniBand, giving it the broadest portfolio of the adapter vendors. QLogic has a history of delivering new technologies first, which helped it to become a lead chip supplier for iSCSI and has also given it the lead in first-generation embedded FCoE solutions. QLogic is credible as an Ethernet vendor but must continue to innovate and drive costs down if it is to compete with the much larger, traditional Ethernet vendors.
Conclusions
Convergence is a significant driver in the 10Gb Ethernet market, and next-generation servers will use single network designs that can save on power and space. FCoE is not the primary driver for most OEMs or customers. FC, iSCSI and NAS will continue to be more important than FCoE for at least the next two years. The adoption of 10Gb Ethernet will lead to single wire solutions where all Ethernet-based traffic will be shared rather than going on separate adapters and switch ports. Changes in management and security practices must be considered. In addition, the convergence of storage and networking to a single network requires that organizations consider realigning their structure to break down the silos and take advantage of newer architectures.
Action Item: Convergence is coming with the adoption of 10Gb Ethernet with NFS, iSCSI, and FCoE. CIOs should evaluate their organizational structure as part of their pilot of converged infrastructure.
Footnotes: