VMware's acquisition of Nicira for over $1B was a catalyst for changing the discussion around networking (see my previous articles on SDN and Nicira and interview with Martin Casado). Software-defined networking (SDN) is an umbrella term for solutions that simplify network control through a programmable solution that works across multiple protocols in physical and virtual networks. For a true software-led infrastructure vision to be realized, networking, like other IT silos, must be able to be managed by data center administrators rather than deep domain experts. This week, Big Switch Networks launched its suite of products (all software) and a vision for an open SDN marketplace including a broad spectrum of ecosystem partners.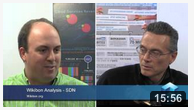 SDN is more than OpenFlow
SDN solutions are built on software and the centerpiece of the first generation of solutions is OpenFlow controllers. These controllers coordinate traffic between OpenFlow-enabled switches (both physical and virtual) and applications. The SDN Central website keeps a list of shipping and announced products. In the controller category, Big Switch Networks' Big Network Controller joins NEC and Nicira/VMware in the shipping category while Cisco, IBM and HP have announced product (all likely by next year). Big Switch's differentiation on this product is that it is fully-API compatible with the open-source FloodLight controller. This means that customers who want to test on a free solution, or developers who create applications for the open-source offering, can easily move to a production environment with Big Switch.
OpenFlow is a tool to help separate the control plane from the data plane. It is the applications that can be built on top of the software network that deliver the big value for SDN solutions. Big Switch is starting with two applications: network virtualization (Big Virtual Switch) and network monitoring (Big Tap); for a network architect's view, read Greg Ferro's writeup in Network Computing.
SDN Ecosystem
SDN does not eliminate the need to buy either physical or virtual switches. Big Switch Networks announced a number of formal partnerships including Arista, Brocade, Dell, and Juniper for physical switching and Microsoft, Citrix, and RedHat for virtual switching. They have also interoperability tested IBM, HP, VMware VDS, and Open vSwitch. The switch vendors are only starting to roll out OpenFlow-enabled switches in production mode, so the early adopters of this technology are large telcos, service providers, or financial environments that have more flexibility with building greenfield (or sandbox) networks.
SDN can potentially transition many of the physical appliances for L4-L7 networking solutions to software and Big Switch wants to be the platform for these. Big Switch has more than two dozen application partnerships in the cloud orchestration (including OpenStack and CloudStack), security (including F5), and monitoring layers. It is very early days for SDN, so the proof will be in finding killer applications that give Big Switch and its partners advantages and differentiation from Cisco, VMware, and others that will follow into this market.
Action Item: The Software-defined wave is of significant importance to creating next-generation datacenters; SDN is part of the solution for the network silo. While CIOs should allow SDN to mature before piloting, when planning for the next refresh cycle the network team should consider foundational technologies such as OpenFlow-enabled switches and Data Center Ethernet Fabrics, that will help build towards next-generation networks. Testing open-source solutions such as FloodLight is a good way to start preparing for software-based networking.
Footnotes: Here's the Chris Hoff article on overlays mentioned in the video. Are overlays simply a detour on a path that should lead to the cloud?