The Future of Networking is Right Here, Very Soon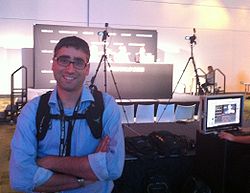 Over the last two years, the biggest buzz among the smartest networking people that I know has been over Nicira. So, while it was big news, I was not overly surprised that they were acquired; the price tag of over $1B shows that multiple big players were fighting behind the scenes for Nicira's technology and people.
Since VMware came into existence, the relationship between virtual and physical switching has been significant. VMware buying Nicira will redraw the lines of the networking industry.
Digging deep into this area was my top priority at VMworld. Martin (pronounced Marteen) Casado is the co-founder of Nicira. I attended his breakout session and co-hosted an exclusive interview of him with SiliconAngle's John Furrier. It's a given that Martin is brilliant in front of a room; in private discussion and during our interview he also proved to be passionate and affable. He's a true technologist excited by the potential to disrupt a market and truly transform an industry to make it better for customers.
VMworld's theme this year was Right Here, Right Now. This networking transformation has a vision that is ready now; it will however, take years to play out, and there are significant challenges and competitors (see interviews with Cisco and Big Switch Networks for some alternative viewpoints) to confront.
WATCH THE FULL EXCLUSIVE VIDEO INTERVIEW WITH MARTIN CASADO HERE
The VMware of Networking is now VMware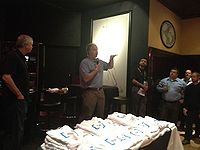 Martin's path with Nicira has many parallels with VMware's journey. VMware was created at Stanford by Mendel Rosenblum and his team as part of a simulation project. Mendel's team included former VMware CTO Ed Bugnion and current VMware CTO Steve Herrod.
Martin Casado's PhD project at Stanford (he's in Steve Herrod's old office) was the creation of OpenFlow. As I stated in Networking Revolution: Software Defined Networking and Network Virtualization, Nicira's solution, has the potential to cause significant disruption to the network vendor landscape, not by making the hardware irrelevant but rather through realignment to solutions that can take advantage of new architectures (similar to how servers realigned larger boxes and blade servers for virtualization).

As Martin states in the interview, even prior to the acquisition VMware was already one of the largest networking companies in the world, based on billions of virtual ports already deployed.
"[I've] been work on SDN going on 10 years now, this is the opportunity of a lifetime to have broad, planet scale impact [on networking]."
VMware's message of the Software-Defined Data Center requires that data center infrastructure be virtualized. Network virtualization allows the physical resources to be shared as a pool; any service, anywhere, over any scale, and not tied to a specific hardware platform. True transformation comes from changing the operational model.
The transformational power of VMware's compute virtualization was in going beyond simply creating VMs and enabling mobility, snapshots and more with features like VMotion, HA, and DRS. Just as VMs are the building block of the data center, virtual networks become the primitive to architect better systems.
One of the primary benefits of "actual virtualization" according to Martin, "is that what you end up with should look like what you started with". In compute virtualization, this meant that Windows OS and applications in the VM are not aware that they are virtualized. Network virtualization maintains the physical switches and interfaces that CCIEs are used to, the control plane is separated to allow operations to be simplified. Martin states that this is replacing "1 complex network today with n simple networks" in the virtual environment. Networking for VM environments has been stymied by the limits of L2 scalability.
Making Networking Agile and Automated
Server virtualization allows the address space of a pod to dynamically grow or shrink. Through the use of overlay networks, the physical network only needs to be used for IP reachability. This enables support of IPv6 across the entire network, providing translation to devices that still have IPv4.
Networking needs to simplify the creation of dispersed systems in a heterogeneous environment. In a recent Wikibon survey, 56% of respondents have multiple hypervisors (see VMware's hypervisor hold may be waning); Open vSwitch can span multiple hypervisors.
At VMworld last year, VMware (and partners) unveiled the VXLAN initiative, soon followed by Microsoft (and partners) responding with NVGRE. These overlay networks are leading the transformation of the way that networking services (L2-7) are delivered; see a good discussion of the role of physical and virtual in the interview with Arista's Jayshree Ullal.
The networking industry is often bogged down by multiple competing protocols, in this case, the ability to stitch between multiple overlay networks is coming soon. Broadcom announced that its Trident II chip will be able to span between VXLAN and NVGRE. Broadcom is sampling to OEMs now, likely shipping early 2013 (see Broadcom's press release and discussion on my VMworld networking panel discussion).
Human administrators are bad at change management, and business and technical requirements pressure the network team to build heterogeneous solutions that are not easily automated. While virtualization does not automatically solve all woes (see VM-stall, VM-sprawl), it does hold the promise of transforming the way networking is done, allowing for truly scalable, flexible, agile and automated environments.
Final thoughts
Martin was very forthright and clear in his explanations. As he stated towards the end of the interview, there is a lot of misinformation in the media (press and social media). Networking has long been a very complex environment, and it therefore is rather easy to mischaracterize what is going on. Martin repeatedly hit on the point that his audacious goal is to transform networking and that he hopes that the industry moves more to open source projects in priority over standards efforts. VMware and Nicira cannot deliver on this transformation alone. The developer and administrative communities will have to participate for this journey to be successful.