What did 3PAR Announce?
Today, March 8th 2010, 3PAR announced Adaptive Optimization, a policy-based technology enhancement that leverages SSD (flash) technology at the sub-volume level to improve performance and support more demanding application requirements automatically.
Today's announcement builds on a series of enhancements from the company which began last fall. These include thin improvements (Thin Conversion, Thin Persistence and Thin Reclamation), 3-Site Remote Copy, VMware, Oracle and Microsoft cluster plugins, cloud service provider partnerships and VMware Plug-ins (e.g., vCenter-based VM rapid recovery), 3PAR had also previously announced its Thin Guarantee program which promises 50% or better space utilization for customers that migrate to 3PAR from traditional storage arrays.
Today's announcement and 3PAR's recent spate of activity are extremely broad in scope and the three most important areas in our view are:
Thin technologies designed to save space and optimize capacity utilization.
VMware announcements designed to use VMware API's to exploit InServ arrays and reduced the effort required to set up VMware and VMware clusters (Autonomic Groups).
Introduction of Tier 0 SSD technology to improve performance of frequently accessed data.
What Do These Enhancements Do for Customers?
3PAR's intense emphasis on thin is designed simply to make customer installations more productive and space efficient. Our research consistently shows 3PAR is a leader in this discipline.
The VMware announcements reduce the conflict between VMware and array-based storage management. VMware can wreak havoc on storage because the relationship between real volumes on the array and virtual volumes managed by VMware creates mapping complexities and tends to place unforeseen burdens on storage managers (e.g. more VMs, greater effort to manage and provision, increased storage complexity).
Adaptive Optimization combined with SSD allows customers to specifically support the very highest performance applications, dynamically.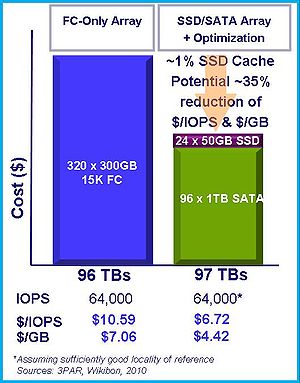 In addition, the use of SSD brings the potential to replace an all-FC-based disk array with a combination of SSD and SATA. If there is good locality of reference for their data, customers now have the opportunity to configure a SATA-based array with a small amount (e.g. 1.2% of total capacity) of SSD to achieve equivalent performance at lower cost relative to FC-based arrays. Figure 1 gives a 3PAR example using 1.2% of total storage as Flash.
When FC disks are replace with SATA and flash, 1.2% of flash is the minimum to give the same total IOPS. However this is very sensitive to the degree of locality of reference. As shown in the TCO chart which uses the same cost and performance assumptions as Figure 1, there is a flash size window. If the amount of flash is less than 1.2%, there will not be sufficient IOPS. If it takes over 3.8% of flash to give the same throughput, the cost case will not be there with the current cost of flash. Over time the size of the flash window will increase as the price of flash decreases. Another important constraint on the amount of flash is the total throughput of the controller. In this case the upper performance boundary is 1.4%. Potential purchasers are advised to utilize 3PAR's tools and their own proof of concept initiatives to determine the actual amount of SSD required to meet application service level requirements — and from that determine the comparative TCO. The cost of the 50GB flash drives is about $5,200, performing at about 2,200 IOPS/Drive, compared with 15K drives with about 200 IOPS/drive, and SATA drives at about 100 IOPS/drive.
Focus on Tier 0 and SSD
One of the more interesting aspects of this announcement in our view is the implementation of Tier 0 and SSD. The 3PAR approach spreads relatively small flash SSD blocks (50GB)throughout the array. The system keeps track of high activity blocks and how they are being accessed and if they're good candidates for flash they're copied into the SSD layer, becoming the 'master' copy.
The unit of data written in the 3PAR system is a "Chunklet," which is only 256MB long. 3PAR leverages these chunklets, which are held in a common storage pool, as a key component of its virtualization approach. In addition to chunklets, 3PAR has always had an additional construct in place called 'regions' that manage groups of chunklets and all the metadata (e.g., RAID type) associated with them. 3PAR has taken advantage of this structure to add more metadata to the region to track frequency of access, block size, access patterns, etc…all useful data to decide what should go into SSD. Ideal candidates to place on SSD are random, hot, mostly read data. The secret sauce is the 3PAR software that chooses which blocks to place onto SSD. The nice thing about the 3PAR implementation is that all its virtualization tables are already in place and utilized. The system simply points these references at another location (i.e. the flash).
How does 3PAR's Approach Compare to Other Solutions?
Essentially 3PAR has announced a capability in business value terms similar to EMC's FAST v2. 3PAR is on track to get to market before EMC with sub-LUN volume capabilities. From a CIO's perspective these innovations are very similar in that they match data and device characteristics to deliver the highest performance, most cost-effective solution.
3PAR's approach to flash differs in detail from conventional automated tiering. What is impressive about 3PAR's implementation is by using this flash approach, it spreads a small amount of SSD amongst the 3PAR engines so the IO's aren't all going to a single drive and sucking up a lot of bandwidth – it's nicely balanced. Traditional implementations will use larger drive with more IO's going to that drive. The part of the array with that drive will get more activity.
In practice we don't think this will matter all that much because, for example, EMC's V-Max has more bandwidth to play with than 3PAR and EMC uses its traditional cache to transfer data between tiers to avoid bottlenecks. Nonetheless, on paper, the 3PAR implementation looks to be more efficient which means it can do more with less flash. But nobody really knows yet.
What Does this Announcement Mean to 3PAR's Market Position?
In our view, 3PAR's approach continues the company's push to be recognized as a true Tier 1 storage array vendor. It can now be more definitive about the performance of specific applications. Since last fall, 3PAR has delivered a very broad range of announcements that shows consistent investment focused on improving block-based storage and building on 3PAR's virtualization architecture. 3PAR's fundamental virtualized approach allows the company to bring enhanced functionality to market at an extremely impressive pace.
With its tiering approach, for the first time in our view, 3PAR is moving beyond 'good enough' performance into the realm of the very highest. 3PAR's policy-based, QoS management approach is the enabler here. Traditionally, applications supported by 3PAR arrays received consistently good performance. With this announcement, 3PAR can now bring to bear additional resources which will speed up specific areas of customer data that are performance hungry. Users can set policies and priorities to focus 3PAR technology to align with the SLAs in place on critical volumes while at the same time ensuring sufficient performance to other applications very efficiently. Bottom line: 3PAR is rapidly becoming a player in 'true' Tier-1 (or so-called Tier 1+) applications.
Finally, this announcement is further evidence that we're entering the beginning of the end for high spin speed FC disk.

Action Item: 3PAR have announced a well-architected approach to introducing flash storage in the Array. In addition, 3PAR's virtualized architecture has enabled a rapid introduction of additional functionality in the areas of Thin technologies and VMware integration. Senior storage managers and professionals should make themselves aware of the 3PAR announcements, and include 3PAR in RFPs for high-performance block storage.
Footnotes: