Although introduced many years ago, virtualization and thin provisioning are relatively new technologies in the mainstream. Combined, they significantly reduce the amount of storage capacity required, and improve the utilization of that storage. The purpose of this meta-case study is to estimate the level of saving that can be achieved with virtualization and thin provisioning using 3PAR technology as an example.
As a part of 3PAR's remote support and prevention analysis, the company captures metadata about disk and function usage for each array. There is no user data transmitted, simply metadata about each volume that has been created. Analysis of capacity utilization information within this metadata follows.
One key metric is the improvement in utilization that virtualization and thin provisioning achieve. For each volume there is a logical size (what the server sees) and a physical size (what has actually been written). In traditional storage arrays, the physical and logical sizes are very similar, the physical being somewhat larger due to the overhead of RAID protection. With virtualization and thin provisioning, the physical size is significantly smaller than the logical size.
Wikibon performed a statistical analysis of this data to estimate the expected benefits that customers could achieve. Deployments that included both 3PAR's base virtualization software, InForm, as well as thin provisioning were selected from the database for analysis, with a sample of well over 100 customers.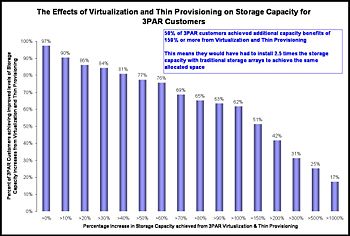 Figure 1 shows the results of this analysis. The x-axis (horizontal) shows the different average levels of improvement in storage capacity achieved by 3PAR customers. The y-axis (vertical) shows the percentage of the customer base achieving the level of improvement on the x-axis. The following are some of the conclusions that can be drawn from figure 1:
97% of 3PAR customers experienced an increase in effective storage capacity as a result of virtualization and thin provisioning;
Over 75% of customers achieved a 50% or greater increase in effective space (i.e., they would have had to install 1.5 times the storage capacity using traditional arrays to achieve the same allocated space);
50% of 3PAR customers achieved additional capacity benefits of 150% or more from virtualization and thin provisioning (i.e., they would have had to install 2.5 times the storage capacity with traditional arrays to achieve the same allocated space);
25% of 3PAR customers achieved additional capacity benefits of 500% or more from virtualization and thin provisioning (i.e., they would have had to install 6 times the storage capacity with traditional arrays to achieve the same allocated space).
The performance benefits of virtualization from being able to stripe I/O over multiple volumes in general overwhelm any virtualization performance overheads. As well, in general there is very little performance overhead from thin provisioning for those applications that are well suited to the technology. A study by Oracle on 3PAR storage found the performance overhead with software thin provisioning-friendly is minimal.
The storage savings come from fewer drives. There will be some workloads where actuator performance will be the bottleneck (e.g., databases with completely random access and very high I/O densities); here virtualization and thin provisioning will not reduce the drive count. However, in a typical data center less than 10% of storage requires this level of performance. For most applications an investment in virtualization and thin provisioning will lead to significant reductions in drive count and significant savings.
Fewer drives also mean less energy used to run and cool storage, as drives consume more than 80% of the energy in a typical array. Older traditional arrays have less efficient controllers, do not support the latest high density FC and SATA drives, and are at least half the energy efficiency of current array technologies. Therefore replacing older storage array technologies with 3PAR Utility Storage can expect to save as much as 75% on annual energy costs related to the powering and cooling of storage systems with best of breed management strategies.
Action Item: Virtualization and thin provisioning have gone from leading edge to business as usual. Executives responsible for storage should ensure that nearly all array purchased in 2008 should include these features or be attached to virtualization engines with equivalent features.
Footnotes: Legal: © Wikibon 2008. This document is copyright protected by Wikibon and does not fall under the GNU general license terms for Wikibon.org. Links to this article from external sources are allowed, however any other re-distribution of this content for commercial purposes is strictly prohibited. Please contact Wikibon for more information.
Wikibon case studies are developed independently and their development is not initiated for or funded by any single company. Wikibon reports actual customer experiences and results with no attempt to emphasize any one vendor's strengths or weaknesses.
Read the full disclaimer.