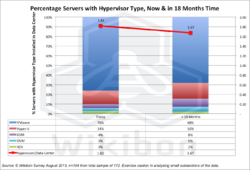 In the Wikibon Study on Hypervisors, the distribution of hypervisors was viewed through the lens of the number of servers installed, as shown in Figure 1. This analysis takes a slightly different approach, and looks at the number of data centers that have at least one server using a hypervisor.
In Figure 2, the first set of columns show that 48% of the sample of 104 installations had only one hypervisor, and the respondents in the survey believed that this would grow to 57% of installations in 18 months. The second, third, fourth, and fifth column sets show the percent of installations with two hypervisors present is 36%; with three hypervisors, 8%; with 4, 4%, and full house set of 5 at 5%. The number of sites with multiple hypervisors is projected to decline or stay the same.
Figure 3 looks inside the data in Figure 2 to show the distribution of different hypervisors within a data center, and splits out the data by number of hypervisors found within a data center. It shows that sites with only one hypervisor had either VMware (72%) and Microsoft Hyper-V (28%). Column 5 in Figure 3 shows that the small percentage of installations that have 5 hypervisors (5% from Figure 2) have by definition 20% of each. The other columns show that a higher percentage of installations with 2,3 or 4 hypervisors have VMware than anything else.
The average number of hypervisors per installation is 1.82, as found in the original study.
The study shows a clear dichotomy of strategies, with single hypervisor installations focussing on VMware or Hyper-V, but with the other hypervisors growing faster in multi-hypervisors sites. The original analysis shown in Figure 4 shows the importance of looking at the number of servers that are deploying and that will deploy each hypervisor. Although the number of sites is lower, those sites with multiple hypervisors will grow the percentage of servers with KVM and OVM much faster.
Action Item: Wikibon recommends that organizations choose a strategy of:
Minimizing the number of hypervisors (to one if possible) to reduce the complexity, or.
Choose workloads to fit the strengths of multiple hypervisors.
Smaller organizations are likely to choose a single hypervisor. Larger organizations and organizations that offer cloud services are more likely to select multiple hypervisors.
Footnotes: