Originating Author: David Vellante
Users of installed DMX's must ask themselves this question and prepare for the answer. Over the next six months, EMC will aggressively incent its customers to acquire the newly announced DMX-4, most likely bundled with other EMC products and services. But for EMC's largest customers, the central financial considerations will start with the DMX. On the surface, the 'why buys' for these customers are easy -- DMX is a safe, reliable and proven platform with a substantial number of hardened processes, procedures and trained experts surrounding the system. But the real answer to the question lies in the financial case and now is the time update the picture.
The reason is that EMC, more than any storage company, recognizes the industry is going through major changes, and for the company to stay on top it has to navigate through a rush of technological advancements from emerging companies, continued pressure from established players, the consumerization of IT, organizational dislocations from legal, audit and records management functions and major disruptions in global sourcing models. In short, EMC will use its substantial skills and heft to keep customers on the bread-and-butter platform.
The negotiations in some accounts have started already and most organizations are unprepared because they don't have an updated financial case at their fingertips. EMC sales teams will, and it behooves users to do some homework before the next round of vendor meetings. Specifically most storage organizations have only a rough idea of storage costs, especially storage administration. A financial model must be built showing the business case of moving from installed DMX's to the DMX-4 and include, at the very least, the following costs and benefits (see example chart below-- Note: not all line items will apply to a DMX-4 conversion):
Costs
Incremental hardware and software costs (out-of-pocket),
Additional ongoing maintenance and support costs, including environmentals,
Cost of project implementation, including services,
Any other expected costs,
Expected loss on books.
Benefits
Reduction in storage costs expected (if any) from improved utilization,
Assumed trade-in value for existing gear,
Gains from reduced storage administrative costs,
The value of any intangibles (e.g. improved security/reduced risk.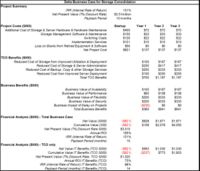 Armed with this information, storage administration must align the negotiating constituents to have a unified strategy, a consistent view of the business case and clear knowledge of when to walk away from the deal that's on the table.
Action Item: EMC customers need to do some financial work ahead of time to determine if the case for DMX-4 is attractive, marginal or negative. Users should only rely on EMC for inputs to this analysis and not for the analytical framework. Performing some simple accounting of basic storage costs will facilitate more successful negotiations as it will allow financial scenarios to be credibly quantified and communicated to key stakeholders, including, executive management, storage admin, IT finance, legal and procurement.