Hitachi's 11/7/2007 announcement extending thin provisioning to externally attached arrays delivers meaningful incremental value to existing USPV customers via new microcode function. For current USPV customers, this capability is a relatively straightforward update which, with some planning, can yield excellent utilization benefits that should pay for itself quickly.
For non-Hitachi customers, the case is not as straightforward. Specifically, customers must ask: What is the cost of migrating to a USPV infrastructure, how long will it take and do the benefits offset the costs? In general, using a reference model of around 110TBs, a migration of this nature will take many months (six or more) with substantial project management costs (assume 1/2 FTE) and incremental software costs. It will unquestionably be disruptive. The benefits however can be substantial.
Figure 1 shows a cost benefit analysis for such a case. The scenario shows the incremental costs of migrating to a 40TB USPV and attaching external arrays with a total of 70TB; versus installing two non-virtualized tier 1 arrays. Here are the key points:
The incremental costs of migration, above and beyond straight hardware expense, approach $300K;
To offset these costs, customers must have a large enough installation (e.g. 100TB) and enough diversity in installed tier 2 assets to justify the USPV approach;
Despite migration complexities, if the installation is large enough and improvements in utilization exceed 30%, the benefits may offset the initial project costs;
These benefits will largely be realized by avoiding costs associated with adding new arrays (hardware, software, maintenance, environmentals).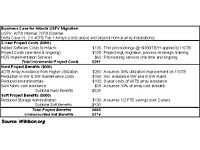 There are several assumptions that must go into such a rough set of figures and customers need to carefully personalize this analysis, but the five key rules of thumb used here include: 1) Storage utilization across non-virtualized arrays assumes 70% allocation and 70% utilization of allocated storage (for a total of 50% utilization on average); 2) The impact of thin provisioning is to increase utilization by 36% on average; 3) The applications support thin provisioning; 4) Cost of a full time equivalent (FTE) is $130,000 per annum; 5) There is no hardware cost difference between a 40TB Hitachi USPV and alternative array hardware.

Action Item: Existing USPV customers and smaller homogeneous shops need not think too hard about the recent USPV enhancements-- they either obviously make sense or they don't. Non-Hitachi customers must carefully weigh the substantial costs of migrating to the USPV with the substantial benefits received from virtualizing and thin provisioning internal and external capacity. These factors must further be considered against incumbent vendor promises to deliver similar function and the time-to-benefit of these competitive offerings.
Footnotes: