Introduction
I've been at TechEd 2012 since Sunday and, from the very beginning, the trends couldn't have been more in focus. The future for Microsoft is about virtualization, cloud, and mobility… and Metro. Everywhere I go at the conference, I see Metro. All of the company's new products seem to be taking on the Metro interface elements, and even the signs and other materials mimic the interface.
That's the small stuff, though. When it comes to business, Microsoft is definitely not sitting back and watching the market pass them by.
If you'd like to see a short video of my thoughts on TechEd, take a look here. The crew at TrainSignal was at TechEd this year recording reactions to the event and caught up with me and asked me to talk about my thoughts.
Virtualization
I attended a two-session long Windows Server 2012 session a couple of days ago. Jeff Woolsey unveiled feature after feature after feature coming to Hyper-V in Windows Server 2012. A few of these are shown below. I'll provide more complete coverage of the new and improved Hyper-V 3 in future articles.
The figure below gives you a look at how Windows Server 2012 Hyper-V scales relative to current versions of Hyper-V. Most notable are the Live Migration and Live Storage Migration rows. These features are akin to VMware's vMotion and Storage vMotion capabilities. Microsoft is enabling these features in its free Hyper-V product. They can perform as many of these workload migration operations as can be supported by the hardware. The software itself does not limit the number.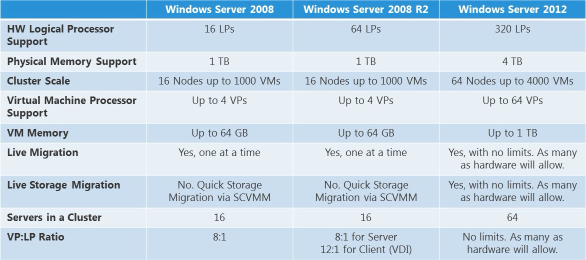 Storage
In the storage realm, Hyper-V adds some impressive new capabilities, which are also present in the free edition of the product.
VHDX storage format: A new and improved virtual disk format, which, among other things, increases capacity to 64 TB per volume and adds features that improve overall performance.
Offloaded Data transfer (ODX) Leverages the ability for a SAN to perform common storage functions — for example, copying a volume — without having to involve the server. This can drastically reduce network I/O and CPU cycles. Hyper-V in Server 2012 uses ODX for the creation of fixed virtual hard disks, VHD/VHDX merge and Live Storage Migration.
Take a look at the chart below to learn about some other changes coming to Hyper-V storage.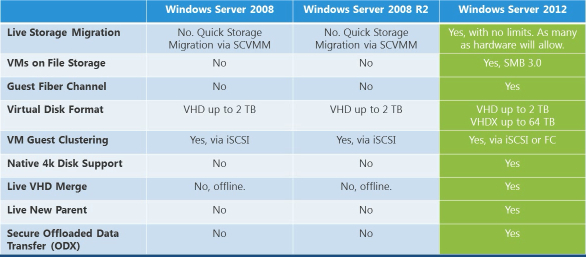 High Availability and Clustering
Hyper-V has added dozens of features intended to improve availability and clustering and to make Hyper-V easier to use:
Concurrent workload migrations: Microsoft places no limits on the number of workloads that can be migrated between hosts or storage locations. It's all dictated by the capabilities of the hardware.
Scalable to 64 nodes and 4,000 virtual machines in a cluster: This is an improvement of an order of magnitude over previous versions of Hyper-V.
Anti-affinity virtual machine rules: This forces virtual machines to run on separate hosts and never reside on the same host. This is useful for services such as domain controllers that always need to be available.
Live Migration just works. Microsoft will live-migrate any workload running on any virtual machine, even if that virtual machine is using high availability features or features that would otherwise prevent the migration on other hypervisors.
Cluster Aware Updating: When updating servers in a Hyper-V cluster, the host is placed into maintenance mode and drained of virtual machines before updates are applied. In this way, updates can be applied without affecting production.
Other improvements
Hyper-V has dozens of major improvements. In the near future, I'll be putting together a full list of what's new in Hyper-V. Meanwhile, here are a few more most interesting additions:
Windows NIC teaming: Team NICs for added throughput and increased availability. Windows Server 2012 supports up to 32 NICs in a team. The NICs do not need to be from the same vendor.
Hyper-V Extensible Switch.
Shared nothing live migration: Migrate virtual machines between systems with nothing in common but the network.
Hyper-V Replica: Asynchronous replication useful for disaster recovery and other scenarios. Provides both application and file level consistency.
Cloud
Cloud was everywhere at TechEd, from the sessions to the vendor floor to everything in between. Microsoft is touting a lot of its new offerings as a road to the cloud. Hyper-V is intended to help customers create private clouds; the company showcased Azure, Microsoft's cloud services provider; Office 365 —Microsoft's hosted email service— was everywhere; and the company actually launched a new version of InTune this week. InTune is described as "PC management and security in the cloud."
We're certainly living in a cloudy world, especially when one considers Microsoft's investment in Azure, which it is improving to take on the likes of Amazon. First, Microsoft is adding virtual hard disks (VHD files) to Azure, helping customers more seamlessly migrate workloads from on-premises data centers to Azure. Moreover, the company has added new virtual networking features and added Windows Azure Web Sites, which, according to the Azure team's blog post, will allow customers to "build web sites and applications with this highly elastic solution supporting .NET, Node.js, and PHP while using common deployment techniques like Git and FTP. Windows Azure Web Sites will also allow easy deployment of open source applications like WordPress, Joomla!, DotNetNuke, Umbraco, and Drupal to the cloud with a few clicks."
At the same time, Microsoft is reducing the price on the Azure platform, which will certainly entice more people to give it a look.
Other big trends
I would be remiss if I just focused on cloud and virtualization, as there were some other really big trends to see at TechEd.
Most notably, two big trends that were in abundance were solutions to enable mobility and to simplify BYOD. There were a number of vendors on the show floor selling products to address these two issues. Further, I believe that Microsoft fully expects Windows 8 to play into these two trends. It's certainly no secret that Microsoft is adding Windows 8 to slate-type devices to address mobility needs, but it's entirely possible that the new operating system could create BYOD challenges as well.
Summary
I will be reporting back here with much more information from my time at TechEd. I wanted to report to you on the two primary trends tat I observed at the conference and will be coming back with information from other areas.
Action Item: After attending TechEd, it's more clear than ever that CIOs have a number of transformational opportunities and challenges in front of them. CIOs and their staff members should consider reviewing the material that was presented at TechEd so that they can become more familiar with the ways that Microsoft is intending to address emerging needs.
Footnotes: