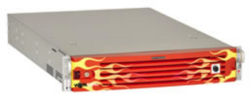 In January 2013, Violin purchased GridIron System, the company with the best graphic art on its Turbo-charger storage appliance. Violin has re-introduced this interesting storage appliance Violin Force Memory Appliance deploying the Violin Maestro software suite, with very significant claimed extensions to the GridIron capability. The caching capability announced by Violin is the same as the GridIron system. The additional capabilities claimed are:
Storage Tiering
Storage Migration
Disaster Protection
Renaming a storage appliance as a memory appliance
What is not clear is the availability of this function. Was this work in progress from GridIron? Was it world-breaking R&D timescale additional functionality added by Violin? Or was it expansive use of marketing phrases?
The Violin appliance is connected to the SAN switched infrastructure and claims to provide:
Storage caching services:

There is no detailed information on the Violin website giving details about these caching services.
The GridIron web site shows that the cache is read-only with up to 12 terabytes of flash.

Storage Tiering services:

Violin evokes the dusty corners of statistics 101 textbooks to describe the appliance algorithms as "Powered by hardware-accelerated Bayesian profiling algorithms".
Violin claim that these algorithms are faster to decide than EMC FAST and others algorithms and implies that the data would behave in the same way as EMC FAST.
The GridIron website shows that the turbo-charger appliance is a read-only cache, and writes are written through to the storage systems and acknowledged back to the server after the storage system has updated.
Violin has actively promoted flash-only arrays as a replacement to spinning rust. They extol the virtues of low latency and eliminating IO outliers from disk. It is interesting to see Violin pivot to marketing flash as extending the life of disk.
No information is given on the number of tiers, how data is moved between tiers, the ability to pin data in a tier, or any other operational management services. Is that because the Violin/GridIron appliance is not tiered storage?

Transparent storage migration services:

The explanation on the Violin website is that storage tiering services can move data from existing storage arrays to the flash storage in the Violin appliance.
Is it possible that the Violin/GridIron appliance transparent storage migration services are just cache services?

Disaster Protection:

The description on the Violin website is "Worried that your business-critical data is prone to disruption in the event of a disaster? Maestro comes to your rescue with comprehensive data protection through memory speed mirroring between data centers." Sound like a competitor to IBM's SVC?
This is again impossible to understand unless you look at the Gridiron documentation, where it states "Coupled with your favorite storage array, the TurboCharger can also be deployed as a low-risk "out-of-band" mirror under your volume manager or ASM; this configuration ensures that your production systems are not impacted even if the TurboCharger were to go offline for any reason".
Is the Violin/GridIron disaster recover referring to using and external volume manager mirroring to backup the TurboCharger storage appliance?

Renaming a storage appliance as a memory appliance

The Violin appliance has two Intel x86 processors with 192GB DRAM memory; the same configuration as many other storage appliances and arrays. That is as close to memory as it gets.
The lack of clarity could be explained as Violin being distracted, because it is seeking to raise between $144 million and $180 million in an IPO, according the a regulatory filing. Violin is migrating from an OEM company to a direct sales model. It is reported that HP accounted for 65% of Violin's revenue in fiscal 2012. In 2013 HP now accounts for only 10% of revenue. However, sales and marketing costs rose to $61 million in 2013 on total sales of $70 million. Total net losses ballooned to $109 million in 2013.
Action Item: The GridIron TurboCharger storage appliance is an interesting caching product, and is worthy of investigation by storage executives. However, until Violin gives much more information about how the additional function works and when it will be available (or does a copy and paste from the GridIron site,) Wikibon recommends that storage executives should take all information about the Violin announcements from that same GridIron site.
Footnotes: