Introduction
Fair price comparisons are a valued treasure among customers attempting to identify the lowest cost scenario for a particular product or service. However, in many cases, price is but one factor that CIOs use in making strategic technology decisions. Obviously, if a lower cost product is incapable of meeting business goals, that product will not garner much consideration in an assessment. But, when the lower cost product provides what might be an adequate solution, perhaps the lower cost will win the day.
Two key metrics to rule them all
It is these two key metrics – overall cost and feature set – that continue to drive the war of words between Microsoft Hyper-V and VMware vSphere. In November, Microsoft wrote a blog post on TechNet indicating that VMware's own price calculator validated Microsoft as the less expensive option in the hypervisor wars. The two figures below give you a look at a set of assumptions and result that favors Microsoft when compared against vSphere Enterprise Plus.
I've spent a lot of time with VMware's calculator and find that in most cases, comparing a Microsoft solution to vSphere Enterprise Plus will result in the vSphere solution being more expensive, even if just slightly so. For example, in a quick test with 1,000 virtual machines running with this configuration:
Server Type C
NAS storage
Virtual management tools deployment
Average power cost
Average real estate cost
vSphere Enterprise Plus is only 1% more expensive than Microsoft (in other words, a negligible difference that wouldn't matter to any CIO). However, vSphere Enterprise and Standard are 3% and 15% less expensive, respectively. If you don't need all of the features of Enterprise Plus, you may find that the vSphere pricing is a bit better. The figure below gives you a look at the results.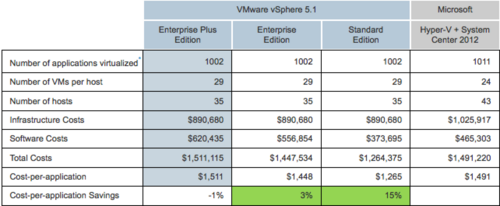 Improved pricing transparency from vSphere
In what I believe is a move toward further pricing transparency, the VMware calculator now allows you to decide whether or not you want to grant vSphere additional density over Hyper-V. For example, in older versions of the calculator, there was just a hard assumption that vSphere would support 20% more virtual machines. You will still see this assumption in the base numbers, but a sensitivity analysis table provides you with a way to determine how many more virtual machines are required per vSphere host in order to reach price parity with Microsoft.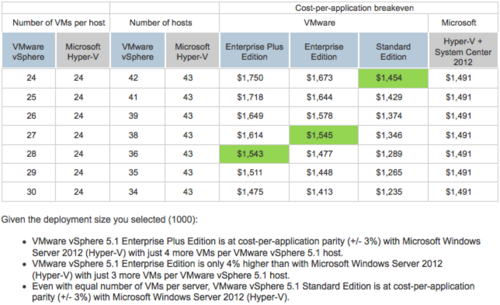 Personally, I'd much rather see VMware provide an independent peer reviewed justification for assuming a 20% advantage over Microsoft with the latest Hyper-V, but lacking that, providing a separate table with a number of different overhead options is a good choice.
Microsoft is often less expensive, but...
So, apparently Microsoft is a cheaper solution that vSphere, but at what cost? If you know me, you know that I'm a believer in Hyper-V, but I'm also a big supporter of vSphere and still recommend its use to most of my clients… at least for now. I try not to let my personal likes/dislikes dissuade me from making the right business recommendation unless those preferences are relevant to the decision. Now that Microsoft has finally released Service Pack 1 for System Center 2012, I may push that solution when cost is the major factor.
In a head-to-head, vSphere remains more feature-rich (in most ways, anyway) and simpler to manage than Hyper-V once you get beyond single host scenarios. That's not to say that Hyper-V is particularly difficult to manage, but it's not quite as fluid as vSphere where things just work. But, in a case where Microsoft provides the right feature set at a lower cost, an organization could very well choose that solution, even though the administrative experience may be a bit different than one experienced under vSphere.
It's also true that vSphere has a much longer history of supporting enterprise workloads with enterprise-grade features than Hyper-V. While Hyper-V has been a capable hypervisor for workload consolidation, it's only with Hyper-V Server 2012 that true enterprise features have been added, so, while it looks like a winner, more real-world testing needs to be done.
That said, I still urge CIOs to look at Hyper-V, at least for secondary workloads. After all, it's only through testing that you'll be able to determine whether or not the product fits your needs.
I fully expect VMware to become more expensive over time as the company adds additional products and features to its portfolio in order to combat Microsoft on both the hypervisor and the cloud front. Again, if VMware can maintain a reasonable feature-lead, this pricing delta may be justified.
Trust is tough to regain
I know that Microsoft has traditionally been considered the evil company. However, it's a pretty known quantity at this point. VMware, on the other hand, while known, has pulled some truly untrustworthy moves in the past couple of years that have created the desire for a strong competitor in the market. Between introducing Enterprise Plus as a way to extract additional support dollars from existing customers and introducing the now-dead vRAM tax, VMware has created for itself a situation where some are waiting for the other shoe to drop when new versions are released. I'm hoping that new leadership and the vRAM tax fiasco have forever corrected this behavior but, again, only time will tell.
Bundling was not a good idea
I'll keep this part short: I don't think bundling System Center into a single SKU was a good move for Microsoft. It's made the solution more complex and more expensive, exactly what Microsoft doesn't need when competing with VMware.
It's time to be straight with the customer
Both companies – Microsoft and VMware – need to be straight with the customer. VMware needs to stop gaming its calculator to its advantage and Microsoft needs to stop pretending that it's a drop-in replacement for every vSphere environment, and it needs to start pushing Hyper-V!
As I've said before, I believe that Hyper-V will eat away at VMware's market share from the bottom up as customers begin to look for ways to cut costs. Why do I say this? One reason: You don't need System Center to manage Hyper-V. You can do workload migrations and the like without VMM, even if VMM is preferable. This could save a great deal of money, and I see it as a viable option for particularly small environments that may have only a couple of hosts.
VMware, for it's part, will maintain the enterprise market to a great degree, at least for now, but only if it keeps innovating. As Microsoft continues to close the gap, it will become more competitive, and the price differential more important in this very price-sensitive market.
Now, throw the money issue away
This is going to be a bitter battle. The calculator is a nice little tool, but it ultimately meaningless when it comes to the fight. Both companies are out to win this battle, and the ultimate loser will be margins on both sides as the companies compete on price.
Action Item: So, if you're a CIO looking at this mess, what do you do? For now, you test Hyper-V to determine its suitability and whether or not it has a place in your organization. You may even consider implementing Hyper-V as a second-tier hypervisor in the environment and explore some of the multihypervisor management tools in the market. Those who find the cost differential great enough may consider a rip-and-replace move to Hyper-V. Others may simply stick with the tried and true.
Personally, I expect to see more serious testing of Hyper-V taking place, especially now that System Center 2012 SP1 has been released. However, Microsoft needs to do a much better job of touting Hyper-V's benefits if the product is to succeed.
Footnotes: Also see VMware vs Microsoft virtualization is about more than just economics.