Originating Author: Dave Vellante
Contributing Author: Michael McCreary
For several years, the growth in unstructured data and information has been more rapid than structured data, driving demand for unstructured content storage. Moreover, because they contain highly structured information, corporate systems such as ERP, financials, CRM, supply chain, etc. can be credibly used to indisputably recreate a sequence of events such as who placed the order, for what, for how much, when and on what terms. Unstructured information such as emails, documents, spreadsheets, audio, video, etc., on the other hand, are masses of stored information where it's much more difficult to find what's relevant and replicate a decision flow in a manner that is provable with 100% certainty.
This represents a huge liability for organizations as information uncertainty grows daily and exponentially (see Figure 1).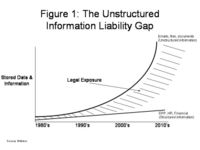 Organizations must operate on the assumption that whistle blowers, opposing lawyers or even unwitting employees will gain access or leak information that can be extremely damaging. Indeed, knowing what to keep, where to put it, how to relate it to other information, when to destroy it and how to prove to a court that it's all been done above board is a challenge that if not done properly can land a company's CEO in jail and/or cost an organization literally billions of dollars.
The implications of this trend are enormous for organizations in general and IT groups in particular. Specifically, as the management of unstructured information becomes a corporate imperative driven by legal and compliance, business lines will naturally fight to protect and expand their turf and push for expenditures that not only cover the board of directors, but ultimately add value to the business. CIO's must understand this dynamic and respond to the various constituencies that on the one hand demand that corporate liabilities are minimized and on the other that assets are leveraged to a very high degree.
Action Item: CIO's should, in the near-term, partner with legal and sell the board on the need to catalyze action and put in place systems to reduce the huge liability posed by unstructured information growth. Organizations should use this opportunity to gain experience around processes and procedures (e.g. auto-classification) that are applicable to unstructured information management so that over time, they can be applied to create tangible business value (e.g. via improved productivity, information mining, etc.) and satiate the demands of business users. </div>
Action Item:
Footnotes: