Headed to #strataconf and #hadoopworld? Join us at #BigDataNYC.
There's more than just ghosts and goblins on tap during Halloween week this year.This Halloween, theCUBE presents #BigDataNYC - two full days of continuous coverage of all things Big Data and Hadoop live from New York City. Taking place October 29 and 30, 2013, theCUBE will broadcast live from The Warwick Hotel in New York City for two days of interviews with Big Data tech executives, leading practitioners and industry thought leaders - all brought to you through the generous support of WANdisco and Hortonworks.
While we're still filling out the line-up, confirmed guests include Edd Dumbill, David Richards, Alistair Croll, Hilary Mason, Rob Bearden and Claudia Perlich.*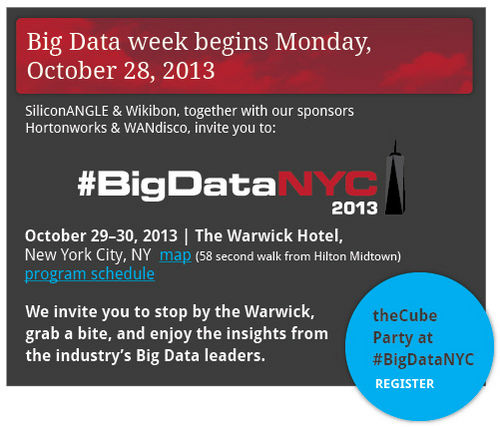 Leading up to #BigDataNYC, Wikibon and SiliconANGLE will also host three Big Data-themed CrowdChats. CrowdChats is a new, collaborative social chat forum where interested parties come together to debate hot topics in technology. In the first of the three CrowdChats, we'll debate the question, "What's the best model for Hadoop: Open Source or Open Core?" It takes place at 3pm ET on Thursday, October 10. Just log on to CrowdChat.net/BigDataNYC with your Twitter or LinkedIn profile and let your opinions be heard. The full schedule of CrowdChats is below:

CrowdChat #1 October 10, 20013 @ 3pm ET The Best Model for Hadoop: Open Source or Open Core?
CrowdChat #2 October 15, 20013 @ Noon ET Data-Driven Enterprise: What are the Requirements, Challenges, & Approach to transform into a Data-Driven Enterprise
CrowdChat #3 October 17, 20013 @ 3pm ET Analytics for All: Putting the Power of Analytics in the Hands of Business Users
CrowdChat #4 October 24, 20013 @ 3pm ET Making Hadoop Enterprise-Ready
Check out CrowdChat.net to take part.
To top things off, theCUBE is throwing what promises to be the biggest bash of Big Data Week at The Warwick Hotel on Tuesday evening October 29. Keep an eye out for an invitation to this exclusive event.
#TechAthletes - Replaying the Best of theCUBE Big Data Interviews We're running some of our favorite Big Data interviews from theCUBE on www.SiliconANGLE.tv

Playing now on SiliconANGLE.tv, Start Up & Private Company CEO's talking Big Data on theCUBE. These interviews include:

John Schroeder - CEO & Founder - MapR, Rob Bearden - CEO - Hortonworks, Max Schireson - MongoDB, Adrian Ionel - Mirantis, Abhishek Mehta - Tresata, Brian Bulkowski - Aerospike, Erik Swan & Rob Das Co-Founders - Splunk, Stefan Groschupf - Datameer, Sanjay Mathur - Silicon Valley Data Science, Jonathon Gray - Continuuity, Ben Werther - Platfora, Karl May - Vello Systems



Our first playlist featured Public Company CEOs, CTOs, & GMs talking BigData on theCUBE. This list included:
Christian Chabot - CEO - Tableau Bill Cook - CEO - Greenplum CEO (EMC) Michael Dell - Founder and CEO Pat Gelsinger - CEO VMware George Kadifa - EVP GM - HP Software Chris Lynch - CEO - Vertica (HP) Colin Mahony - CEO Vertica (HP) Scott McNealy - Sun (Oracle) Steve Mills - SVP - IBM Godfrey Sullivan - CEO - Splunk Joe Tucci - CEO EMC Bill Ruh - VP Head of GE Software
* Schedule and guests subject to change.