Originating Author: Dave Vellante
In software development, Service-oriented Architecture (SOA) puts forward the notion of packaging IT as a set of services, allowing business processes, not technology, to define, create and deliver a loosely coupled set of business and technical functionality. Service-oriented Storage (SoS) adopts this thinking to create an open platform that packages a set of configurable and re-usable storage services that can be invoked as needed by business applications.
Service-oriented Storage applies SOA concepts to storage to improve the delivery of services such as copy, backup and data security. Industry momentum behind SOA combined with technologies like virtualization, thin provisioning, storage resource management and new monitoring tools enable the development of service-oriented architectures for storage infrastructure.
SoS is coming and it will change the delivery of storage services forever.
The Business Problem
Service orientation is seen everywhere in the IT industry lately. Why is that? While legacy applications are largely independent with lots of different servers and federated storage supporting them, from a business process standpoint, these applications have a growing number of interdependencies. For example, customers phoning into the call center at an insurance company expect data from multiple sources such as the voice, claims and CRM systems to be at the fingertips of the customer service rep.
The traditional way of solving this problem is to build a very large application, with monolithic storage attached. From an application perspective, this brings loads of complexity. Application maintenance is tedious and replacing function is even worse. From a storage point of view, the business is stuck with a 'one size fits all' storage strategy which means application owners are either paying too much or aren't getting the required level of service.
A modern approach to this problem is to build systems from components using service-oriented architecture to interconnect applications like Lego pieces. And the best part is, just like Lego pieces, the parts always fit (at least in theory!). To a chief executive, this means the business has the flexibility to change more quickly and more efficiently. To application owners it means only paying for the services needed and not for unnecessary function.
By all accounts, SOA is a multi-year trend that will drive discretionary IT spending for the foreseeable future.
Enter Service-oriented Storage
The storage needs of business and application owners are simple: Give me storage when I need it. Provide services appropriate for my application in the most cost-effective manner. Charge me for what I use, don't charge me for unnecessary waste.
Service-oriented storage has the potential to meet business needs by inherently offering the ability to:
Provision storage capacity and function that meets application requirements based on performance, scalability, availability, cost and security needs of the business.
Charge for services based on an application's consumption of required function.
Manage storage using a common set of standards, interfaces, management software and processes.
Like SOA, Service-oriented Storage needs an overall architecture such that services can be understood logically, shared, secured, dynamically allocated and ultimately priced to the business.Figure 1 depicts a diagram of such an architecture.
Applications are shown at the top and invoke reusable services as required. Logical services, such as backup and recovery, copy services, access control, migration, encryption, security, metering and archive services are shown at the next layer. Physical services are shown at the bottom of the diagram and include SATA disks, NAS, cached arrays, virtual tape and Archival storage. Architectural capabilities include function such as storage virtualization, thin provisioning, virtual ports, a large address space and in the future, clustered controllers to ensure no single point of failure.
Logical and physical services are purchased by the business. Architectural capabilities are fundamental to the platform and provisioned as part of the core infrastructure.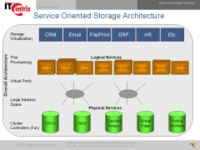 Service-oriented Storage promises:
A more efficient IT environment that goes beyond consolidation into dynamically allocated tiered storage
A choice (a menu) of storage services
Better utilization of physical assets with virtualization, thin provisioning and virtual ports
Better scalability by accommodating very small to very large based on an application's requirements
No hardware lock-in because it's an open platform supporting any storage arrays
A better business model allowing application owners to be charged back for services based on their consumption of required function vs. some vague allocation scheme

The bottom line is with SoS applications owners can customize storage services by 'checking off' those services that are needed and only paying for function that is consumed.
Risks and Gaps
The two biggest risk of this strategy for vendors are: 1) not making the concept tangible and repeating the recent mistakes of ILM; and 2) being subjected to the ebb and flow of SOA momentum.
The former can be managed. Services-oriented Storage requires capabilities such as application-level metering and monitoring software and software function that provides links between applications and services. A clustered controller capability must also be on the roadmap to eliminate single points of failure (i.e. the microcode). There may be other more subtle gaps such as applying an SOA architecture to existing loosely coupled storage management services and stronger archiving services (for example auditing). None of these, however are technically unachievable in the near-to-mid term. From a technical standpoint, those vendors with controller-based virtualization have done much of the heavy lifting.
The latter, SOA momentum is more subjective. Not all SOA stories are successes and some backlash can be expected in certain shops. From an application development perspective however, SOA appears well positioned to thrive.
Conclusions
The storage industry is poised to leverage the SOA trend and apply the concepts to storage infrastructure. For customers, Service-oriented Storage has the potential to evolve the relationship between storage administrators and business lines from one that today focuses on storage as an impediment to one that emphasizes storage as an enabler of application deployment. For storage vendors who are embarking on so-called 'solution selling,' this type of relationship is a necessary condition for success.