Originating Author: Nicholas Allen
Introduction
On Tuesday March 11th, 2008, the day of its investment and industry analyst event in New York City, NetApp announced a new look, a new name, a new tag line, and a renewed enthusiasm to aggressively increase the awareness of its information management and data protection capabilities for enterprises worldwide. This article summarizes this event and provides our commentary including prospects for the "new" NetApp.
What's behind the new NetApp name and branding?
While NetApp has grown from relative obscurity to a top-rated player, it has not successfully penetrated its Total Available Market, which it calls the Storage 5000 Opportunity (see Figure 1).
Despite having evolved from a single-product appliance company to a top player and growing 15%-20% Y/Y to a present size of $3.3 billion dollars in revenue with no slow down in sight, it is still often perceived as just an appliance vendor.
Thus, it has dropped the "Appliance", from its name and is now officially NetApp, Inc. (its stock symbol, NTAP, has not changed). It also has a new logo, a new web site, and a new tag line: "Go further, faster".
Second, it has embarked on a brand awareness campaign that includes major thrusts and spending in advertising and marketing.
And, most important, it intends to put a thousand new quota-carrying feet on the street.
NetApp also plans to increase indirect distribution with an expanded channel partners program.
NetApp claims that these efforts will cost roughly two points of operating expense as seen in increased SG&A, but anticipates these will be offset in less than a year by the resulting increase in revenues.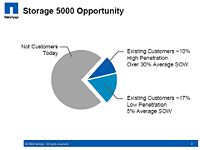 How is NetApp's value proposition different from its competitors in areas such as VMWare, deduplication, performance management, information management, and data protection?
VMWare and other X86 server virtualization environments:

NetApp claims it has superior solutions for X86 server virtualization projects including products, expertise, and, to its point, two customers presented great success stories.
As traditional backups don't work very well in virtual server environments, NetApp's disk-to-disk backup and snapshot copy capabilities give NetApp competitive features.
Maintaining multiple, but identical system images can be disk intensive, but NetApp's cloning features can reduce this to as little as one copy.
NetApp has strong partnerships with the server virtualization vendors, and its field force has developed considerable expertise, particularly with VMWare.
On the storage efficiency and cost front:

NetApp claims that it ships more SATA disk drive capacity than its competitors – helping customers save cost and energy. Its RAID-DP is a key enabling technology here.
Moreover, with its two data reduction features: 1)a unique data deduplication technology that operates in the background and reduces all data stored on NetApp products, and 2) volume-based thin provisioning; NetApp claims users can save as much as 75% real disk space and 40-75% in disk costs.
In the future, NetApp claims it will add data compression and power saving features.
On the unique performance front:

NetApp provides volume-based QOS, application-based cache partitioning and "flexible memory" (dubbed FlexScale; there is nothing about it on NetApp's website or the WWW).
NAND flash memory is also coming, but not as simple plug-in replacements for HDDs.
What is NetApp's vision for the future and what are the organizational implications for storage administrators?
Dave Hitz, NetApp's articulate co-founder discussed a vision where storage becomes a horizontal infrastructure services layer providing virtualized storage pools that are process- and service-centric and optimized across applications for cost effectiveness. He also envisioned empowering the "customer", e.g., database, SAP, and system administrators being able to tap these services without direct involvement by storage administrators, who would instead set polices and deal with creating a virtualized infrastructure from a real one.
Hitz also acknowledged that there will be 'zones' of infrastructure established to do a specific job most effectively. In essence, it underscores the fact that there's an opportunity to clean up big chunks of inefficiency in the data center but certain applications will continue to require best-of-breed optimization for performance, recovery, security, and business resilience and will be tuned vertically within the infrastructure stack. For more in this see this Wikibon article
Commentary
However, based on the analyst day presentations, it seemed the new NetApp company is now entirely focused on supporting server virtualization. To be sure, NetApp's story for storage for server virtualization is a strong one, but it seems to have purposely lost focus on many of its other strengths such as file server consolidation and virtual tape libraries.
Will its new branding, market, advertising and increased sales force pay off?

The Wikibon community believes feet on the street are the most important element of the company's new programs. NetApp must execute well here, and if the new sales program does not generate immediate results, it must adjust quickly. The same is true for the new advertising and marketing programs. We are somewhat skeptical about the advertising campaign but do note that on March 19th, 2008, a Google search of "VMWare Storage" does pull up NetApp has the first sponsored hit. However, NetApp shows up last on the first page of unsponsored hits below most of its competitors.

Other considerations:

Dan Warmenhoven, the company's President and CEO presented NetApp's strengths as:

Disk-based backup,
Server virtualization,
Ethernet storage (meaning NAS, iSCSI and eventually FCoE),
Cost efficiency.

We agree that NetApp has a strong story in these areas, but it is clear that NetApp is loath to take on the big storage players on the Fibre Channel front. NetApp products lack sufficient scalability and FICON connectivity to do this. NetApp must finish integrating the technology from its Spinnaker Networks acquisition to improve scalability and availability.
Action Item: Users should consider NetApp for their RFP shortlist for VMWare (or other) storage virtualization projects, but be aware that while the company has a comprehensive suite of storage offerings, solutions to the most demanding Tier 1 capabilities must be found elsewhere. Users should also leverage a soon-to-be-released bevy of free NetApp SE services. Vendors should take note of NetApp's well orchestrated campaign and prepare to counter with services, improved competitive assessments, and product features.
Footnotes:
NetApp,Storage_professional_alerts,Niki20