Reprinted with permission © 2008 TreeTop Technologies
So many people talk about stretching yourself and taking chances—putting yourself out there—that we sometimes forget about what we need to do to put ourselves in there. There are few places where this is more important than in the way you approach job searches and career advancement. You need to put yourself into real relationships, and you need to cultivate them just as you would a personal business relationship.
"If you apply for an open position at a company, you may be competing with hundreds if not thousands of other candidates," notes Amir M. Farhi, President and Chief Consultant at TreeTop Technologies. "No matter how perfect you think you are for that position, it is very difficult to stick out from the crowd under such circumstances. What you need is as close a relationship as possible with the hiring manager for that position so that you can have a chance to present your qualifications directly to that person."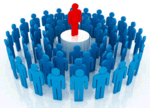 In addition to scouring your personal network to find someone who knows someone else who knows the right person, using a staffing or recruitment firm can often eliminate several levels of contact from the start, as the professionals at such firms already know multiple hiring managers in need of good candidates. But the individual job seekers aren't the only ones who benefit; companies, too, wish to eliminate unnecessary steps in the process.
"Hiring managers often do best by reaching out to their personal networks too," Farhi says. "If a handful of truly good staffing pros are among those close contacts, they also find their way to good candidates faster. And a good staffing firm will know what a client company wants and needs already, which means the company has an even better chance to get the right candidate early."
Action Item:
Footnotes: From "View from the TreeTop" Volume 2 Issue 6 June 2008