In today's complex storage networking environments and with the advent of converged, or unified networking, it is possible to run multiple storage protocols in the same network. Current datacenter networks deploy a variety of network topologies, from simple one-switch networks found in small and medium business, to complex aggregate/core and access multi-switch topologies found in large datacenters.
There are often questions regarding latencies for storage systems when deployed in various network topologies. Demartek evaluated the effects of various networking topologies in a server and storage environment. Specifically, three storage protocols were tested in the same network simultaneously and with different network topologies. These protocols are iSCSI, FCoE and native Fibre Channel. Multi-hop topologies were included in these tests.
We found that the average latency was consistent for each protocol, regardless of the network topology. From the simple network topology found in small and medium-sized businesses to the full core and edge networks found in large datacenters, the various network topologies were very similar in their latency measurements for each storage traffic type.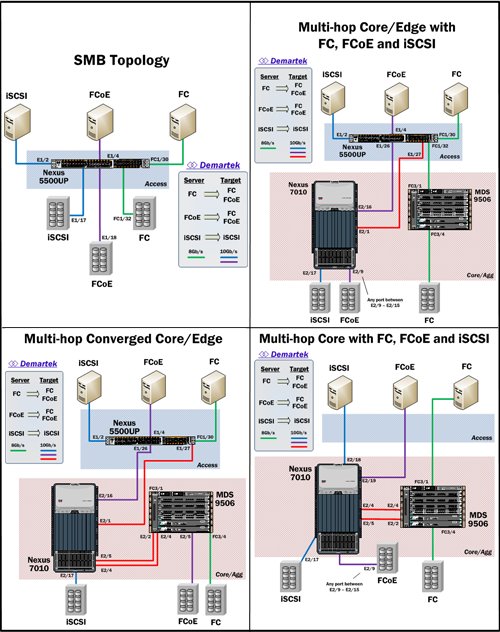 The complete report is available on the Demartek website.
Action Item: I.T. administrators should take comfort knowing that there is good opportunity for flexibility in network topology design, especially for multi-protocol storage environments, while maintaining consistent latency.
Footnotes: The full link to the report is http://www.demartek.com/Demartek_Cisco_Multi-protocol_Multi-topology_Latency_Evaluation_2011-07.html