Reprinted with permission © 2008 TreeTop Technologies
It's important for you to take stock of your skills and talents, because knowing your "market worth" these days is important, as hiring managers continue to look for people with just the right skills for a given job.
"Just as there will always be homes or locations that sell well even in a bad real estate market, there are skills and jobs that need to be filled even in tough economic times," says TreeTop Technologies' Senior Staffing Consultant, Al Stevenson. "Either you have something that companies want, and you need to know what it is, or you have gaps in your skills that you need to fill to stay competitive."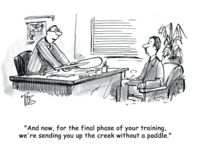 This is particularly important to realize given that CareerBuilder.com and Robert Half International recently reported that despite the sluggish economy, the shortage of qualified employees is getting worse.
As one recruiter noted in a recent Boston Business Journal article, people are assuming that the economic slowdown will lead to a softening of the job market, therefore they may not be testing that job market. Thus, there may be a candidate shortage because the candidates don't realize there are still a lot of open jobs for highly skilled professionals.
Action Item:
Footnotes: From "View from the TreeTop" Volume 2 Issue 10 October 2008