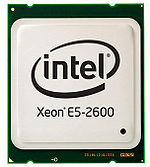 On March 6, 2012, Intel released its new generation E5-2600 Xeon processor (code named Sandy Bridge / Romley < I've dubbed the launch "Romley Super Tuesday"). In addition to the Intel announcement, there were corroborating announcements from every major server vendor as well as related networking announcements.
Here is a collection of some of the announcements (additions welcome) and some related Wikibon coverage:
Servers
HP Gen8 Product Page and Wikibon coverage from the launch
Dell 12G TechCenter Community Resources; also see The Lone System Admin blog's take on 12G
IBM on the IBM server pages - see the x3650 M4, x3550 M4, HS23 (blade), dx360 M4 and x3500 M4
Cisco M3 Generation on the UCS platform; also see Jason Nash's blog on the UCS M3
Commentary on the announcement from SiliconAngle and the Blades Made Simple blog.
Networking
Wikibon commentary on this Next Generation Server Impact on 10Gb Ethernet Adoption and Copper versus Optical Cabling
Intel Ethernet Controller X540
QLogic Next-Generation Servers launch page
Emulex Intel Romley launch page
Broadcom Dell 12G solution