IO Tiering is a different way to think about allocating storage that allocates the access to data rather than the type of storage data. Figure 1 gives an example.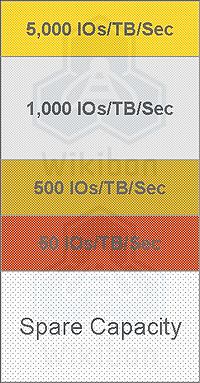 The control metric used in Figure 1 is IOs per terabyte per second, but other access metrics such as bandwidth or latency could be used either alone or in combination. The IOPS metric could be further subdivided into read IOs/TB/sec and write IOs/TB/sec, depending on the workload characteristics of the application.
The advantage of this approach, particularly when using NAND flash storage, is that it avoids data movement. This aligns it better with the cost of the flash media. The cost factors in order of priority are:
Impact of wear and data movement overhead for write access;
Data movement overhead of read access;
Initial storage cost/TB (there could be multiple types of NAND storage within a storage system
Management overhead.
The mechanical nature of traditional storage drive-based systems means that the physical constraints of a type of drive are limited, and data has to be physically moved to the appropriate hard drive or SSD to achieve different performance levels. Tiered storage systems such as FAST VP from EMC are being used very successfully with different form factor drives. Here the main cost factors are:
The overhead of data movement between tiers
The overhead of ensuring data integrity as data is moved between tiers
Management overhead
A potential interesting extension of the capabilities of IO Tiering is with the capability of companies such as LSI (through its agreement to aquire SandForce) to dynamically change the NAND storage type, according to the type of data being stored. For example, read-only data could be allocated to 3-bit/cell NAND storage, and write-intensive data could be allocated 1-bit/cell NAND storage.
In addition, the concept of IO Tiering (or what the vendor calls performance virtualization) has been pioneered by startup flash-only array company SolidFire, and is particularly useful for aligning with the optimum business model for service providers. Specifically, from a service provider perspective, the sum of the guarantees can be significantly greater than the total performance capability of the storage with almost zero probability of not meeting performance guarantees, because the underlying media always has the potential to perform faster. Customer satisfaction is improved because response times are consistent; there is no tail-off in performance as the loads grow. Wikibon expects that this approach will become widely used in NAND flash storage devices, both for flash storage arrays and PCIe cards from vendors such as Fusion-io.
Action Item: Both Cloud service providers and enterprise CIOs preparing for IT-as-a-service to show competitiveness with CSPs, should push vendors to provide IO Tiering for active data. This capability should be tied to quality of service and utilize a charge-back mechanism that will initially be applicable for Tier 1 storage. Over the next five years, as the cost of NAND storage goes down, it will become suitable for other tiers of storage.
Footnotes: