It's been nearly three years since IBM Watson made headlines by defeating Ken Jennings and Brad Rutter on Jeopardy. Since then, the market has been waiting for IBM to commercialize the cognitive super-computer in the form of consumable products. Progress has been slow, with Watson-related revenue to-date coming in below IBM's expectations.
IBM is now attempting to inject some much-needed momentum into Watson. The company made a series of announcements today (January 9, 2014):
IBM is creating a stand-alone business unit focused exclusively on Watson and will invest $1 billion-plus in the new group over the next two years.
The group, with headquarters in New York City, will eventually employ over 2,000 IBMers and is led by IBM SVP Michael Rhodin (Rhodin was formerly an SVP in IBM's Smarter Planet group.)
IBM established a $100 million investment fund that will be used to attract start-ups to build cognitive applications on top of Watson.
The company announced three new Watson-based products: Watson Discovery Advisor for Big Data exploratory analytics; IBM Watson Analytics for data visualization (previously code-named Neo); and IBM Watson Explorer for Big Data data discovery (on both structured and unstructured data.)
The new products join the first Watson-based solution, Watson Engagement Advisor, released in 2013. IBM also revealed that since debuting the Watson Development Cloud last year, over 890 developers have applied to take part.
The new business unit is IBM's effort to jumpstart development of market-ready Watson-based products. Since Watson's Jeopardy victory three years ago, IBM has been working closely with a handful of healthcare organizations, some of whom joined IBM on stage during today's press event, to improve Watson's capabilities to sift through large volumes of research and medical data to make treatment recommendations.
The results have been mixed, with hospitals like Sloan Kettering working with IBM to build applications that can make diagnosis and treatment recommendations for complex cancer cases. Sloan Kettering physicians hope to begin using the application later this year.
To date, Watson revenue is somewhere south of $100 million, according to a report in the Wall Street Journal. IBM expects Watson to grow to a $10 billion per year business within ten years. To do so, IBM must continue co-innovating Watson-based solutions with partners such as Sloan Kettering but also develop (relatively) low-touch applications that enterprise customers in other industries can easily consume. And it must do so sooner rather than later.
Action Item: In order for Watson to fulfill its potential, IBM must capture significant developer mind-share in order to spur the creation of consumable cognitive applications. IBM simply can't do this alone. As for the enterprise market, IBM has made the correct call in making Watson-based applications available via the cloud, as on-premise deployments would likely prove too complex and expensive for most enterprises.
theCUBE Conversations: IBM Takes Watson Beyond Jeopardy (Click image to watch video on YouTube.)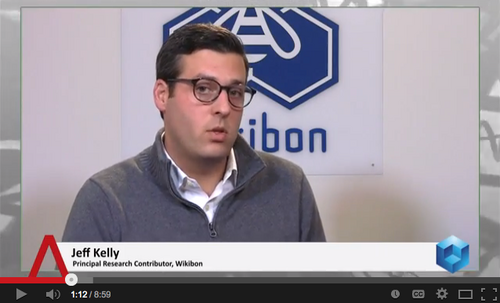 Footnotes: