Organizations looking at cloud-sourcing strategies generally and specifically so-called private cloud strategies need to align the perspectives of the CIO, application owner, and infrastructure management. The decision to outsource or retain applications in house should be based on an analysis of cost, business value, and risk (to the business).
The private Cloud or hybrid Cloud encapsulates both internal and external infrastructure and provides a common security, privacy, governance, and compliance framework as applications are moved. In essence, the private cloud includes a highly virtualized in-house infrastructure and an external cloud infrastructure, both optimized to move applications around the organization based on demand and supply.
Rationalizing the Outsourcing Decision
Business value is derived from making the business more productive, more responsive, or more risk averse. Other factors involved include generating revenue and lowering costs. Application owners need to evaluate their portfolios on a relative value basis, which is a starting point to the outsourcing decision. Costs are then assessed as well on a relative basis using a simple scoring method.
Specifically, organizations should start by selecting possible application candidates for outsourcing to the cloud by doing the following:
Group applications into 'suites' aligned by business process (e.g. HR enrollment or sales fulfillment).
Perform a relative analysis of cost and business value for each application suite.
Start with those applications that are lower in perceived value (and business risk) and are relatively expensive to deploy and maintain -- these are likely candidates for outsourcing because they aren't strategic and they are too expensive to run in-house.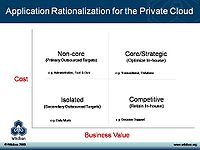 As shown in Figure 1, this exercise allows the visualization of applications on a grid that can be used as a communications and decision-making tool. Applications that are core to the business and highly integrated (with high IP content) should remain in-house, while applications that are relatively standalone (e.g. fewer users, less strategic) are good candidates for outsourcing.
Dave Robbins of NetApp advised the Wikibon community to look for opportunities to dis-integrate applications where possible and outsource portions of what may appear to be highly integrated and immovable apps. The NetApp example given was choosing between upgrading a highly integrated Seibel CRM application or dis-integrating the app and moving to a SaaS CRM.
Action Item: Cloud computing is coming to a data center near you. The message to practitioners is outsource the low value/low risk applications first, gain experience and virtualize in-house resources to enable optimization of more strategic systems.
Footnotes: