In April, 2008 we shared with the Wikibon community our enthusiasm for what we said at the time was one of the storage industry's best kept secrets, DataDirect Networks (DDN). To our surprise, we discovered the company generates more than $100M in revenue, is growing rapidly and earns a profit serving a high performance, high bandwidth, mega capacity computing niche. We noted at that time our belief that this niche is both expanding and becoming more attractive as rich media, video production and Internet content hosting explode.
Discussions within the Wikibon community including those with DDN's OEM and end customers suggest that DataDirect has developed a unique solution, delivering a sustained, error-free 6 Gigabyte/second read and write throughput capability. Moreover, SATA disks can be used to minimize storage cost yet still provide the performance needed for this market space. The requirements of this market are substantially different from those of traditional enterprises served by companies such as EMC, IBM, Hitachi and NetApp. DDN supports applications including video-on-demand, digital content hosting across the Web and the storage and distribution of large content files such as medical images. As we pointed out in April, the company's roots in computer modeling and simulation, and other high bandwidth segments position it for the emerging cloud computing space.
We have since sharpened our thinking on this and we feel that DDN is best positioned for certain high growth segments of cloud storage, namely video and rich content applications. DDN's market varies somewhat from the typical notion of the cloud which is often associated with the Google File System. While there are similarities, DDN's space is specifically typified by the following requirements:
Petabyte versus terabyte scale (i.e. mega supercomputing);
Millions versus thousands of users (think Xbox Live);
Super high bandwidth where controller cache is ineffective;
On-the-fly data integrity to support continuous video streams (i.e. re-read avoidance);
Effective use of very low cost high-density disk.
As indicated in our April update, the needs of this space differ radically from conventional enterprise block-based storage. Specifically, rich data puts very high bandwidth and throughput imperatives on I/O subsystems. The traditional solution to meet the needs of this market is to spread reads and writes over multiple systems of servers and arrays. But for many and a growing number of media and Web 2.0 applications, this approach does not come close to meeting the user service level requirements. The key point is that these different data patterns require fundamentally different types of storage architectures.
The DataDirect Networks Architecture
DataDirect's architectural challenge is to ensure performance from multiple data streams using very low cost high density and relatively slow disk drives. Applications appropriate for DDN's architecture are sequential in nature and are typified by very large blocks. As a result, a traditional large controller cache approach is not effective for DDN's market segments. Consider for example a streaming video which would fill a cache in seconds and have to be flushed continuously. Cache hit rates would be essentially zero doing nothing for performance.
The company solved this performance dilemma by placing specialized silicon in the controller which allows a deep, highly parallel pipeline to be filled, error checked and data corrected on-the-fly. This staging of incoming and outgoing data provides a sustainable 6GB/sec of throughput for both reads and writes. DDN storage platforms can write data as fast as they read it, with guaranteed QoS which we believe is unique in the industry. This means consistently predictable performance for large content files, which is critical for content-rich environments.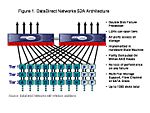 Figure 1 shows an architectural diagram of DDN's S2A (Silicon Storage Architecture) as seen in its 9000 Series storage platforms. The architecture provides two notable pieces of intellectual property, including: 1) Highly parallel access to and from disk devices; 2) Specialized silicon as shown in the red boxes which performs on-the-fly error correction to ensure data integrity supported by a deep pipeline. This is vital in rich media applications as re-reads must be avoided for performance reasons.
The diagram also shows DataDirect's 8+2 data protection scheme and the company's multi-tier organization. By multi-tier, DDN is not referring to the common definition of tiered storage, rather it implements a technique to allow more devices to be connected to controllers via loops which further increases parallelism.
DDN also has a spin down capability which will aid in tier 3 and 4 archival applications served today by virtual tape libraries and conventional tape. This is important as it enables customers to dynamically spin down LUNs based on their own parameters and is not a static "on/off" implementation. This variable disk power down solution is important in markets where data is infrequently accessed and lower cost long-term storage solutions that consume less energy are desired.
Serving high profile markets
One of the more interesting aspects of the DDN story to Wikibon is the portfolio of customers and market segments the company serves. These include some high profile opportunities such as Microsoft's Xbox Live, Pacific Title & Art Studio (the post-production firm for Batman The Dark Knight movie) and most recently CCTV, China's largest television network which chose DataDirect to support broadcast production of the 2008 Beijing Olympic Games across the People's Republic of China.
DataDirects markets and customers include::
Media & Entertainment, one of the most exciting emerging verticals for the company, serving the needs of customers such as TimeWarner Cable, Pacific Title & Art, and applications such as Xbox Live. DDN has more than 400 broadcast and post production customers, including China's CCTV;
Internet content and media hosting which includes digital image storage for companies such as Shutterfly, Slide.com and Kodak Easyshare Gallery. This segment includes applications such as on-line video streaming and other Web 2.0applications;
Energy, including oil & gas which encompass very high end simulation and seismic applications—including clients such as Saudi Aramco, the world's number one oil producer;
CAD/CAM applications in aerospace, semiconductor design and automotive design
Emerging life sciences applications;
Other niches including government security and digital surveillance;
In our April research note we said that DDN is quietly leading this space. The volume on the company is clearly increasing and we expect it to add feet on the street and significantly more marketing effort over the next twelve months. DDN's intense focus, years of R&D, substantial intellectual property and impressive customer base make it a firm worth watching in an emerging marketplace that is not well-understood by traditional players.
Action Item: CTO's involved in devleoping throughput-intensive applications such as rich media, technical computing, high speed backup or applications with multiple large streams to a single source should become familiar with DataDirect Networks and its technology. Where bandwidth is king, DDN should be invited into the royal enclosure.
Footnotes: