HP has introduced a new unit of server blade computing, a 4.3U chassis. Within this chassis (Figure 1) are housed:
45 server cartridges,
Network switch,
Management components,
Dual power supplies and cooling fans.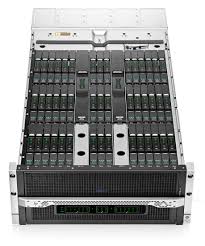 General availability is scheduled immediately for the ATOM-based cartridges. The concept is to support many different types of server cartridge with different architectures. These servers could deploy chipsets from Intel, AMD, ARM and others.
The first server cartridge is based on:
The Intel S1260 Atom chipset
1 MB of cache
8GB of DRAM
Broadcom 1Gb Ethernet controller
Single 2.5 inch hard drive (1TB SATA, ½ TB SATA or 200GB SATA SSD).
The Atom S1260 is a 64bit processor, with 2 2GHz cores and 4 threads. This is a far cry from the Intel i7 processors with a potential 3.9 GHz, 8MB of cache, 32GB of DRAM and 4 cores/8 threads or lower GHz and more cores. However the cost is one third ($65 vs. $295) and the power requirement much lower (8.5 Watts vs. up to over 100 watts).
A full rack could hold 450 such servers, and could be suitable for scale-out application workloads such as web serving.
The most interesting aspect of the packaging is the potential for future different server cartridges aimed at different workloads. Wikibon just wrote on the potential impact on Intel of the 64-bit ARM tape-out as a potential nightmare for Intel. Although HP is talking about introducing a 32-bit ARM-based cartridge, 64-bit support is going to be essential for the server market, as it will allow much easier porting of Linux, hypervisor, and application code. The 64-bit ARM modules could be very performance, cost, and power effective compared with Intel chipsets.
What is missing from the announcement are high performance options. Although Web serving is a common application and can be often performed with lower performance processors, there are many workloads (especially databases) that need the full Monti of performance.

Action Item: HP is the leading enterprise server provider and has powered much of the innovation in server and blade design. HP is and should continue to be on every enterprise RFP. This packaging allows HP to compete aggressively and protect itself against hyperscale ODPs coming into their enterprise market. It also allows HP the potential to compete in the hyperscale market, although the cost envelope needs to be substantially trimmed to be competitive against specifications from organization such as the Open Compute Foundation and the OpenStack initiative. However, to compete for all workloads, HP will need to include much higher performance options using Intel (for example) i5 & i7 chips.
Footnotes: