QLogic announced that another major vendor, EMC, now supports the QLogic 8100 series of converged network adapters (CNAs). The 8100 series is QLogic's second generation, single-chip FCoE CNA, and it is now supported through the EMC Select program for EMC's Symmetrix, CLARiiON and Celerra product lines. EMC is the third tier-one vendor, in addition to NetApp and IBM, that QLogic has announced supports its CNA and the idea of network convergence. In addition, Cisco is demonstrating its UCS solution this week at VMworld with a QLogic 8100 series CNA on display at its booth.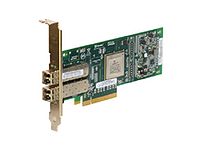 FCoE and network convergence are gaining mindshare and picking up steam because of the promise of a lower cost network infrastructure using fewer cables and reduced power consumption. In addition, FCoE works with existing Fibre Channel storage networks, preserving the substantial investments in Fibre Channel infrastructure that have been made by IT organizations over the last few years.
The QLogic 8100 series CNAs combine 10-Gbit Ethernet and Fibre Channel technology on the same card and are ideal components to use in the latest class of servers, because they take advantage of PCI-Express 2.0 which offers higher capacity while consuming less electric power than separate 10-Gbit Ethernet and Fibre Channel adapters.
Storage and network organizations should begin to evaluate the benefits of convergence generally and 10 Gigabit Ethernet and FCoE specifically. These groups should carefully consider the storage architectural implications of adding these technologies, as FCoE in particular will need to run on a parallel track with FC during a transition period, which will increase costs initially. Longer term, however, the costs benefits of convergence will be substantial, potentially halving connection costs.
Action Item: IT managers should carefully examine the benefits of FCoE Converged Network technology. As they plan new data centers or new data center equipment investments, they should consider the benefits of reduced power consumption, fewer cables, and the growing support of convergence by the major vendors and weigh that against the added complexities of adding another storage protocol to the mix.
Footnotes: