Demartek performs lab validation testing on a variety of server, networking and storage products, with an emphasis on real-world applications and end-to-end configurations. Demartek provides reports that show performance results including graphs to help describe the results.
The Demartek website primarily serves business customers and end-users and is focused on enterprise IT technology. As a result, the usage patterns provide some insight into IT departments and other high-tech users. Specifically, it is interesting to note the choice of web browser and the overall platform of choice for high-tech users when searching for technical answers. This data is a first look, and this data will be tracked going forward, to indicate trends.
There is considerable discussion over the brand of web browser used. The data suggests that there is a "big three" of popular browsers: Internet Explorer, Firefox and Chrome. Another interesting point is not so much the brand of web browser, but the platform of choice. Although there is considerable discussion about Windows vs. Macintosh or Windows vs. Linux desktops, there is also desktop vs. smartphone/tablet. Do IT users use these smaller, consumer-grade devices when searching for high-tech information?
The following two graphs are taken from the December 2012 edition of the Demartek Monthly Browser Usage Statistics page. These give a glimpse of the recent activity, at least in one corner of the Internet. These results exclude webcrawler and bot activity, and exclude internal Demartek accesses of its own website.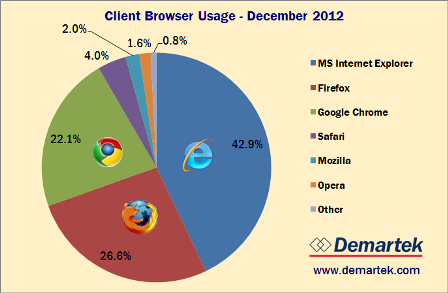 The browser shown as "Mozilla" is a generic type that is used by many Linux environments, RSS readers and some web crawlers or bots.
The "other" category includes some site-specific browsers and browsers that are specific to smartphones and tablets, such as Android, BlackBerry, etc.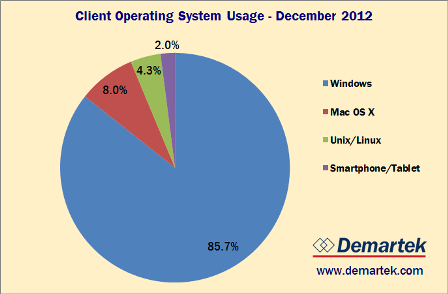 The full report shows that among Windows desktops, Windows 7 is installed on more than 50% and Windows XP is installed on approximately 25% of these desktops.
This page on the Demartek website will be updated with additional trending information.
Action Item: Despite all the noise about smartphones and tablets, desktop computers remain the dominant platform for searching for detailed storage-related IT information. These desktop browsers provide enough screen size to display the technical information required by these users. The data also suggest that Microsoft Windows remains the dominant platform for IT users seeking storage-related technical information, with Windows 7 currently installed on the majority of Windows desktops.
Footnotes: The full report is available at http://www.demartek.com/Demartek_Monthly_Browser_Usage_Statistics.html.