Recently, Wikibon received a red flyer that caught our eyes (see Figure 1). The headline of the email push was "It's not too late to stretch your storage dollar." Given our emphasis on helping users cut storage costs we felt it was worth learning more.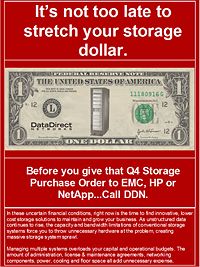 What's this all about?
Upon contacting DataDirect Networks (DDN) we found that the company is making an aggressive push into the traditional enterprise storage space. DDN is known for selling storage into very high bandwidth, extremely high performance environments such as scientific and rich media applications. The company has throttled back its 3GB controller version of a product called the S2A 9700 and packaged up a system that hangs up to 20 enclosures (60 disk drives per enclosure) off the paired controllers in the array. DDN is aiming this product at the "fat middle" of the enterprise space and going after the established installed bases of EMC, HP and NetApp.
At 3GB/sec, the product is touting much faster read and write performance than any commercial box we can think of. It's also very high in density (1.2 petabytes in two racks) and extremely space and power efficient. This is important for two reasons: 1) DDN has established itself as a highly reliable supplier to companies like Microsoft, Slide.com, Kodak, etc., and 2) DDN is pricing the product more aggressively than any packaged enterprise storage product we've ever seen.
What's the cost?
Much to the chagrin of most storage vendors, users will traditionally look at the cost/MB of storage to comparison shop across vendors' products. Moreover, CFOs will frequently point out the cost of disk drives at a retail outlet like Fry's and fret about the expensive markups from storage companies. For example, as of December 2008, a 1TB packaged drive at Fry's costs about $250. Normally, an enterprise array will carry a street price tag per drive of between $1,500 - $2,200 (a 6-9X markup). These costs are reasonably justified by the vendor community as necessary due to testing, integration, warranties, and especially value added software that is either embedded or added.
DDN is pricing the 9700 at around and in some cases just under $1,000 per drive or at a "Fry's Markup" of 4X. We decided to use a cost/drive metric because the cost/drive stays relatively consistent over long periods of time, whereas the cost/TB fluctuates widely with Moore's Law. It just so happens in this example the cost/drive is equal to the cost/TB because we're analyzing 1TB drives.
Figure 2 shows the costs DDN provided when we asked for their best, no haggle user price. Needless to say we were excited and wanted to get the word out to our users.
Where's the product fit?
Now to be sure, this product doesn't fit everywhere, and users need to make sure their applications can take advantage of the 9700. Specifically, this product is not suitable for cache-friendly, high-transaction database applications. Rather it fits with high-capacity, high-bandwidth commercial applications such as archiving, backup, unstructured data storage (e.g. file and print), and anywhere users need super-fast data movement, like video surveillance and rich media. In these applications the 9700 will perform better and be significantly cheaper to acquire than conventional commercial arrays.
It's important to note that this product is a no frills, no software, "rack 'em & and stack 'em" solution. Here's a quick strengths and weaknesses analysis:
Strengths
Great sequential performance;
Outstanding bandwidth, especially on writes;
Well-suited for data mining/data mart and other sequential applications;
Extremely reliable design (RAID 6 and excellent recovery mechanisms built in with lots of parallelism);
Extremely cost effective;
Good references.
Weaknesses
Lacks advanced management software and functionality (e.g. snaps, clones, remote replication and virtualization);
Weak on IOPS;
Poor fit for cache-friendly transaction workloads;
New vendor.
Action Item: With the 9700, DataDirect Networks has broken the $1,000/disk drive barrier for enterprise arrays. In these tight times, commercial users needing storage for non-structured, non-transaction workloads such as archiving, backup, rich media, and data warehousing should include DDN on the bid. They'll find higher performance storage for lower costs, and at the very least it will pressure other vendors to sweeten deals.
Footnotes: