Introduction
Over the past few years, the term "cloud" has morphed by marketers into having all kinds of meanings, many which don't resemble the original intent of the term.
In its purest form, cloud refers to an easily accessible, practically unlimited set of resources from which organizations can procure services on demand and expand and contract those services as needed.
Of course, the term has been hijacked by every hosting providing on the planet, too. Now, many people believe that what used to be called "hosted services" are actually "in the cloud" when nothing could be further from the truth. Many customers mistakenly believe that anything accessible via a web browser must be a cloud-based service.
Nasuni is keeping it real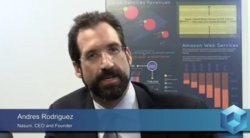 Fortunately, not all vendors are stretching the term to the unbelievable limits that we see today. In fact, one vendor has kept the intent behind the term "cloud" in their product offering – Nasuni.
In an interview with Wikibon's Dave Vellante, Nasuni CEO Andres Rodriguez explains how his company views storage, hardware, and software. In short, Nasuni's service consists of adding a storage controller to a private data center. However, rather than this controller being connected to racks full of disks, it's connected to cloud storage providers of the customer's choosing. In fact, although the Nasuni service relies on a hardware device in the data center to operate, it considers itself first and foremost a software company. The hardware device – built on commodity hardware – is just the enabler.
Nasuni's solution provides customers with a traditional file/block storage device. But the difference is that this device:
Has access to unlimited capacity
Doesn't need to be backed up
Can sync to any number of offices around the world
Moreover, it's a simplicity play, which I think we see too little of in many solutions.
According to Nasuni, people buy the device because they want to simplify their environment and save OpEx costs. They want to maintain data and growth with fewer staff and not have to have people everywhere deploying SANs in dozens of offices. That is the power of simple cloud solutions.
Cloud from a high level
As one looks at the state of the major cloud players today, some, such as Amazon, started their cloud services by looking for ways to do their own IT better and realized that the result could be productized. In this way, cloud really started with very, very big companies and is making its way down market to serve the needs of smaller customers and bringing to them the benefits of pure cloud solutions.
Nasuni is relying on the cloud provider's innate capability to store multiple copies of a customer's data, which further simplifies the solution. No more worrying about backups.
I see Nasuni's solution as one of the more pure cloud plays available on the market. The company combines the promise of commodity hardware with on demand resources from cloud providers to achieve its goals. With the Nasuni device, the hardware device becomes throwaway. If it breaks, a new one is simply put in place and caching begins anew.
Action Item: For CIOs considering moves to the cloud, I consider Nasuni a case study in how to do it right and adhere to both the letter and the spirit of what it means to leverage the cloud. Only when a solution can being simplicity, practically unlimited on-demand capacity, and, in general, lowered costs can it really be seen as a pure cloud player. Keep these goals in mind as you're considering your own options.
Footnotes: